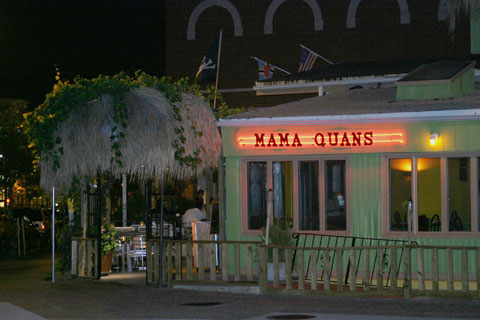 Wow! Could this really be a restaurant? Even the waiting room is lavishly decorated with cherry wood Ingrid armchairs covered in leopard printed fabric. The black, green and gray marble counter echoes the lights' reflection, and what about this round red Persian rug placed at the center of this cozy room…
That's the scene when you walk into the exotic, yet temperate, Bamian Afghan Cuisine restaurant. The atmosphere is so romantic and serene you forget that only minutes ago you were part of the outdoor bustle of Bailey's Crossroads and the traffic of East Route 7.
Many of the area's residents have tried the various restaurants opening up at this same location time and time again, but none of these former restaurants survived; they all closed down soon after their opening. But the Bamian restaurant, with its delectable Afghan cuisine hopes to keep its doors open to customers for a long time. Ali Amin, the manager at Bamian, says the customers who come here "want some place decent and fancy — it's not just food — especially for this new generation, who may be looking for big scale and want to invite their co-workers."
Since its opening in January 2006, the restaurant has shown a modern look, with cherry wood covering its crème walls and artistic décor and large mirrors placed at opposite sides of this spacious room.
The hostess, Valeriya, has only worked at the Bamian restaurant for three weeks, but has already grown to like the establishment.
"I like this team," Valeriya states. "It's a family restaurant. The people I work with are kind and friendly.
They make you feel right at home — welcome you in right away." That same treatment goes for Bamian's customers. As one of the hosts sees us, walking through the door, they happily seat us without a delay.
If you choose to be seated at one of the private booths, you'll feel like a first class passenger traveling to the restaurant's namesake city in Afghanistan (without the motion sickness). Speaking of, open the thick brown leather menu and take a look at the Bamian history as you enjoy your choice of refreshment from your champagne glass.
If you want to start with an appetizer, try the Sambosay Goshti, a fried pastry with ground beef and herbs. Need a suggestion from the list of Afghan cuisine entrees, attentively prepared by the master chefs? Try the Quabili Palau, seasoned rice with tender chunks of lamb under a heap of sweet carrot strips and raisins, served with meat sauce (qurma). If you're looking for a wider variety of meats, including lamb, beef and tender chicken, try the Bamian Platter. The best part about the food here is that it's not too spicy, but still has enough seasoning to give it that special zesty taste. Like Ali Amin says, "[Bamian] has different kinds of food, as well as something that everyone would like."
That assertion extends to the dessert course as well. Try any of the classical Baqlawa (thin layers of syrup-dipped pastry with walnuts, topped with ground pistachios), Firnee (cornstarch or rice pudding served chilled and topped with pistachios), Jelabi (a very sweet delight, glazed with honey) or Goshe Feel (a thin and crispy delight, topped with powdered sugar and pistachios). Also, enjoy a cup of traditional green Chai, Afghani tea.
Bamian Afghan Cuisine
5364 Leesburg Pike
Falls Church, Va
11 a.m.- 11 p.m. daily