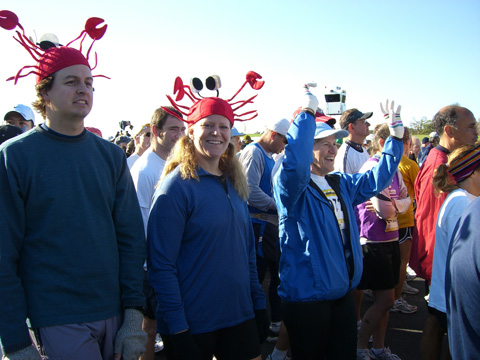 For most young children, the mindset is that their parents, or more generally all adults possess an unconditional power, a larger-than-life quality reflected in each youngster's eyes. For the kindergarten class at North Park Elementary School in Santa Clarita, Calif., their admiration of their 59-year-old teacher, former Falls Church resident Arlene Marquardt, is not the least bit unfounded.

Arlene, who completed her 58th marathon when she walked the Marine Corps Marathon this past weekend, is part of an elite group of athletes in the "50 States Club," a distinction earned by those who have completed a sanctioned marathon in each U.S. state.

What started partly out of boredom and wanting to do something "for herself" after both her children went to college, Arlene signed up to train with the Loma Loper Lindas Club in California, a walking support group for marathons.

The training club also introduced Arlene to fellow North Park Elementary teacher Jeanne Ruth, who has since become her permanent walking partner. The duo has checked off 49 states together, often missing family birthdays and sacrificing long weekends to fly around the country for races, pushing their physical limitations.

Although they completed their 50th state separately — Ruth elected to see the birth of her grandchild instead of walking in Iowa — the pair has helped each other stay on track, going for long walks each Sunday and oftentimes sharing hotel rooms and rental cars to keep costs down.

"We boost each other up, and really try to stick together during each race," said Arlene.
The self-described "casual marathoner" adds, "It's great to have a partner to walk and train with, we constantly encourage each other."

After sticking to races in California, and running the L.A. Marathon several times, the pair grew restless. In 2001 the duo saw a group of runners with "50 States Club" t-shirts and promptly hit the road to give the national task a try.

"It's great. We never quit in the middle of a marathon because than we would have to redo it!" said Arlene, whose own 50th marker came Sept. 24, at the Fox Cities Marathon in Wisconsin. With the Marine Corps Marathon under their belts, the pair has now walked a marathon in each state, as well as the District.

For such a nationwide mission, finding time for races in their busy schedules has been a constant factor. The teachers often schedule flights directly after school on Friday and return late on Sunday nights to see their surrogate children Monday morning.

The pair's accomplishments resonate with others in the school. One teacher just recently finished up her first marathon, while the physical education instructor reminds students who complain about running laps in gym that the aged Mrs. Ruth and Mrs. Marquardt do much more.
While Ruth, who teaches second grade, was able to check off the states she had ran on the classroom map for her students, Arlene's kindergarteners are still to young to comprehend anything outside of the Los Angeles area.

"They don't really understand too much, I just tell them I'm going on another long walk this weekend," she says laughing.

"They are more interested in the medals I bring into the classroom than anything else."
But the marathon experience hasn't always been such glitz and glamour. For example, her first marathon over a decade ago in Los Angeles.
"When I first saw her come out that day she looked like a drowned rat," said her husband, Michael.
"It was just downpouring the whole time and I thought 'Oh man, she's not going to live,'" he says, now laughing about it.
However, his wife has done more than just survive, going on to cross the finish line 57 times since that rain-soaked afternoon. And although Arlene insists the rain that day was "no big deal," she does admit that there have been hurdles along the way, although most have come off the race track.
There was the time they nearly got snowed-in in Denver, the confusing backwoods trails of Michigan and the plane delay that allowed her and Ruth a mere four hours of sleep before a race. In Iowa there were no bathrooms, so her daughter, current Falls-Church resident Jen was forced to use a port-o-potty on someone's lawn along the way.
Still each experience has brought new lessons.
"We've gotten really good at getting cheap flights," says Michael, while Arlene adds, "The rental cars and airlines are the biggest obstacles, but then determination sets in.
"We knew a lot of people who would just turn back around [when it happened] and go home but we said 'We are going to do this, we aren't stopping.'"
And for every storm and bump in the road, there have been plenty of sunny days and good times enjoyed over a cold, post-race beer. When asked of her favorite marathon Arlene mentions New York because the crowd was so supportive — "There was literally not an inch of [open] sidewalk the entire race."
"Running through the boroughs and having hundreds upon hundreds of people who don't even know your name screaming and yelling for you — it's just an incredible sight," she says.
As are the forests of New Hampshire and the red sky of Cape Cod at sunset, just two of the countless memories Arlene says she will never forget.
"How many people actually go and see the U.S. and do something in every state?" she says, "It's been so rewarding, such an adventure, and a great way to visit our family."
That sense of family unity is mirrored in Jen, whose own athletic background helped inspire Arlene to get healthy and seek solace in exercise.

"Although I was never really athletic I was constantly driving Jen to swim practice doubles and other things," Arlene says.
Arlene and Ruth's courageous foray into marathons with no athletic background resonated deeply with Jen, who currently has her sights set on an Iron Man, which consists of a 2.4 mile swim, 112 mile bike ride and 26.2 mile run.
"Every time I think of stopping I remember how determined my mom is and how 26 miles is no big deal to her," says Jen.
Jen, who ran the Marine Corps and Baltimore marathons with her mom, says the experience has been rewarding on multiple levels.
"After Baltimore I wasn't as scared of marathons anymore," she says. "I feel like I can keep building up my running — It's more of a mind over matter thing."
A mindset which Arlene embodies. Despite doing as many as 12 marathons in one year, she shows little sign of slowing down; displaying an enthusiasm as long as the courses she walks.
With the Marine Corps Marathon safely tucked under her belt, she has capped off her U.S. competitions and now set a new goal of participating internationally.
Originally the plan was to visit each continent, competing in one marathon a year. However even the adventure-seeker Arlene wasn't to keen on the prospect of competing in Antarctica.
"All that snow and ice?" she shudders. "We've heard it's expensive as well, but can you even imagine?"
For now, Arlene is looking into places like Paris or Rome so they can turn the race into a "mini-vacation" of sorts.
"There are people who are going around the 50 states for their fourth time, but I want to see the world," she says. "It's a great feeling to accomplish our goal, but now we need a little adventure and a new goal."
International Goals? Adventures? Perhaps she's not faster than a speeding bullet, nor can she leap buildings in one bound, but as Arlene approaches 60 years of age, she's no less a superhero — living out her dreams everyday.