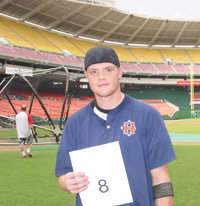 A crisp autumn day on Sunday (Oct. 29) drew a crowd at the 3rd Annual Broadmont neighborhood Halloween parade and block party.

Waltzing for Charity
NoVa Woodbridge Theatre Group will stage three performances of Paula Vogel's acclaimed play "The Baltimore Waltz" one weekend only, Dec. 1 – 2 at 8 p.m. and Dec. 3 at 2 p.m. All proceeds from tickets and concession sales will be donated to Broadway Cares/Equity Fights AIDS. Tickets are $8 for students, faculty & staff of NVCC and seniors. General admission is $10. For more information, contact Jamie Bartosavage Erdman at jerdman@nvcc.edu.
Preschool Info Night.
MOMS Club of Falls Church-North sponsors a preschool information night on Nov. 13 at 6:30 p.m. at the Pimmit Library in Tyson's, 7584 Leesburg Pike. Everyone is encouraged to come and meet the area preschools. For more information, call 703-790-8088.
Harvest Dinner & Silent Auction
St. Luke's United Methodist Church hosts a community Harvest Dinner and Silent Auction on Saturday, Nov. 11, 4 – 7 p.m. The dinner is to be held at St. Luke's on 7628 Leesburg Pike. Turkey dinner is $10, $5 for kids 12 and under. For more information call 703-893-9220.

Bazaars Abound
The Annandale Adult Day Health Care Center will hold their annual Holiday Bazaar on Tuesday, Nov. 7 a.m. – 3 p.m. Proceeds from the bazaar are used to support the Adult Day Health Care Program. The Annandale Center is located at 7200 Columbia Pike. For more information, call 703-750-3316.
Also, the Vienna Women's Club will hold its 46th Holiday Bazaar at the Vienna Community Center on Saturday, Nov. 11, 9:30 a.m. – 4 p.m. Do your shopping of holiday gifts, home décor, fashion items, decorations and toys from about 90 vendors while your children are entertained in a supervised center. Proceeds benefit the Club's scholarship fund. Admission is $1; children are free. For more information, call Sylvia Davies at 703-938-1445.
Sew Fabric Bears for Sick Children
Falls Church Sew and Go will hold a meeting on Dec. 5, 7 – 9 p.m. The meeting will be held in G Street Fabrics Store, 6250 Arlington Blvd., and is free and open to the public. For more information, contact Barbara Durham at sewmuchsew@verizon.net or Kim Schloemer at 703-642-0477.
A Skeptical Lecture
Dr. Edward Hudgins will give a lecture on "Objectivism & Skepticism: A Good Match?" at the Tyson's Pimmit Library, 7584 Leesburg Pike on Saturday Nov. 11 at 2:30 p.m. Admissions is free. For more information, contact the National Capital Area Skeptics at 301-587-3827 or visit www.ncas.org.
Ongoing Fitness for Local Kids
Washington D.C.'s Sport & Health Clubs celebrated their ongoing partnership with Project Fit America (PFA) on Oct. 25 and 26 with kick-off activities and a ribbon-cutting ceremony in dedication of their new fitness programs that donated to three schools in the Washington, D.C. area, including Arlington Science Focus School. For more information, visit www.sportandhealth.com or call Nikki Lowe at 703-556-6556.
PFLAG Meeting Scheduled
Parents, Families and Friends of Lesbians and Gays (PFLAG), of Metro DC, will hold a support group meeting to discuss issues about coming out in Temple Rodef Shalom, 2100 Westmoreland Street on Nov. 9 at 7:30 p.m. For more information, call 703-532-2217.
Volunteers Helping Abused and Neglected Children
Fairfax CASA (Court Appointed Special Advocates) is hosting an information session on Wednesday Nov. 8, 7 – 8:30 p.m. for prospective volunteers at the Fairfax CASA office, 4103 Chain Bridge Road, Suite 200, Fairfax. RSVP to Meloni Hinnant at mhinnant@casafairfax.org or by calling 703-273-3526.
Art Exhibition on Tap
Springfield Art Guild hosts a juried art exhibition at River Farm in Alexandria, sponsored by the American Horticultural Society, on Nov. 11, 12 – 3 p.m. (7931 East Boulevard Dr., Alexandria). Meet the jurors and artists as prizes are awarded. Exhibition will run from Nov. 6 through Jan. 16. For more information, call the president of Springfield Art Guild, Darlene Kaplan, at 703-922-4175.
A Pricy Award
Northern Virginia Community Foundation honors George Mason University President Alan and Sally Merten with a $31,000 check for George Mason University's "Early Identification Program," during their annual Community Leadership Awards Gala on Oct. 13. The Early Identification Program is a community outreach effort that encourages high risk, high potential 8th – 12th grade students to successfully complete a collegiate program in high school. This check is the largest unrestricted grant to ever be awarded by the NVCF.
Jaguar Handcrafts
Falls Church High School hosts its 20th annual craft show on Saturday, Nov. 11, 9 a.m. – 3 p.m. on 7521 Jaguar Trail, Falls Church. Admission is free. For more information, call 703-560-5510.
A World of Art

The Northern Virginia Handcrafters' Guild hosts their 24th annual Art & Craft Showcase on Thanksgiving weekend, Friday and Saturday, Nov. 24 and 25, 10 a.m. – 5 p.m. and Sunday, Nov. 26, 11 a.m. – 4 p.m. The Showcase will take place at the Vienna Community Center, 120 Cherry St. SE in Vienna. Admission is $3. For more information, contact Bette Conley at 540-636-9548 or Vicky Yanics at 301-449-9153.
MUSIC Days
The GMHS Music Department sponsors a fundraiser for their competition trip to Atlanta, Ga. Band and Chorus students will work in the community for donations towards their trip during two weeks of November and a week in December, where they can perform instrumental music, baby sit, do yard work, serve at parties, wrap presents and other jobs. Just e-mail or call Margaret Buenneke at Buenneke@hotmail.com or call 703-534-8488 to sign up for a student's help a week before you need them.
Local Author Prints New Book
Local Falls Church author Wade B. Fleetwood will have his novella, "The Ghost of Cherry Hill," published and printed before this Christmas. Fleetwood is seeking Patrons, local businesses to be listed in the front of the book. His last book about F.C., "A Beach Reunion in Falls Church, Virginia" was set in the Cherry Hill Farm House and was a local bestseller.
Stars Shoot for Showcase Funds
The 14U Vienna Stars girls' softball team hosts two events in the next week to raise funds for the Showcase tournaments trip to Oklahoma City and Colorado next season. On Saturday Nov. 4, 9 a.m. – 4 p.m., they will perform a Car Wash at the Sunoco Station at 2210 Gallows Road, Vienna. On Monday, Nov. 6, 6 – 9 p.m., the Stars will host a dinner at the Silver Diner in Tysons. For more information, contact Teri Sears at 703-868-6182.
A Holiday Self Improvement Program for Older Adults
The Fitness Professionals at the Fountain club offers a free series of classes designed to boost energy, reduce stress, and improve well-being every Thursday, 11 a.m. – 12 p.m. starting Nov. 16. This session consists of five classes. The Fountain Club is located in The Fountain at Washington House, 5100 Fillmore Avenue in Alexandria. For more information, contact Nakiya Smith at 703-845-2964.
Homestretch, Students Beautify F.C.
Homestretch Clients partnered up with Timber Lane Elementary School in Falls Church on National Volunteer day on Saturday Oct. 28. Seventy-five Homestretch clients, children, and staff took part in beautification activities at the school.
A Winter Hill Website.
Peter Van Buren and his daughter Sarah of Falls Church have put together a website offers some history on the city of Falls Church as well as the sense of community created in this city. Please visit the site at http://www.mywinterhill.com. For more information, call 703-533-7594.
'Red' Lain to Rest
Legendary Boston Celtics coach and former George Washington University player Arnold "Red" Auerbach was buried in Falls Church on Tuesday, following a brief, private ceremony attended by friends and family at King David Memorial Gardens. Auerbach, 89, died of a heart attack near his Washington, D.C. home on Saturday. Among those in attendance were former Celtics center, Bill Russell former player and longtime friend of Auerbach's. NBA Commissioner David Stern and Washington Wizards owner Abe Pollin were among those attending the funeral, while members of George Washington and Georgetown University basketball teams paid their respects over the weekend. Auerbach could frequently be seen attending the games of both institutions.