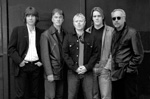 It doesn't seem to fit. It simply doesn't follow that New York City, the city that gave the world The Ramones and the Beastie Boys would be home to a band that features a glockenspiel. It doesn't seem possible that these pastoral songs befitting a Willa Cather novel would be born in the Borough of Brooklyn.
Of course, if a tree can take root in Brooklyn, there's no reason this grossly talented group can't follow suit. With the remarkable voice of Sally Ellyson blanketing the folk-pop songs of Dan Messe, Steve Curtis and Gary Maurer, Hem's music holds your rapt attention while you listen, and lingers in your ear for days afterwards.
In part, Hem, who plays the State Theatre Friday, Oct. 20, serves as a reminder of what makes New York so great — its extreme diversity.
"I always joke that Brooklyn is like the country compared to Manhattan," Ellyson says. "But there are still so many inspirations and influences in such a close proximity."
While the songs written by the three-man tandem of Messe, Curtis and Maurer are played on such varied instruments as the mandolin, celeste and aforementioned glockenspiel, Hem's most distinctive feature is Ellyson's "somewhere-over-the-rainbow" voice. Hers is the voice we attribute to memories of our mothers as they brushed our hair or sang us to sleep.
Such a description fits on another level as well, when auditioning for the band, Ellyson submitted a tape of lullabies she had sung for a friend's child.
"It was really an accident," says Ellyson, who worked as a producer for "48 Hours" and CourtTV before joining Hem. "My friend kept begging me to pursue my singing so I told him I would and answered an ad in the paper. They [Hem's other members] were great, seasoned musicians. I was just this goofy person who wanted to give this a try."
Since that union seven years ago, the band has released five albums, including their most recent effort, Funnel Cloud. The origins of that album actually derive from Virginia, when Messe stopped at a state fair on the way to Ellyson's wedding. In a matter of a few minutes, a pristine day had turned into a frantic rush for cover, as five funnel clouds touched down around the fairgrounds.
The theme of sudden stormy weather, as well as other vignettes of natural beauty as pertaining to the human condition, are abundant throughout the album, each song painting pictures and, as Ellyson says, serving "as its own little world."
"There's a song called 'Not California,'" Ellyson says of the reactionary track to the pristine worlds portrayed in TV shows 'Laguna Beach' and 'The O.C.' "It talks about how there's a magic you can find where things aren't always well-lit. There's something desirable about that."
As Ellyson repeats the word "magic" for at least the 10th time during the interview, it's becoming clear that the group is shooting for something a little more profound than simply selling albums. They're out to capture the intangible — not simply the scenes depicted in these songs, but the souls that dwell inside them as well, the confluence of rain drops and tear drops.
To that end, the band has utilized only natural instruments during its recording sessions. Rather than sub a synthesizer for strings, Hem packed all 18 members of the Gowanus Radio Orchestra into the Lower East Side studio, even situating a few members on a balcony, just to capture the truer sound.
"There's a lot of magic* [*There it is again … ] in the old way of recording," Ellyson says. "We were at a public radio station in Minnesota and there was a two-inch tape recording machine serving as a coffee table. Stuff like that is hard to find the older it gets, but it was such a beautiful way of capturing music. You couldn't just punch a button and auto-tune someone into the right place."
The band's commitment to that natural sound isn't just sonic snobbery permitted them by commercial success. In order to adhere to his preference of natural instrumentation, Messe began hawking his personal belongings to finance the group's first album, Rabbit Songs. The move paid off, literally, when that album garnered critical acclaim and was featured on National Public Radio's "All Things Considered."
More recently, one of the tracks off Rabbit Songs, Half Acre, was featured on an oft-aired Liberty Mutual commercial. You know it. It's the commercial that's usually followed by one of your friends asking "Who does that song?" And it's the tune you find yourself whistling absent-mindedly days later.
The majesty of Hem's music is, for lack of a better term, its ambience. The totality of it all, from the soundtrack of strings to Ellyson's redolent voice, creates a kind of sonic ambrosia that wraps you up and carries you soaring over an amber-drenched field at sunset, or delivers you down through the din of car horns and cat calls, to the sound of a lonely heart beat on the city streets below.
The title of Hem's latest album, Funnel Clouds, was chosen for its metaphorical meaning of how fast a beautiful thing can be torn asunder. The name is just as applicable, however, in describing how fast the beauty of Hem's music can sweep you away.