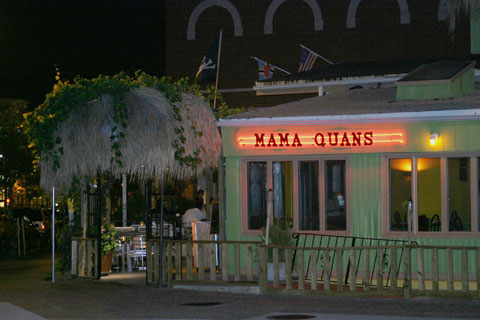 301 Massachusetts Avenue, NE
Washington, D.C. 20002
(202) 546-5900
The White Tiger Restaurant manages to find the unique balance of catering to Indian authenticity while providing dishes that won't scare off first-timers.
Indian-style cuisine is often known for its decadent lamb and complex curry dishes, and the White Tiger Restaurant does not disappoint. The mughalai saag, succulent curried lamb cubes served with basmati rice cooked with peas and corn on the side, is an excellent choice, and at $13.95 is reasonably priced. While the cube-shape is debatable, the meat is juicy and tender, and is perfectly complimented by the array of spices.
Set on Massachusetts and 2nd St. NW, the large outdoor seating area is a perfect way to relax and watch the flow of D.C. crowds on the Hill late into the evening. However when the weather turns cold, or if you prefer a more traditional atmosphere, the inside of the White Tiger features dimly light tables complemented by white and gold curtains hanging from the ceiling.
In addition to the typical domestic beer, the Tiger features microbrews and lagers as well as several Indian selections: Kingfish, Golden Eagle and the mighty Taj Mahal are all excellent brews and worth a try. For the non-drinkers, Indian-style lemonade, coconut water and a variety of teas is available if you want something beyond the water brought to the table in traditional pewter cups.
To appeal to all types of tastes, the Tiger features seafood specialties such as Malai Jheenga, shrimp in a fenugreek-cardamom sauce, or Gobi Pithiwali, tasty cauliflower topped with farmer's cheese and nuts, for vegetarians.
For those new to Indian cuisine the appetizer sampler, "Namkeen Thali" features a delectable combination of chicken tikka, seekh kabob, vegetable samosas and vegetable pakoras, and is an excellent starter to share with a crowd. The calamari appetizer is also a treat, prepared with curry and a blend of other red spices to add a spicy twist on the popular dish.
The service is very formal and serious, but attentive none the less. They will make suggestions or explain menu items if you need them to, but won't breathe down your neck. It is reminiscent of the calm, but polite Indian culture.
Breads, one of the high points, are offered plain but can be served with cheese, onions, potatoes, lamb or mint. You can sample several breads from the tandoor and griddle by ordering the Anaj Thaal combination for $7.95
Available for catering and private parties, the two story restaurant has played host to some D.C. elite: both Minority House Leader Nancy Pelosi (D-Calif.) and her predecessor, Rep. Dick Gephardt (D-Mo.), have held events here as well as various members of the Indian Embassy.
Off-premises catering, lunch delivery and special corporate menus for meeting and office parties are also available.
For those on a budget, the Tiger's brunch buffet, served from starting at 11:30 a.m. is a bargain at $8.95 (its $9.95 on the weekends, with more options). Reservations might be necessary to secure yourself a table outside especially with the city's beautiful fall weather.
The White Tiger Restaurant has some of the best Indian cuisine in DC, and with the spacious outdoor dining and relaxing atmosphere, it's a must-try for tired workers and hungry tourists alike.
The White Tiger
301 Massachusetts Avenue, NE
Washington, D.C. 20002
(202) 546-5900
Lunch Sun-Friday 11:30-2:30
Dinner Sun-Thurs. 5:30-10
Fri & Sat, 5:30-10:30