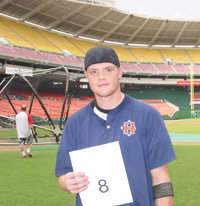 A DELEGATION OF STUDENTS from Falls Church's George Mason High School attended the 8th District Democrats' Kennedy King Dinner Saturday night and had an opportunity to visit with keynote speaker former Governor Mark Warner. Warner is expected to announce his candidacy for the U.S. Presidency next month. (News-Press photo)
First time is the charm for Chamber's efforts
It was more than beginners' luck for the Arlington Chamber of Commerce. The Chamber recently completed its first annual fundraising campaign, surpassing the goal of $175,000 and earning the most funds through a single effort in Chamber history! The chamber, founded in 1924, is a non-profit organization committed to the economic and civic well being of the community. The Chamber would like to thank all the volunteers, members and the sponsorship from Comcast that made this year's effort a success. For more information on the Chamber or how you can help 2007's effort, please log on to www.arlingtonchamber.org.

Math for the Gifted
On Monday, Oct. 23 acclaimed teacher Vern Williams will discuss trends and his views on teaching math education for elementary, middle and high school students at 7:30 p.m. in the cafeteria of McLean HS. Williams is one of the seventeen experts appointed to the National Mathematics Advisory panel, which will publish an interim report to advise President Bush and Secretary Spellings of the U.S. Department of Education about how to improve math achievement. This program is sponsored by the Fairfax County Association for the Gifted (FCAG) and is free and open to the general public. For more information, call Louise Epstein at (703) 917-7960 or check the FCAG web site at www.fcag.org.
Peace, Love and Philosophy
Stressed? Every Monday the Vajrayogini Buddhist Center offers ongoing meditation and Buddhist philosophy classes from 7-8:30 p.m. The classes are $10 each and are held at the Unity of Fairfax, 2854 Hunter Mill Rd, Oakton, Va. For more information or questions call (202) 331-2122 or visit www.meditation-dc.org.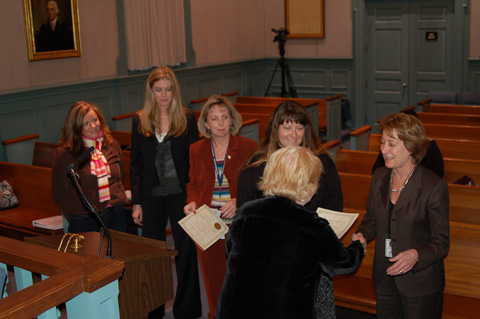 Cleve Francis concert to benefit Haiti
There will be a Cleve Francis & Friends benefit concert for Haiti on Saturday Oct. 14 at 7:30 p.m. The concert, held at Rachel M. Schlesinger Concert Hall and Arts Center in Alexandria, will feature songs from Cleve Francis's new album accompanied by a choir directed by Ethel Bothuel. General admission tickets are $30 while upfront seating (including a post-concert VIP reception with Cleve Francis) are $100. To purchase tickets visit www.cchaiti.org or call (703) 437-8074. For more information about Cleve Francis, visit www.clevefrancis.com.
Tutors Needed to Aid Area Literacy
The Literacy Council of Northern Virginia is sponsoring tutor-training workshops to help volunteers assist area adults who want to improve their English literacy. These eight tutor training workshops prepare volunteer tutors before they are matched with a student. A $35 training fee covers the cost of books, materials and instruction. All tutor training workshops take place at the James Lee Community Center, 2855 Annandale Roadin Falls Church, however the tutoring will take place elsewhere in the tutor's neighborhood. The next tutor training workshop will be held in October. For more information call 703-237-0866.
Your Child's Development
JSSA presents two parent workshops: "Starting Early" and "Smart Kids with Learning Difficulties" on Monday, Oct. 16 and Wednesday, Nov. 8, 7 – 9 p.m. The workshops will take place in the Northern Virginia JCC, 8900 Little River Turnpike, Fairfax. Pre-registration is required. Registration fee is $25. For more information, call 703-204-9100.

Senior Swimming Competition Winners
Northern Virginia Senior Olympics announces its swimming results for the Friday, Sep. 22 swimming competition. In this competition, seniors (50+) competed in breaststroke, free style and half mile races. Gold medals were awarded to 12 men and women for breaststroke, 14 men and women for backstroke, 15 men and women for free style, and 10 men and women for half mile competition. Most notably amongst them are J.R. Cassidy and Mary Lathram, both over 90.
Listen to the Doctor
The Northern Virginia Chronic Fatigue Syndrome and Fibromyagia Support Group presents a seminar hosted by physician Janine Blackman, MD/PhD, who will be discussing integrative medicine for chronic conditions. The seminar will be held on Saturday, October 21, 2 – 4:30 p.m. in the Mason Governmental Center, Large Conference Room, 6507 Columbia Pike, Annandale. Free of cost and no registration necessary. For more information, please call 703-968-9818.
You Could Be the Next Nominee
The Best of Reston Awards of 2007 is seeking nominees for businesses, organizations, and individuals who have dedicated their time and effort to serving their community and improving the lives of others. Nominations must be received by 5 p.m. on Monday, October 30, 2006. Winners will be announced at the Greater Reston Chamber of Commerce luncheon on January 11, 2007. For copies of nomination forms, visit either www.restoninterfaith.org or www.restonchamber.org.
Honors Students at Virginia Tech
Virginia Tech University's honors program awarded freshman students with a GPA of 3.5 or higher on Sep. 21, 2006. Area residents who were selected are: Robert Lauby, architecture major, Heting (Ellen) Li, art and art history major, Paul Campanella, university studies major, Raymond DiNunzio, biological sciences major, Wade Duvall, physics major, William Rowland, general engineering major, Bryce Stucki, university studies major, and Elliot Tibor, general engineering major.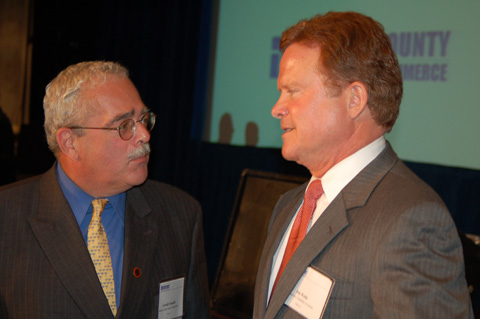 Slave Memorial Ceremony
Black Women United for Action (BWUFA) hosted its Annual Slave Memorial Wreathlaying Ceremony on Saturday, Sep. 23, 2006 at the Historic Mount Vernon Estate. TV's CSI star Gary Dourdan was this year's special guest.
Creative Art for kids
Kids 'N' Clay Pottery Studios opened a new location in McLean and hosted its Grand Opening event on Saturday, Sep. 23 at the Chesterbrook Center, 6252 Old Dominion Drive, McLean.
Classic Miniature Golf Tournaments to Raise Money
The first annual Algonkian Classic Miniature Golf Tournament, which helped raise money for the Loudon County Chapter of The Red Cross, was held on Saturday, Sep. 16 at Algonkian Park in Sterling. 32 golfers competed in the tournaments.
Feast Your Eyes
Fine Art Gallery in Middleburg, Virginia, hosts its Second Annual Show "Works of the Impressionists." For more information, call 540-687-6653 or visit www.Trowbridge-LewisGalleries.com.
French Wine Affaire
The French Wine Society invites you to the Trade pre-opening of the French Wine Affaire 2006. Take a wine tour of France and taste more than 200 wines from Alsace, Bordeaux, Burgundy, Champagne, Loire, Rhone and the South of France on Wednesday, Oct. 11, 2 – 5 p.m. at La Maison Fracaise – Embassy of France, 4101 Reservoir Road, NW, Washington DC. RSVP at www.frenchwinesociety.org/rsvp. For more information, visit www.frenchwinesociety.org.
400 Years as Americans
As part of the America's 400th Anniversary commemoration, a three-day conference titled, "Virginia Indians: 400 Years of Survival," will explore Virginia's Indian culture and discuss the laws and policies that have affected them and Indians nationwide for centuries. The conference will be held on Oct. 5 – 7 in the Williamsburg Lodge and various tribal centers throughout Virginia. For more information, visit www.Amricas400thAnniversary.com.
Come Along for Memory Walks
The Alzheimer's Association National Capital Area Chapter hosts a series of four memory walks in Northern Virginia, and Southern and Suburban Maryland. These walks will be held in La Plata and Solomons on Saturday, Oct. 7th and in Rockville on Sunday, Oct. 15. To register, visit either http://memorywalkNCA06.kintera.org or http://memorywalkMD.kintera.org.
Kick the Ball
Falls Church Recreation and Parks Department hosted a competition for area youths who participated in the Pepsi/NFL Punt, Pass & Kick last weekend at the Moore Cadillac Stadium. The first place winner of each ages and gender division will to on to compete in the sectional competition on Sunday Oct. 29 in Vienna, Va. The winners are, girls: Carolina Johnson, Rebecca Culhane, and Kate Culhane, and boys: Daniel Schlitt, Carlos Chiu, Brandon Alexander, and Chris Reshore.
New to Nova's Board
Jerome T. (Jerry) Barrett, a Falls Church resident, was appointed to the Northern Virginia Community College Board of Trustees, representing the City of Falls Church. Barrett, who will run his term on the Board from now through June 2010, has over 40 years of experience in helping labor and management solve mutual problems and resolve disputes, and served as associate director of the National Center for Dispute Settlement. He taught at many universities including Northern Kentucky University.
The Crime Dog
The National Crime Prevention Council is hosting McGruff Day at Farragut Park, Connecticut and K Streets NW, 11 a.m. – 1 p.m. on Monday, October 2. Come celebrate Prevention Month with them. For more information, call 202-466-6272.
The Art of Speech
Toastmasters host the Area 21 Humorous Speech and Table Topics Contests to help you improve your listening, speaking, and leadership skills. Attendance is open to the public. Bring friends, family, or come as an office group on October 5 at 5:30 p.m. The event will be hosted in the Verizon Building, 1320 North Courthouse Road, Arlington. For more information, visit www.d27tm.org.
Car Wash
Help fundraise for George Mason High School's Band and Chorus' spring trips by getting your car washed at Koon's Ford on Saturday, Oct. 7th, 9:30 a.m. – 1:30 p.m.
Read and Ride
David Robbins, a novelist and historian, discusses his latest book, The Assassins Gallery at Don Beyer Volvo, in Falls Church for this year's 2nd Annual Read and Ride. The event will be held on Thursday, Oct. 12 at 7:30 p.m. For more information or to RSVP, call 703-768-2932.
The Essence of Education

Several businesses in the Broadway Building at 502 W. Broad Street are donating a portion of their proceeds to benefit the operations and programs of the Falls Church Education Foundation throughout the first week of October. These businesses include: the Impulse Gallery, Friday Oct. 6, Hoang's Grill & Sushi Bar, Saturday Oct. 7, and Hollywood Video, which will offer free video rentals on Friday Oct. 6th. For more information, call the Falls Church Education Foundation at 703-538-3381.