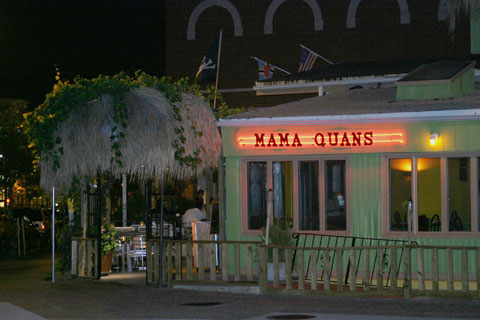 1434 Center Street
(703) 356-2700
Every city has it. Those certain foods that distinguish themselves from the rest of the world, spoiling the tongues of its residents with a unique flavor and cherished tradition. Cincinnati chili. Milwaukee cheese. Philadelphia cheese steaks. To have it any other city, any other way, isn't just an attack on authenticity it's usually an attack on our taste buds as well.
Enter McLean Pizza Restaurant, a McLean tradition for over 40 years, whose claim is their pizza is as "close to New York as it gets." And by embracing the concept of fresh, homemade ingredients prepared daily over a flaky crust, they just may have it. Please, New York natives, don't shoot me.
The idea is a simple one, but one McLean Pizza Restaurant's owners take great pride in: using the freshest ingredients to ensure the best possible pizza. The bread, homemade sauces and cheese are made on the premises and each shipment of vegetables arrives each morning.
McLean Pizza Restaurant offers a wide variety of over 25 toppings and pizza available by the slice in New York and Sicilian styles. Specialty pizzas include the "House favorite," as popular as the name suggests, a red pie topped with mozzarella, bacon, ham, salami, meatball, pepperoni, sausage, black olives, green peppers, mushrooms, onions and tomatoes. Alternately, the Hawaiian pizza features just three toppings: ham, pineapple and mozzarella, but packs a serious tropical punch of flavor.
Other signature dishes include build your own calzones, strombolis, triple-decker club sandwiches or burgers with your choice of chips, onion rings or fries. Greek specialties such as gyros and souvlaki are available in addition to Italian restaurant staples like ziti, parmigiana and fettuccine. For seafood lovers, McLean Pizza Restaurant offers crab cakes, fried shrimp and a seafood platter as well as a calamari appetizer. All dinners and pasta dishes are served with a small salad and freshly baked garlic bread.
The food is moderately priced, especially given the quality — specialty pizzas run around $15 with most meals and pasta dishes humbly priced around $12. McLean Pizza Restaurant is easy on your wallet for lunch as well; most salads and sandwiches run around $7 although the gyros and souvlaki are a steal at $8.75 because they include a salad and fries. All items on the children's menu are around $5, and with the laid-back atmosphere, McLean Pizza Restaurant is a family-friendly restaurant. The dining room has a comfortable diner-appeal, with red booths and several neon signs in addition to candy dispensers in the corner of the room.
The other half of the restaurant features a refrigerator stocked with bottled beer and other non-alcoholic beverages offered for carry out, as well as pieces of their six mouth-watering deserts that are made every morning. Although it is unusual, the popularity of McLean Pizza Restaurant's deserts like the Boston cream pie and traditional tiramisu prompted the eatery to make them available for delivery and carry out service —although delivery service requires a $15 minimum.
If you do have time, eating in at McLean Pizza Restaurant is an enjoyable, relaxing experience. The service is friendly and understanding, and most dishes are ready within 15 minutes. Several small tables and umbrellas are available outside in addition to the dining room.
McLean Pizza Restaurant is also available to cater parties and large groups of up to 150 people. Besides offering their homemade pizzas and sauces, the establishment specializes in platters of roll-ups and salads ideal for crowds.
Although there can only be one New York, McLean's Pizza Restaurant does an excellent job of satisfying that craving for those who can't get a slice of the Big Apple's pizza everyday.