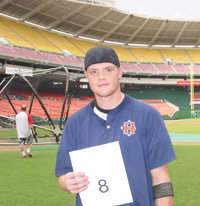 AMONG THOSE AT A fundraiser for the Commonwealth Coalition working to defeat the Marshall-Newman Amendment at the home of Nicholas F. Benton in Falls Church last week were Del. Jim Scott and F.C. Mayor Robin Gardner. A total of 40 attended and $2,500 was raised. (Photo: News-Press)

UD Alums Honored at Dinner
The University of Dayton (UD) recently honored five alumni for their career achievement, leadership and service in the community. Eileen Dolan, Bill Ricco, Victoria Knipper Hughes, Joseph Scherger and Mandy Brogdon were selected as this year's recipients of the prestigious Alumni Awards. The awards, presented at a UD dinner, last Friday hope to generate alumni pride within the university.
New Channels Offer Diversity for Viewers
Just in time for Hispanic Heritage Month (Sept 15-Oct 15), Discovery will now be offering residents of Northern Virginia two new Spanish channels. The channels- Discovery Kids en Espanol and Discovery Travel & Living (VIajar y Vivir), will feature a mix of original programming, transcreated shows and Latin American shows making their U.S. debuts. The new channels are geared toward women, children and families and will be available through Cox Communications Northern Virginia on Sept. 15.

Author of "Crazy" to kick off Mental Illness Awareness Week
Pete Earley, author of "Crazy: A Father's Search Through America's Mental Health Madness," is the keynote speaker at Arlington County's free Mental Illness Awareness Week opening symposium at 7 p.m. on Oct. 3. There will be an information fair before the symposium at 6 p.m., both events will take place at the Arlington Central Library at 1015 N. Quincy St. For more information, contact NAMI-Arlington at namiarlington@gmail.com.
Disaster Loan Centers to close, Help still Available
Congressman Jim Morgan recently announced the closing of the Disaster Loan Outreach Centers, which were open this past month to assist those who suffered damages from the June 2006 flooding. However, homeowners, renters, non-profit organizations and businesses are reminded that they have until Oct. 16 to submit applications for low-interest loans for damages caused by the flooding. With the closing of the disaster loan centers, those who need more information and application forms are asked to call 1-800-659-2955 for visit the SBA website, www.sba.gov/disaster.
Walk generates funds, awareness
This year's Help the Homeless Program kicked off last Monday with the first mini-walk by students and staff at Laurel Learning Center. The event, put on by Reston Interfaith, hopes to raise awareness of homelessness and raise critical funds to help support those in need. There will also be walks on Oct. 22 and Nov. 18, registration is $15 for those under 25 years old and $25 for adults. For more information on registration or to be become a sponsor, call Meredith Young at 571-323-9566 or visit www.restoninterfaith.org.
Local Businesses Get Creative Help
Mediastudio recently hosted a 24-hour CreatAThon to help local non profit organizations create logos, brochures, and other essential business tools free of charge. A volunteer team of graphic designers, writers and strategists met with 11 selected businesses before the 24-hour CreatAThon to discuss what business tools they needed the most. For more information about Mediastudio please visit www.mediastudio.com.

"Fun" raiser for cheerleaders far from a wash
Locally owned MR WASH car wash recently raised $5,284.81 in a "fun" raising effort for the Washington Redskins Junior All Star cheerleaders as they prepare for a national competition to be held in Orlando, Florida this spring. The car wash donated proceeds from all four MR WASH locations on Sunday, Sept. 17 from 9 a.m. to noon. Members of these "First Little Ladies of Football" were joined by the Junior All Star Dance Team in greeting customers at each location. MR WASH, locally owned and operated, has nine professional carwash locations in the DC/Baltimore area.
Area golf tournament shoots to help Lupus
The 28th Annual Golf Classic, a local event raising funds and awareness of lupus, will take place on October 2 this year. Sponsored by the Lupus Foundation of Greater Washington, donations for local businesses (up to four people) are $2,500 or $400 for individual golfers and include 18-hole play, a golf cart, silent auction and free food and drinks throughout the day (including an open bar). The event will be held at the luxurious Belmont Country Club in Ashburn, Virginia; registration begins at 10:30 a.m. with a noon shotgun start. Title sponsorship and other high-profile sponsorships are still available. For tickets please contact the Lupus Foundation of Greater Washington at (703) 644-0058.
Construction company builds on its' success
Six projects constructed by Clark Construction Group, LLC received Excellence in Construction awards recently by the Associated Builders and Contractors (ABC) DC and Virginia chapters. The awards were presented on Sept. 14 at a ceremony in Tysons Corner, Virginia and recognized the year's best construction projects built by ABC members in the DC area. The projects that received accolades were: the International Monetary Fund Headquarters 2, the American Red Cross National Headquarters, the Children's National Medical Center, the Jeong H. Kim Engineering Building at the University of Maryland, the Ball-MU Station East End Elevators and Passageway and the Dulles International Airport East/West Automated People Mover Sitework.
Olympics continue to roll
The Northern Virginia Senior Olympics continued last week as gold medals were awarded on Sept. 18 for various bowling, backgammon, basketball and softball events. The competition was held at Lee District Park in Franconia and Bowl America Shirley in Alexandria. The Senior Olympics will continue with more events through Sept. 28. For more information, call (703) 228-4721 or visit www.novaseniorolympics.com.
Giant, Orioles team up to deliver Grand Slam for Children's Cancer
Giant Food recently announced that the Falls Church Giant store raised $17,087 as part of the chain's $1.5 million raised to benefit the Children's Cancer Foundation. The 2006 Triple Winner Game campaign is a scratch card promotion in which every tickets is an instant winner of a free product, gift certificate or cash prize up to $10,000. Throughout the summer store associates distributed Triple Winner Game tickets for each dollar donated by customers to fight pediatric cancer. The Baltimore Orioles organization also partnered with Giant to help promote the Triple Winner program.
Red Cross Meeting focuses on Emergency preparations
The American Red Cross annual meeting, "State of Preparedness 2006", will take place on Oct. 4 from 4-6 p.m. in the National Press Club's Murrow Ballroom. The meeting will focus on regional emergency preparedness and will feature ex-governor of Oklahoma Frank Keating and Chair of the National Capital Region Emergency Preparedness Council, Gerald E. Connolly. Business attire is required and refreshments will be served. There is no charge to attend the meeting; however an RSVP is required by Oct. 3. Register online at www.redcrossnca.org or by calling (703) 584-8459.
Class of 87 Reunion Plans in Works
The membership committee for the JEB Stuart HS Class of 1987 in preparation for their 20-year reunion is asking all individuals who were a part of the 1987 class to register at www.gotclass.org to stay up-to-date on plans for the event. JEB is trying to reach everyone from the 1987 class- so please spread the word if you know any JEB '87 alums!
Caps on Tap tickets available
What's better than hockey and beer? Hockey and beer together! For the second year in a row, the Washington Capitals will kick off their home opener on Oct. 7 with the Caps on Tap bar tour prior to puck drop. Fans can register in advance for the event at R.F.D., 810 7th St. NW, for $25 or can sign up that day for $30. The fee includes a wristband for entrance into seven participating bars, discounts on Budweiser products and a ticket to the Capitals game. Participants must be 21 or older and a designated driver program is available. For a list of participating bars and more information visit washingtoncaps.com, email capsontap@washcaps.com or call (202) 266-2340.
Coaches needed at McLean
McLean HS has positions open for a head varsity softball coach and boys tennis coach. To apply, please contact Tom Herman, Activities Director, at (703) 714-5860 or send your resume to Tom.Herman@fcps.edu.
Area residents race to "Make-A-Wish"
Ten Falls Church residents participated in the 23rd Annual Make-A-Wish Triathlon at Sea Colony last Sunday, Sept 24. in Bethany Beach, Del. Proceeds benefited the Make-A-Wish Foundation of the Mid-Atlantic to help fulfill the wishes of area children fighting life-threatening medical conditions such as cancer, AIDS and muscular dystrophy. The event featured a 1.5K ocean swim, 40 K bike and 10 K run. To learn more about this year's race or the foundation please call (301) 962-9474 or visit midatlantic.wish.org