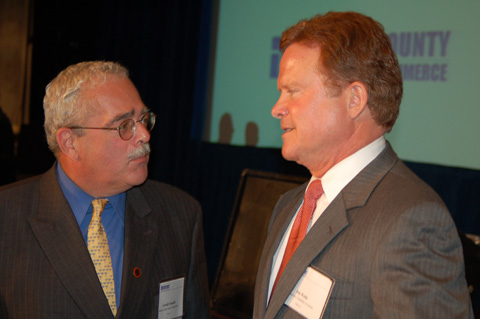 Allen, Webb Bring Tight Senate Roil To F.C., Fairfax
It's homestretch time in the critical 2006 mid-term elections nationwide, and as has become usual for Virginia, the high-profile debate between the two key statewide candidates hosted by the Fairfax County Chamber of Commerce marked a key inflection point this Monday.
Incumbent Republican U.S. Senator George Allen has found himself, by all admissions, in a place he never thought he'd be last spring, in an intense battle for his political life against an upstart rival with no prior political experience.
Democratic U.S. Senate nominee James Webb, who began last spring by upsetting the applecart in his own party to win its nomination over a party regular backed by most of its state leadership, has since pulled into a dead heat with Allen. Of particular consternation to Allen is Webb's solid military and formerly-Republican credentials, including his stint as Secretary of the Navy in the Reagan administration.
Moreover, following a national trend, two Northern Virginia Republican incumbents considered comfortable in their gerrymandered districts are suddenly also having to work harder than they ever thought necessary. Rep. Tom Davis of the Falls Church section of Fairfax County is getting a stiff challenge from Democrat Andrew Hurst, and Rep. Frank Wolf of Loudoun County is getting a run for his money from Democrat Judy Feder.
Like Webb, neither Hurst nor Feder has ever held public office before. But the intense unpopularity of the Bush administration's invasion and occupation of Iraq, in particular, and corruption scandals and other liabilities of incumbency in Congress has the entire nation poised for a potential Congressional power shift unrivalled since at least the so-called "Republican revolution" of 1994.
But there is a third, critical factor working against the Republicans that is unique to Northern Virginia, and that is the marked demographic shift in the region credited with providing Democratic Gov. Tim Kaine with almost his entire margin of victory in his statewide gubernatorial race last November.
Not only did Kaine carry all areas of the region, including the more outlying Loudoun and Prince William counties, but Democrats
The results were, in part, attributed to the rise of the high tech, government contracts industry in the region, creating the fastest-growing job creation numbers in the nation in the last three years. While the boom is the result of the Bush administration's war on terror and related initiatives, it is ironically adding to a voter base in the region that overall is anything but supportive of Bush and especially conservative GOP politicians.

This "new demographic" corresponds to what George Mason University's Dr. Richard Florida calls the "Creative Class," composed of well-educated, pragmatic, younger scientifically-based folk ranging from engineers to artisans who are critical thinkers and, above all, believe in fairness and equal justice.
That's why Rep. Davis could face more problems than he might have originally thought, given that his district, the 11th, is not overwhelmingly lopsided in his favor to begin with and that he has an opponent who won the Democratic nomination last spring on the basis of his more strident opposition to the administration's policies in Iraq.
Davis' stated support for the Marshall-Newman Amendment, which would modify the Virginia constitution to deny rights to individuals seeking same-sex marriage among other things, could work against him within his new constituency of "Creative Class" voters that believe in equality and fairness for all.
In a raucous debate between Davis and Hurst Tuesday night in Fairfax County, over 200 Hurst backers filled the auditorium at the Fairfax County Government Center to offer their loud support for their candidates, agitating Davis in ways he never might have imagined months ago. Hurst pounded away at the fact that Davis, despite cutting a more moderate profile than many of his GOP colleagues nationally, still voted 90% of the time with the Bush administration.
In the 10th District race in Loudoun County, Democrat Feder announced this week that, for the first time since Frank Wolf took control of the district 26 years ago, the National Democratic Congressional Campaign Committee has designated her race an "Emerging Race" of interest to her party nationwide. Feder also began running TV ads this week, the first time a TV ad has ever been run against Wolf.
In comments to the Northern Virginia Democratic Business Council last week, both Hurst and Feder noted polls showing only a third of the public in their respective districts interested in returning incumbents to Congress.
On the other side, Republicans are banking on a re-focus on the dangers of global terrorism and easing oil prices to calm the popular insurgent mood.
But in Sen. Allen's case, he continues to suffer politically for his verbal faux pas last month, referring to an American-born U.S. citizen of Indian heritage as a "macaca," a ethnically derogatory term especially as used in Allen's own Tunisian cultural heritage, during an Aug. 11 speech in southwest Virginia.
At the debate Monday, Allen was compelled more than once, in response to questions from a panel of reporters, to insist that he'd "never heard the word before" he used it, that it was a "thoughtless moment," and in no sense meant it in a negative way. He apologized for it once again.
But it has been since that incident broke in the media, including explicit video footage of him making the remark and others, that Allen has experienced his greatest drop in the polls. The race has become so close that some polls now show Allen slightly ahead and others, including the Wall Street Journal/Zogby poll showing Webb extending his lead.
More than just the "macaca" term, on Aug. 11 Allen went on to say, "Welcome to America, and the real world of Virginia," suggesting that by his appearance, the victim of his taunt, S. R. Sidarth, was neither an American citizen nor a Virginia resident.
In his response to the incident at Monday's debate, Webb said, "I've had a camera in my face for the last eight months, and nothing would justify singling one person out." But he added that he was particularly upset by Allen's suggestion, during the same Aug. 11 outburst, that Webb had never been to southwest Virginia "and probably will never come."
Webb said his roots in Virginia, including that part of the state, "go back to the time that Allen was a Californian." He assailed Allen's continuing "deliberate misrepresentation" of his record, including his intimation that Webb served only 10 months in the Reagan administration when, in fact, it was four years.
Allen, in turn, called on Webb to respect the wishes of President Reagan's wife, Nancy, and withdraw a Webb TV ad showing him being praised by the former president. She claims the ad misrepresents the views of her deceased husband, Allen charged.
Webb did not respond to this at the debate, but earlier quipped that instead of insisting that that film clip be pulled off TV, Allen try to find some footage of his own being praised by President Reagan.
But Webb on Monday had to apologize "the tone of" some past remarks of his own, but in this case written comments from 27 years ago against a greater role for women in the military. Webb said the remarks were specific to a particular situation and apologized for anyway they might have hurt. He went on to say, however, that during his period as Secretary of the Navy in the Reagan administration, he "issued more billets to women than in the nation's operational military history," and instituted stronger provisions against sexual harassment.
Still, Webb quipped about the issue as "my macaca payback," to laughter from the crowd, and added, "Keep trying, George." Allen replied that he is "dismayed that you (Webb) continue to rationalize" the issue.
In the debate's most emotional moment, Allen railed against a reporter who suggested he was not forthcoming about a Jewish component of his heritage. Allen's angry denial set off a fury of Internet blog reactions, leading Allen to concede his heritage in a public statement Tuesday for the first time.
Allen Monday defended his record during his first term in the U.S. Senate and during four years before that as governor of Virginia. He hailed the notion that Virginia now exports more computer memory chips than cigarettes, but Webb retorted that former Democratic Governor Mark Warner "deserves credit for that."
Webb cited polls showing that two-thirds of the American people "continue to believe that the country is headed in the wrong direction." He said his key issues are to provide a proper focus for national defense, to provide more citizens and families with the benefits of economic and social justice, and to stop the government's abuse of its constitutional powers.
Allen said he seeks "to continue to fight for our shared values," citing achievements such as the abolition of parole and gains in deterring gangs, and his goal of fighting for scientific, technological and engineering education and training.
"We are a patchwork constituting one America, he said, contrasted to Webb's assertion that there are "three Americas" where "those at the top have never had it so good and the middle class is in great danger," and those at the bottom of the economic heap.
"Wages as a percentage of national wealth are at an all time low," Webb said. He said that although he affirms Virginia's "right to work" laws, that organized labor's role in society should be "reinvigorated" to stem the outsourcing of jobs and detrimental impacts of unbridled immigration. He noted that Allen repeatedly voted against raising the minimum wage, which hasn't grown since 1997, while, in the meantime, voting himself raises four times.
Allen and Webb also differed on stem cell research, with Allen insisting that it "not destroy a human embryo." Webb said he sided with Nancy Reagan on the subject, noting that any embryos used "would not become human life" in any event and that "the weight of medical science is with it."
On Iraq, Allen said the U.S. is there "fighting for the security of the U.S."
"It is a tough slog but we must win," he said. "The key question is 'where do we go in the future?'" He then assailed Webb for his suggestion that Iran and Syria should be brought into talks on the future of Iraq.
Webb replied, "It was a strategic error to go in in the first place, and now we have to figure out how to get out." He noted that it was U.S. policy to bring in all neighboring countries, including Iran, to consider the future of Afghanistan after the Taliban was ousted, but that ended with Bush's "axis of evil" speech.
"We should not be afraid to talk with anyone," he added, noting the seminal role of Nixon's visits to China even at the height of adversarial relations. "Bush has blinders on this." Webb called for "an immediate conference to nations" to deal with Iraq, noting that Iran "has more power in Iraq now than in 300 years."
While saying he would not vote to cut off funds to the U.S. military effort in Iraq, he noted, "The insurgency is active there because it resents the U.S. presence."