FALLS CHURCH'S OWN Tom Gittins Sr. (left) and Sue Gittins (right) chatted with Rep. Jim Moran and his special guest, Sen. Ted Kennedy, at a Moran event last week. (News-Press photo)
Make Friends, Volunteer!
Volunteers are needed for The Naomi Project, a free interfaith program sponsored by The Virginia Council of Churches. The program matches one volunteer with a pregnant or newly parented woman to mentor and befriend her through the pregnancy and the baby's early development. The next training will be Sept. 30 at Falls Church Presbyterian Church; registration begins at 8:30 a.m. For more information or to volunteer, contact Pilar Jones at 703-860-2633.
Despite Rain, Golf Tournament Shines
Fighting off poor weather, more than 100 members of the Arlington business community gathered to participate in the Arlington Chamber of Commerce's 55th Annual Fall Outing Golf Tournament. The outing, which took place at Westwood Country Club in Vienna included several individual competitions, including closest-to-the-pin and longest drive contests. The Association of the U.S. Army Team consisting of Don Thomas, Danny Thomas, and Jimmie Spencer took first place overall for the lowest gross score.
The Zone Defense or Zone Diet?
Hey ladies, feeling a little lonely when your favorite fella is parked uselessly in front of the TV watching football on Sundays? Well, now you can get in on the act too, with "Game-Day Goddess," a humorous guide to football penned by Falls Church's Suzy Beamer Bohnert. It gives an introduction to the sport for the uninitiated, using comparisons to fields some women might be more used to. Maybe you can use it to bet your husband to go clean the gutters if you can recite the definition of a clipping penalty …
Local Actor Strikes Chord with Playwright
Falls Church's young actor, Miles Butler, received a glowing review of his reading at the Kennedy Center recently of a major part in a powerful new play, "Pangea," by none other than the play's author, New York's Stephen Culp. Culp wrote how impressed he was with Miles' performance, saying he embodied the key role as he, the author, imagined it and saying he couldn't imagine a better actor for the part.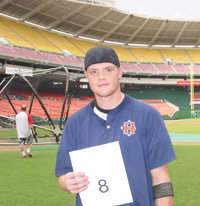 Falls Church Grad Continues Academic Success
Congratulations to John Hopkins University student Alexandra Eager, for being named to the Dean's List for the Spring 2006 semester. Eager, the daughter of Mrs. Trina Tyrer, is a graduate of George C Marshall High School in Falls Church. To be selected for this honor a student must earn a grade point average of 3.5 or higher on a 4.0 scale. Eager who expects to graduate in May 2008, is currently pursuing a psychology degree.
Could be "Big Break" for Virginia Resident
The Big Break VI: Trump National, which promises to be the "biggest and boldest Big Break yet" will feature Reston, Va. resident Kelly Murray. The show, which is in its sixth season on The Golf Channel, is scheduled to unveil its all-new cast on Sept. 26 at 10 p.m. ET.
Auction to Focus on Living With Autism
St. John's Community Services 5th Annual Art Auction, ARTview, will be held on Wed. Sept 27. from 6-9 p.m. at the Carnegie Library in DC. ARTview embodies the St. John's mission of "advancing community support and opportunities for people living with disabilities." This year's auction features the work of Jessica Park (www.jessicapark.com) as well as several local artists. For more information or to purchase tickets for ARTview, call 202-274-3409 or email sbishop@sjcs.org. You can also log onto St John's website, www.sjcs.org.
A Taste of the Tropics in Virginia
Summer may be ending, but that's no reason to put away those shorts- Halau Ho'omau is offering area residents two unique opportunities to immerse themselves in Hawaiian culture this month. On Sunday, Sept. 24 at 2 p.m. the halau (Hawaiian hula school) will perform at the "Savor the Valley Wine, Food & Craft Festival". For directions and more information on the performance visit shenandoahcaverns.com. Also performing this month is "Ho'ike 2006", a program of Hawaiian music and dance on Sept. 30 from 2-4 p.m. in the multi purpose room of Barrett Elementary School. Tickets are $5 at the door.
Going for the Gold
The 2006 Northern Virginia Senior Olympics kicked off this Saturday at Falls Church High School and will continue through Sept 28. The opening day ceremonies included remarks by Congressman Tom Davis and competitions in the track and field events. Additional information on events and dates can be found at www.novaseniorolympics.com
Promotional Day features Free Massages
That midday java jolt just got even better- Starbucks on West Broad St. will offer free seated massages today (Thursday) from 11-6 p.m. The promotion is being put on Northern Virginia Massage and no purchase is necessary.
Pancakes for Parkinsons
Hungry? Head to The Original Pancake House on West Broad St. for breakfast or lunch on Sept. 28 – 15 percent of the day's proceeds will go to benefit the Parkinson Foundation of the National Capitol Area (PFNCA). For the third year in a row, owners Jane and Jeff Bulman have supported the PFNCA, a foundation that provides funds for research and sponsors more than 30 support groups throughout the region. For more information on the PFNCA, call the foundation at (703) 287-8729 or dine in on 28th to help support a great cause.