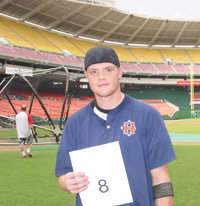 MAKING THE MOVE, friends from throughout the Falls Church community turned out this last weekend to help Tom Gittins move his Art and Frame of Falls Church shop from its Broad Street location to 111 Park Avenue, formerly home to Miniatures from the Attic. Tom was open for business Monday. (Photo by Shaun VanSteyn).
New Board of Directors to Arlington Soccer Association
Mauricio Coreas was elected to the Arlington Soccer Association Board. Mr. Coreas has been the manager of the Teens Boys Soccer Club for the past three years. Beginning Saturday, Sept. 16, more than 4,500 boys and girls from Falls Church and Arlington will play soccer in the ASA youth soccer programs. Teams are available for boys and girls ages 5-14 as well as high school-age players. For more information, visit http://www.arlingtonsoccer.com/.
Falls Church Students Attend Scottish University
McLean High School students, Kimberly and Michael Rhodes of Falls Church, recently completed a month-long program in Scottish Studies at the University of St Andrews in Scotland. The program featured college-level instruction in Scottish political, artistic, and literary history.
The Grand Saga of the Monarch Butterfly
Biologist, Dr. Lincoln Brower, is giving a lecture concerning the migration of monarch butterflies from North America to central Mexico on Saturday, Sept. 16, 9 a.m. – 4 p.m. at the Green Spring Gardens, 4603 Green Spring Road, Alexandria. The cost for the lecture is $15. There will also be other activities during this butterfly festival, including a silent auction, discovery station and tagging monarch butterflies that cost $5-$10. For more information, call 703-642-5173.
American Century's 'MacBird!'
Robert Rector from Falls Church has a featured role in the Amrican Century Theater's upcoming production of the legendary MacBird! by Barbara Garson. Rector plays President John F. Kennedy in the production. The production runs Sept. 8 – Oct. 7 at Theater II, Gunson Arts Center, 2700 S. Lang Street, Arlington. For tickets and information, visit http://www.americancentury.org/ or call 703-553-8782.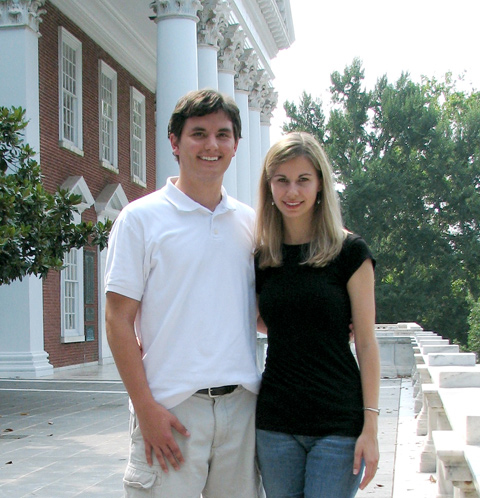 Local Lupus Fundraiser
Lupus awareness Month is this October. The Lupus Foundation of Greator Washington holds its 28th Annual Golf Classic Fundraiser on Monday, Oct. 2, 10:30 a.m. This event will be held at the 18-hole Arnold Palmer Signature golf course at the luxurious Belmond Country Club in Ashburn, Va. Local businesses can sponsor foursomes for $2,500 and individual golfers may play for a donation of $400. To purchase tickets or for more information, call 703-644-0058.
World Police and Fire Games Site Inspectors Tour Fairfax County
Michael Graham, Steve Stigall and Dave Kent visited 30 different athletic venues in Fairfax County, VA on Saturday, Sept. 9 through Monday, Sept. 11. These venues included George Mason University, George Washington's Mount Vernon Estate, Lake Fairfax and Wakefield Parks, the Wolf Trap Park, Westfield High School, and many more. These and other venues are tabbed to serve as the sites for more than 60 different athletic events which will comprise the 2013 World Police and Fire Games international competition, should Fairfax County/Washington, DC earn the selection as the host destination. To learn more, contact Sgt. Bruce Blechl at bruce.blechl@fairfaxcounty.gov. or call 703-449-7222.
24-Hour CreateAThon
Mediastudio hosts a 24 hour createathon by bringing artists together to help local non-profits. A volunteer team of graphics designers, writers, and strategists from the 11 selected applicatnts across the metro area will meet with selected non-profits to discuss the business tools they need most. Volunteers will work from 8 a.m. on Sep. 15 until 8 a.m. the following day at Mediastudio to create logos, brochures, advertisements, Web sites, communication plans, and other essential business tools free of charge. To learn more about Mediastudio, visit http://www.mediastudio.com/.
Northern Virginia Senior Olympics
The 2006 Northern Virginia Senior Olympics will be held Sep. 6-28. Seniors living in one of the sponsoring Northern Virginia jurisdictions will compete in one or more of 25 events. The public is invited to attend any event with no admission fee. Opening day is on Saturday, Sep. 16 starting at 9:30 at the Falls Church High School, located at 7521 Jaguar Trail off Rt. 50. Other events will continue Sep. 18 – 28 at different locations. For more information, call 703-228-3600, ext. 9996.
Relief Efforts in Mississippi
Peace Lutheran Church in Annandale is leading an effort to fill a tractor trailer with food and over the counter medicines to send to Mississippi on Sep. 23 and 24. Christus Victor Lutheran Church, a congregation in Mississippi, is a FEMA-designated hurricane disaster response center. To view pictures, visit http://www.campvictor.org/. For more information, call 301-364-0272 or 703-379-1378.
FC Bar Jazzes It Up
Sign of the Whale, a new club that opened up in Falls Church, is hosting free Jazz performances, including Jeff Antoniuk and the Jazz Update Band. For more information, call 410-349-1468.
Veterans Dance
The Vietnam Veterans of America Inc. hosts its 18th DMZ TO Delta Dance on Nov. 10, 2006, 8 p.m. – 12 p.m. at the Holiday Inn—Rosslyn, 1900 N. Fort Myer Drive, Arlington, VA. Admissions price is $30 per person and includes dancing, finger food, silent auction, cash bar, 50/50 raffle, Vietnam Veteran Camaraderie Veteran's Collectibles and free parking. For more information, call 703-912-1681. For hotel reservations, call 1-800-368-3408 (code: VIE).
Recycle Your Unwanted Items
Falls Church City hosted a "Recycling Extravaganza" this Saturday, Sep. 9, where all unwanted computers, TVs, phones, clothing, bike, and much more was brought to the Recycling Center, 217 Gordon Road. For more information, call 703-248-5176.
Brazilian Independence Celebrated
Danielle Areco performed at the Brazilian Independence Party this Saturday, Sep. 9 at the local Heritage Restaurant and Lounge. Guests listened to the best Brazilian music and enjoyed special drinks.
FC Youth Lax Clinics Offered
Lacrosse Players of all skill levels, grades 1-8, can join the Falls Church Youth Lacrosse League for instructional fall clinics on Saturday afternoons (girls 1 p.m. – 3 p.m., and boys 3 p.m. – 5 p.m.). The clinics begin on Sept. 16 and end on November 11. The clinics are designed to introduce the game to new players, improve the play of experienced players, and get everyone ready for spring league play. For more information and online registration, please visit http://www.fclaxclub.com/.For any questions, call (703) 623-0466.