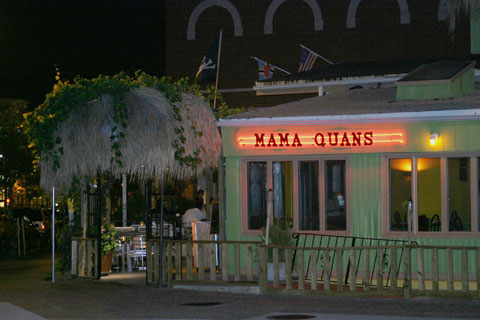 Tiffany's Bakery was in existence for 20 years in the Seven Corners shopping center before the Jimenez family bought it 10 years ago. Beatrice, Mr. Bonifacio Jimenez' wife enjoys the experience of owning the bakery, especially since they have their three daughters to help.
"I love it. My husband is always planning for the next cake — how it's going to be and look," Beatrice shares.
Each decadent pastry is made from the finest quality ingredients imported from Switzerland to make these famous French and Italian baked goodies. The bakery offers a variety of high class sweets such as Tres Leches, Strawberry Black Forest, Strawberry Shortcake, White Chocolate Cake, Mocha and Chocolate Mousse, Tiramisu, Napoleon, and their most famous one, Fruit Cake.
The Fruit Cake is a favorite amongst their customers. This cake is "not too sweet and has something everybody can eat," Beatriz comments. Made out of vanilla cake, French custard crème and topped with strawberries, kiwis and other fruits, this cake can be served for any occasion.
Tiffany's bakery makes cakes for all kinds of occasions, including weddings and birthday parties. The best part is all slices of cakes are one price: $2.95 a slice. Wedding cakes are $2.99 a slice. For birthday or other party cakes, it's best to call in two days in advance. Because so much goes into making a wedding cake, where the finest products for the cake need to be ordered and especially made for each customer, you would have to place an order for a wedding cake three weeks prior to the reception.
Other than the variety of cakes that Tiffany's Bakery comprises, the bakery also serves an assortment of cookies and pastries including, coconut macaroons, chocolate brownies, croissants, tarts and French and Italian breads, many of which are under a dollar. After you make your selection of goodies from the display glass window, which shows each name and price, you can choose to sit and enjoy your dessert with a cup of fresh coffee, either Columbian or French blends, or have your dessert boxed up to go.
Warning! If you chose to sit at one of the bakery's round tables, you might be tempted to go for seconds. They're that good!
Each slice of cake is perfectly wrapped to reserve its decadent flavor. Just grab one bite and you'll know what I mean. The Tres Leche is made with three fluffy layers of French vanilla cake with crème filling and swirled with the same special crème and a dash of cinnamon. Each bite of this fine recipe will make your mouth water for more. Like Beatriz promised, it's just right; not too much crème or sweetness, but just right for any sweet tooth.
The bakery's cakes range from a small, which serves 8-10 people, to the largest size, which can fill 100 people and more. The wedding cakes can be made in any size depending on the customers' request. A second bakery has also been opened up in the Annandale area that serves the same menu.
Tiffany's Bakery
6385 Seven Corners Center
Falls Church, VA 22044
703-241-0271
Mon.-Fri. 8 a.m. – 8 p.m.; Sat. 8 a.m. – 6 p.m.; Sun. 11 a.m. – 5 p.m.