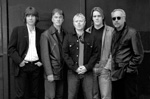 Like many songwriters, Bruce Cockburn is a storyteller. But unlike most songwriters in today's top-40 world, he has actually witnessed the subjects about which he sings.
Such was the case when he penned the famous track "If I Had a Rocket Launcher," a tune Cockburn penned after visiting a refugee camp near war-torn Guatemala. Just before his visit, the camp had been attacked by government helicopters — helicopters that returned and unleashed another attack just after he departed.
More recently, Cockburn was inspired by another such expedition, this time a 2004 trip to Baghdad. That campaign has manifested itself in the form of "This is Baghdad" on Cockburn's latest album Life Short, Call Now.
"'This is Baghdad' is a portrait," Cockburn says. "I wasn't looking for a song over there, but I was hopeful that I would be touched by something and in turn could touch other people."
The stories he shares are different than the majority that dot the nightly news, in which anchors recount the violence of the day and evaluate its impact on the country's stabilization. Instead they are the tales of the people. Those that once lived in a city as common as any found in North America, and now find themselves battling obstacles as seemingly innocuous as power outages or as lethal as automatic-weapon toting criminals.
"It is unbelievable how different life is for the citizens of Baghdad," Cockburn says. "The fear of war, the fear of criminal activity, lacking electricity, faulty life support machines in hospitals. Here are people, who lived like we live, now living in chaos. It's both saddening and impressive at the same time."
It would be easy to think of Cockburn as merely a politically active songwriter and count him among the growing number of artists to issue material in opposition to the war in Iraq. But such hands-on involvement tells a different story then that of a mere critic of the current administration.
"It's not my intention to campaign, this is just my emotional reaction to what I see," Cockburn says.
His boots-on-the-ground experiences have made him more of a journalist than merely a songwriter, albeit a journalist unbridled from the confines of objectivity. And now he's telling you about his latest findings, on his new album and on his tour. Moreover, audiences, even in red states, are welcoming him with open arms.
"I was in Nashville the other night and one guy screamed out 'I know we're a red state, but we're not all bad,'" Cockburn recalled. "There are probably some people out there that don't think I should be saying what I'm saying. But they're not the ones coming to my shows."
For all of his storytelling, Cockburn doesn't believe his work alone will affect any sort of political change.
"In terms of moving society, I don't think that music does that," Cockburn says. "I think that it accompanies it though. The music of the Vietnam era didn't stop the war, but it was a rallying point."
Fans of his stories and his music can rally around him next Wednesday when Cockburn plays the Birchmere in Alexandria. Showtime is 7:30 p.m.
---
Off Track
One-hundred and ninety-four years ago, Francis Scott Key found himself on the deck of a British warship, when explosions began to tear into the sides of Fort McHenry. He watched helplessly as his friends died before his eyes, an experience so profound that it moved him to pen the poem we now know as "The Star Spangled Banner." Five years ago, Adam B. Levowitz found himself sitting on his bed, staring at the impossible images on his television as the Pentagon burned and the Twin Towers fell.
Like Key before him, the experience moved Levowitz, a professional musician for the past 21 years, to compose a work of art to memorialize the tragic events that had played out before his eyes. Taking the words of President George W. Bush's speech at the National Cathedral prayer service three days after Sept. 11, 2001, Levowitz composed a multi-media piece titled "Now Come the Names" that he has performed every year save one since 9/11.
"This is the way that I can support our cause," the 37-year-old conductor of the Falls Church Concert Band says. "I'm too old to serve in the military, this is the one tiny little thing that I can do to support our men and women in uniform and police and fire fighters who put their lives on the line."
Levowitz first performed the piece on Nov. 11, 2001, Veterans Day, in Houston, Tx. Now, he'll bring that composition to Northern Virginia when he conducts the Falls Church Concert Band's performance at the Temple Rodef Shalom (2100 West Moreland St., Falls Church) this coming Monday night. Dress is formal black.
"There's a part in the speech where President Bush said 'Spouses and children and families and friends, you are not alone,'" Levowitz recalls. "That's why I do this every year. I do it to remember, or rather not to forget. It's easy to put these things out of our minds because they're too horrible. But it's important if for no other reason than to remember the everyday people that died and the suffering that went along with it."
---