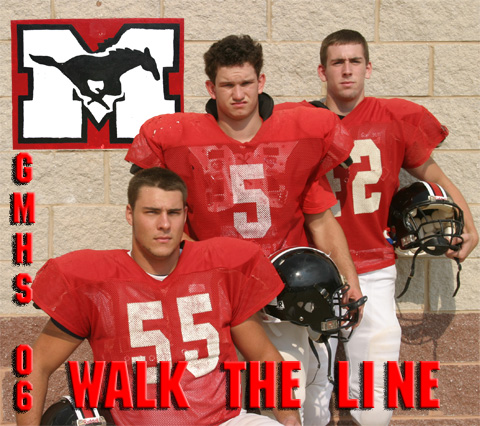 The George Mason High School 2006 varsity football team kicks off its season looking to continue the success it had last year. After going 6-3 in the 2005 season, falling only to three playoff teams, the Mustangs will look to its experienced line to compliment their youth in the backfield.
On a team that graduated a plethora of seniors at the skill positions, the oft-overlooked members of Mason's gridiron game will be thrust to the forefront this season. While the "front line," so to speak, won't have their name in the box scores, Coach Tom Horn believes that their tireless effort will play a key part in their success this year.
"How hard they work doesn't get recognized. They are working from November to the following September in the off-season," Horn said about his line, which will include 2005 all-region team member senior Ryan Larcamp, and all-district senior offensive linemen Cody Reynolds and Ben Zorn. "They are committed to eating right, lifting, and improving their game. While this may not be the biggest line we've had, it is certainly the most athletic in combination with strength."
Complimenting the aforementioned seniors on the line will be juniors Brady Hatfield and Austin Lucas. Both return as starters from last year.
After losing a trio of backfield stars in all-state running back Travis Greene, quarterback Eric Blush, and running back John Schwengel, the Mustangs will attempt to replace them by fielding a relatively inexperienced backfield. Leading the charge will be senior Eddie Huber, a second team All-District back last season. The "B" and "C" backs in Horn's intricate double-wing offense will be Judah Chandler, a senior, and his brother sophomore Joel Chandler.
"You can't replace specific players," Horn said. "The foundation shouldn't change, but we try to adapt to what the kids can do well. We have a new quarterback, a new running back, but we will continue to be a sound defensive team."
Replacing an experienced leader like Blush, who spent three seasons as the starting quarterback, will not be easy either. The Mustangs enter the season with last year's back-up, junior Mike Schwengel, under center. However, Horn believes that having the versatile Schwengel running the offense will open up the running game.
"[Mike's] a dynamic player with lots of ability, and we will try to find a way to use his creative athleticism on the field," Horn said.
Horn believes that the senior leaders on this team are "rightfully positioned" for success, considering all the hard work that they have put into this program for numerous years. Among the senior leaders on the George Mason squad mentioned by Horn are Reynolds, Huber, Larcamp, Zorn, and lineman Ed Hickey.
Like last year, the schedule for the Mustangs is nothing to scoff at. This Friday, their first game on the new artificial turf covering their home field at Moore Cadillac Stadium, will be against cross town rival J.E.B. Stuart. Last year, the Mustangs bested Stuart in lopsided fashion, 35-6. The Mustangs will also take on fellow Region B members Stonewall Jackson and Goochland, both of which will take place at Mason. Horn also believes that the Mustangs could face a strong test in defending Bull Run District Champion Manassas Park, although the Cougars will be playing this year without All-State quarterback Jay Terrell.