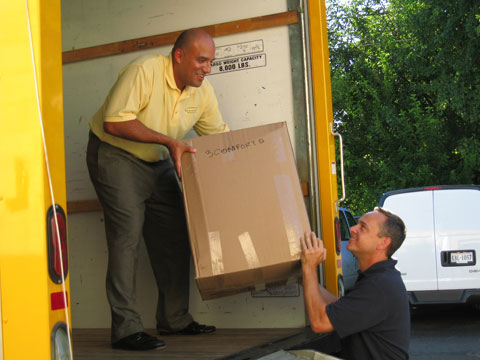 Employees at BridgeStreet offices in Falls Church, Va. and Chicago, Ill. packed 35-foot-long trucks with hundreds of comforters, blankets, pillows, sheets, and mattress pads, as well as dishes, silverware, microwave ovens and VCRs, with a total value in excess of $100,000. The trucks, which departed Falls Church and Chicago today bound for New Orleans, are scheduled to arrive on Thursday, August 24, at one of several residences currently undergoing repair and renovation by organization volunteers. The trucks then will be driven to a nearby warehouse, where the goods will be unloaded and prepared for distribution on August 25, the one-year anniversary of Hurricane Katrina. Shown here are Lee Curtis (left), president and CEO of BridgeStreet Worldwide, and Jon Wohlfert (right), BridgeStreet VP of marketing. At right packing towels is Chris Healy, BridgeStreet operations manager

Recycling Extravaganza
The City of Falls Church Media Advisory hosts a recycling extravaganza on Saturday, Sept. 9, 9 a.m. – 2 p.m. All unwanted electronics, clothing, and other portable goods can be brought to the Falls Church Recycling Center at 217 Gordon Road. All items will be recycled or donated to charities. For more information, call the Falls Church Recycling Hotline at 703-248-5160 or visit their website at www.fallschurchva.gov.
Teacher Appreciation Day
Office Depot at Bailey's Crossroads hosts a teacher appreciation day on Saturday, Aug. 26, 9 a.m. – 12 p.m. at its store at 5845 Leesburg Pike. Teachers will be treated to free breakfast from Dunkin' Donuts and Moe's Southwest Grill and may receive all-day discount coupons. The first 100 teachers will receive tote bags filled with a variety of school supplies, and the chance to win free prizes. For more information, call Eva Ngai at 703-582-4350.
Make a Difference in Your Community
The Fairfax Area Agency needs volunteers to help senior adults. Tasks include transportation to doctor appointments and other errands, grocery shopping, minor household tasks and repairs, and seasonal yard work. Mileage reimbursement is available! To learn more about how you can volunteer to help senior adults in Fairfax County, and especially in the Falls Church area, call the AAA Volunteer Intake Line at 703-324-5406 or e-mail Melanie Mitchell, Volunteer Recruitment & Development Coordinator, at Melanie.mitchell@fairfaxcounty.gov.
Hope and Recovery Tour
PRS, Inc. (formerly Psychiatric Rehabilitation Services) is hosting a Hope and Recovery Tour for Falls Church area residents on Thursday, Sep. 21, 6 p.m. – 7 p.m. The event will be hosted at 500 W. Annandale Road., Falls Church. Come and learn more about mental illness and about the services available in Northern Virginia and at PRS. Please RSVP to Karon Cox at 703-531-6303 or by email at kcox@prsinc.org.
Butlers Go Transatlantic
On Wednesday, Aug. 16, Falls Church's Miles and Charlie Butler joined other youths on a Shakespeare Exchange trip where they performed Romeo and Juliet at Clacton-On-Sea, Essex, in England. Miles was cast as Romeo and Charlie as Tybalt and Friar John. The Butler family also visited 'Anthony & Cleopatra' at the Globe in London. A film maker will be making a documentary of the program.
Franklin & Marshall Students Receive Academic Honors
Franklin & Marshall College awarded students on its academic honors list for the Spring 2006 semester, including three locals, Elizabeth Nadine Cranmer, Jason Edward Kastner, and Shannon Kelly Lewis. They also tabbed those making the Dean's List: Elizabeth Anne Argentieri, Douglas Matthew Fox, Martha Spence Merrow, Sean Robert Orr and Jennifer Lauren Thomas. Franklin & Marshall College is located on the outskirts of Lancaster, Pa.
Career Firefighter of the Year Ceremony
The Fairfax County Fire and Rescue Department selected Master Technician Willie F. Bailey as the 2006 Career Firefighter of the Year. The Ceremony will be held Wednesday, Aug. 30 at 11 a.m. at the Fairfax County Public Safety Center, 4100 Chain Bridge Road, Fairfax, Virginia.
A History Graduate
Jared Michael Beyer, class of 2002 at George Mason High School, graduated from Dickinson College in Carlisle, Penn. on May 21, 2006 with a B.A. degree in History, achieving Dean's List (3.7 and above) for the Spring 2006 semester. Jared is continuing his education in the Master of Fine Arts in Creative Writing/Fiction program at Florida Atlantic University in Boca Raton, Fla. where he is a graduate assistant in English.
Youth Lacrosse Fielding Fall Clinic
Fall Clinic instruction, stressing fundamentals and techniques, is available every Sunday, Sep. 10 – Oct. 8, 2006 for boys and girls grades 1 – 12. Boys' classes will be 1 – 3 p.m. and girls' will be 3:30 – 5:30 p.m. at Bluemont Park. Registration is $90 per person. For more details and to register online, please visit www.aylc.org/fallclinic.htm. For any questions, call 703-524-4529.
Weaving Through the "Olden Days
Marjie Thompson, an expert in old manuscript and textiles, will cover what was really woven at home in our own Colonial era and what was more likely imported and purchased in her lecture, "Woven at Home." The Potomac Craftsmen Guild sponsors this lecture, which will be held on Saturday, Sept. 9, 10 a.m. – 12 p.m. at Inwood House (1091 Inwood Avenue, Silver Spring, Md.) in the downstairs craft room. Entrance is free. For more information, visit www.potomaccraftsmenguild.org.
Tutor Adults in English
Literacy Council of Northern Virginia needs more than 150 new volunteer tutors to help area adults learn to speak, understand, read, and write English. An ESL Tutor Training Workshop will be held on three consecutive Saturdays: Oct. 14, 21, and 28, 9:30 a.m. – 3:30 p.m. at the James Lee Community Center, 2855 Annandale Road in Falls Church. For more information, call 703-237-0866.
Washington College Announces Dean List
Washington College in Chestertown, Md., has announced its Dean's List for the Spring 2006 semester. The following students are students from the Falls Church area who have been recognized for their academic excellence and have achieved a grade point average of 3.4 or higher for the semester: Emily P. Burk and Michelle D. Cook.
Falls Church Participant in Boston University Tanglewood Institute
Jake Harkins, from Falls Church, was among the 170 students selected from auditions across the country and abroad to work with members of the Boston Symphony Orchestra, BU faculty, and world-renowned visiting artists at the acclaimed summer workshop. Harkins has studied percussion for seven years. The program is recognized internationally as an outstanding educational experience for young artists held in Lenox, Mass., at Tanglewood.
FC Resident Honored for Courage & Commitment
Falls Church's Suzanne Pattee was honored with an award at the Johns Hopkins Adult Cystic Fibrosis Program on Aug. 23. The award recognizes Pattee as someone afflicted by CF who gives hope and serves as a role model to others. Suzanne was first diagnosed with CF when she was six months old. Today, at age 43, she works as an attorney she offers her insight as the CF Foundation's Vice President of Public Policy and Patient Affairs.
Fatovic Back in Va.
Former George Mason High School goaltender Alex Fatovic will be playing soccer in Virginia again this weekend when he suits up for his Long Island University team in the Radford University Soccer Tournament.
This summer he played for The Cocoa Beach Expos, PDL team this summer and was seventh in the country in saves with 72.
Now a junior, he will open the season for Long Island University in Virginia on Saturday, Aug. 26 at Radford. Kick-off for the season opener is set for 4:30 p.m. He will play again on Sunday against VMI at 1 p.m.