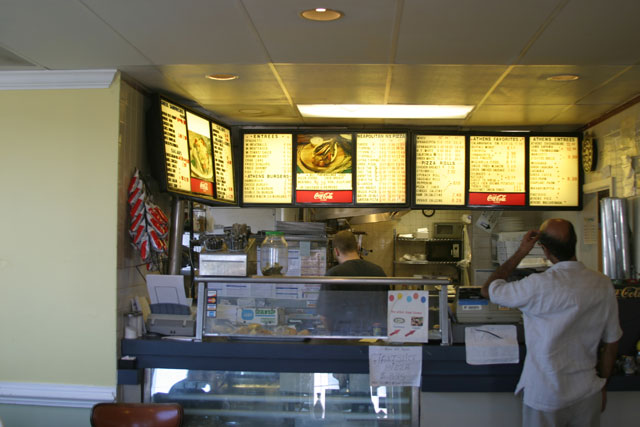 How often are you greeted with a friendly smile and the keen spirit to serve you from the owner himself as soon as you enter the restaurant?

That was the greeting at Athens Restaurant, as the institution celebrates its 38th year in the Falls Church area. Originally, this Greek inspired restaurant opened up in the Seven Corners area and had a Greek owner by the name of Jimmy. Athens, which still holds the same chef and the same menu, as it has for three decades, is now family owned. After the restaurant's relocation 16 years ago to the Baileys Crossroads area, Mr. Ibrahim Salah has become the new owner, perfecting the food and initiating a friendly atmosphere. Because Athens restaurant is family owned, with Mr. Salah's three sons helping him operate it, you are guaranteed a warm welcome and a genial smile, which Mr. Salah recognizes to be the most important attribute in serving his customers.
With a busy ambiance, you still experience serenity in their Greek-inspired setting. From the building's Greek architecture to its national flag-inspired blue and white colors, Athens has a cultural yet homey feel. A touch of yellow and sea green cover the walls, and white and olive colored tiles run across the floor making the place even more peaceful and amiable. The news plays on a 26-inch TV, making you feel right at home.
Athens offers 148 entrees with a wide variety of Greek, Italian and a hint of other Mediterranean cuisine. Their famous Grilled Greek Salad and Grilled Chicken Salad are favorites amongst their customers. The Grilled Chicken Salad consists of fresh green peppers, tomatoes, olives, cucumbers, cubes of feta cheese, tender and partly crispy grilled chicken and red onions, which give the dish a sharp-but-subtle flavor. The chicken is zesty, flavorful and juicy. Sound breathtaking? Well, it is. In fact, other restaurants in the Baileys Crossroads area and Falls Church have tried to mimic the tastes of Athens' Classic salads, striving for the tender chicken flavors Athens flaunts. Those flavors have proved popular, as Athens serves 65 to 80 entrees of either grilled chicken or Greek Salad a day.
Other favorites on the menu include Athens' favorite pizzas and gyros. They have specials running throughout the week with an Italian Pasta Feast on Mondays, Greek Pasta Feast on Tuesdays, Athens Pies Day on Wednesdays, Lamb Kapama on Thursdays, Surf Night on Fridays and Shishkebob Night on Saturdays. Two new items have also been added to their menu: Hummus and Falafel. They serve generous portions on white porcelain round plates to your table, or you can order your food for carry-out. You'll be sure to be served in a jiffy! Nevertheless, that doesn't mean that the food's quality is not in check. Mr. Salah tells us that, "Quality is the most important thing in the food business," and he believes that with all his heart. Just try anything on Athens restaurant menu and you'll see for yourself.
The owner believes the restaurant's location to be ideal, where he gets both residential and business customers. The restaurant also offers catering and a 12-hour delivery, 11 a.m. – 11 p.m., in any two mile radius. For catering services, just call in ahead of time.
What's more is that this two-floor restaurant serves as a Shisha or Hooka bar (and coffee bar) on the second floor. Originally, the second floor used to be an all you can eat Greek Salad and Pizza buffet, but the owner has made some changes of his own to give his customers a more relaxed social environment. The second floor can also be rented out for events or parties.
Athens Restaurant
3541 Carlin Springs Rd., Baileys Crossroads
703-931-3300
11 a.m. – 10 p.m. Mon-Thurs, 11 a.m. – 11 p.m. Fri-Sat,
12 a.m. -10 p.m. Sun.