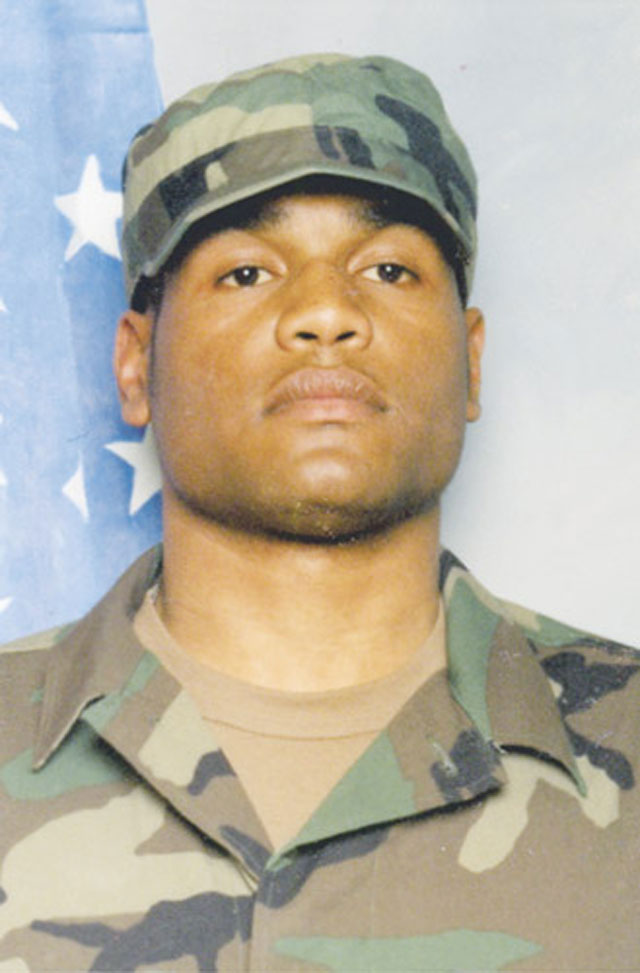 On June 6, 2006, two United States soldiers were building barracks in Ar Ramadi, Iraq, when their camp came under enemy fire. Both soldiers, stationed out of Fort Rucker, Ala., were killed instantly. One of the soldiers was 24-year-old Corporal Andy D. Anderson of Falls Church, a 2001 graduate of J.E.B. Stuart High School.

Anderson had recently visited Falls Church, where he proposed to his high school sweetheart. Nearly two months after his death, his loss still reverberates through the tight-knit community where he grew up, affecting those who knew him best and changing their lives, often for the better.
Anderson, who joined the Army in 2002, is survived by his father, mother and two younger brothers in the Army Reserves, among other relatives. He has been described as an outstanding athlete with drive, dedication and a promising military career.
Roy Ferri, who coached Anderson for three years at J.E.B. Stuart High School, remembers him as his "best player." Anderson played varsity football for three years for Ferri, who now teaches math and coaches track and field at Centreville High School.
Ferri recruited his own team from the students at Stuart, and he often met them on the basketball courts around the neighborhood. "I'd find them and talk to them," he said. "We'd discuss sports, and I'd talk them into playing for me."
Anderson joined the varsity team his sophomore year and established himself as a standout. According to Ferri, Anderson always gave everything he could to the game.
"He was having a great senior year," Ferri recalled, "and then he broke his arm in the first game. He played the next six or seven games with his cast on, before he cut it off himself."
It was this injury that led to one of Ferri's favorite memories of Anderson as a player. "He caught a touchdown pass with two seconds left in the game with his broken arm," he said. "We threw it down the field and hoped that someone would catch it, and he did."
Coach Ferri also established a close personal relationship with his players, including Anderson. "On Saturdays, the team members would come to my house and watch football games on TV while I was up at [Stuart]," Ferri said.
He had an open-door policy – the players could come and go from his house as they pleased. "The kids called it home," he said. Ferri made sure his players stayed out of trouble with the help of Kenny Baldwin, the youth pastor at the Crossroads Baptist Church.
"I made a deal with the players – if I let them out of practice early on Wednesdays, Kenny would pick them up from the school and take them to church," Ferri remembered.
Kenny Baldwin knew Anderson for ten years before he was killed. "We met through community outreach in Bailey's Crossroads," recalled Baldwin. "I'd take Andy back and forth from practice on Wednesdays. I'd take the players out to eat and to go get haircuts at the barber shop."
He remembers Anderson as a "quiet, impressionable" youth who was "not confrontational" and "got along with everyone."
"He was charming," Baldwin said. "He could talk his way out of trouble. He always had girls chasing after him."
Like Coach Ferri, Baldwin opened his home to Anderson and his friends. "The boys would often spend the night," Baldwin said, "and one morning I woke up with lotion covering the insides of my shoes. No one would confess to it, but I still think it was Andy."
According to Baldwin, Anderson was always concerned about his appearance and would often visit the barber shop twice a week to fix up. "He was always finding a mirror so he could see how he looked," laughs Baldwin.
While serving as a groomsman in Baldwin's wedding, he recalls, Anderson gave someone else a camera so that he could get a picture of himself. "I watch that wedding video all the time," Baldwin said.
Baldwin was deeply involved in the JEB Stuart High School football program while Anderson was a player. "I'd go to the games and yell from the sidelines. The players would listen to me instead of coach [Ferri]," he quipped. Baldwin also shuttled Anderson back and forth from basketball tournaments, another sport where Anderson excelled. "He called me the 'other coach.'"
When Anderson decided join the Army, he discussed his decision at length with Baldwin.
"He had gone to Shenandoah College for a year but didn't like the classroom environment," Baldwin said. "There was an Army recruiting place near the barbershop, so he became interested. The military would keep him out of trouble."
Anderson enlisted and was sent to Fort Rucker for training. Baldwin was impressed with his dedication to the armed forces.
"He wanted to enlist for 20 years," Baldwin said. "That's how you knew he liked what he did – he wanted to make a career out of it. He wasn't fearful."
Anderson would call Baldwin for updates on what was going on in Falls Church, and the two talked frequently.
Anderson's death has touched the entire community, Baldwin says. Three hundred people and two news stations attended a vigil for Anderson; 600 attended his memorial service and 1,000 viewed his body.
"It was a mass representation of the impact of one individual," Baldwin said. "It was like nothing [the Crossroads Baptist Church] had ever seen."
Baldwin still talks to Anderson's family three or four times a week. "Their strength has been amazing," he said.
He added that he hopes to make the best of the situation by using Anderson as a role model for the community. "It's important to let his legacy live on," he said.
"He's an example for young men to make something of themselves. You don't know how long you will have in life, and you should fight for a cause you believe in." He notes that Anderson has touched more lives through his death than he did in his life, and Baldwin hopes to continue making that the case. He wants to start a foundation in Anderson's name.
He said he wants to make sure that Anderson's achievements in life were not in vain, and he's happy with the way that things have turned out so far. "It's surprising and dramatic, and life-changing in a positive way," Baldwin said. "I'm proud of how it's turned out and how God has used it."