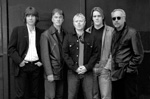 For the legendary Yardbirds, there have been precious few constants to mark a career of change. Most of those notable changes have come to the band itself, where only Chris Dreja and Jim McCarty remain from a lineup that once included the likes of Keith Relf, Eric Clapton, Jeff Beck and Jimmy Page. But nearly 40 years after they were hailed as pioneers in the use of feedback and distortion, today, the Yardbirds believe they are better than ever.
"There's a lot of history with the Yardbirds, but some of that material seems even more relevant today than in the 60s," Dreja says, referring to the reemergence of garage bands like the Strokes and the White Stripes. "Good guitar is good guitar and well-crafted songs are still well crafted."
Given those constants, it stands to reason that Dreja's assessment about the band's sound could be right on the money. Change can sometimes be a good thing, especially now that changing technology has caught up to the Yardbirds' trailblazing ways.
"Playing live feels a lot better," Dreja says about the band's sound following its 1992 reformation. "Back then there weren't great PAs. Now, with a great PA and a great sound engineer, you get to hear everything, whereas back then it sounded distorted to say the least."
All the technological innovations in the world can't replace the skill of a luminary on lead guitar though. On their 2003 album, Birdland, the band constantly changed up that position, drawing from a wide talent pool that included the likes of guests Joe Satriani, Slash, Brian May, Steve Lukather and Steve Vai, who produced the album in his Hollywood studio.
One constant for the band is that even after a 30-year hiatus, successful musicians continue to flock to the Yardbirds' banner, making their lead guitar position appear the musical equivalent of playing shortstop for the New York Yankees.
"We broke the rules and were experimental, but we've always had a lot of space for guitar sounds," Dreja says of why the band is so appealing to established axemen. "The arrangements are quite loose with a lot of room for guitarists to take off."
On this current tour, that room will be exploited by the young Ben King, part of yet another lineup change. King joined the band following the departure of former post-reformation guitarist John "Gypie" Mayo. Back then, Dreja and Co. were left with a familiar predicament. Only this time, there was no readily available solution, no Clapton to tap Page to tap Beck, and for a while, the famed baton was waiting to be taken.
"We were really having a difficult time," Dreja says. "It was like, 'Here we go again, we have to come up with another great guitar player … hell.'"
While talented, none of the auditioned candidates met with the band's seasoned standards.
"Nothing got me off of my seat," Dreja says, before adding what might be the understatement of the century. "And I know potential."
It was potential that set them up with King, a 22-year-old student at the musical college where current Yardbirds bassist/frontman John Idan lectures.
"As soon as Ben started playing, it got me off my stool," Dreja says. "He's going to be something special. He already is."
The dynamic King brings to the band is an interesting one, in that the Yardbirds now boast three generations of musicians. Plus his "no fear style," as Dreja puts it, has helped evolve songs made classic by the Clapton, Beck, Page years.
"We've always been an edgy band, a bit of a cult band really," Dreja says. "If someone plays a certain something, we'll follow it and keep it in the arrangement. Some nights something really special happens."
Friday, July 28 at the State Theatre could be one such night. That's when the band returns to Northern Virginia for the first time since 1966. That year, the band performed at the Alexandria Roller Rink. In an article about that performance printed in the now-defunct Washington Star, the late Keith Relf complained about a draining tour schedule. From Dreja's remarks, it sounds as though that, amid an array of changes, the taxing schedule has remained constant.
"The audiences have been great," Dreja says of the tour that began in Canada. "The traveling has not been so great."
The grueling travel schedule wears on him, he says. It constantly makes him think that these shows might be among his last. But then again, there's another constant reaction that keeps bringing him back.
"There are times when I think I can't continue to do this, but then I'll do a tour and get turned on by it," he says. "I don't want to put the slippers on just yet. This experience is a once in a lifetime sort of thing and I don't want it to end."
That's one sentiment that Yardbirds fans hope will never change.