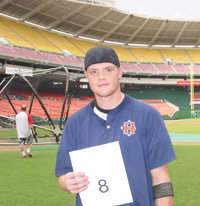 RYAN GREENEY of the acclaimed Falls Church News Hounds amateur baseball club was among 20 lucky fans given the chance to compete in a Home Run Derby on Thursday, July 20 at RFK Stadium. Greeney placed second overall in the competition, which featured no actual home runs. The final standings were determined by distance. The contest was sponsored by SportsTalk980.
For more News & Notes, click today's link!

From Messiah College
Rachel Schultz, a resident of Falls Church, graduated from Messiah College on May 13, 2006 with a Bachelor's degree in Social Work. Established in 1909, Messiah College is a small, private Christian college of the liberal and applied arts and sciences located in Grantham, PA.
Student Earns Spot on Loyola Dean's List
Andrew Campanelli, a local resident and graduate of the George Mason High School class of 2005, was named to the Dean's List for the spring 2006 semester at Loyola University – New Orleans. A position on the Dean's List requires a grade point average of 3.5 or higher.
48 Named to Virginia Tech Dean's List
Over two score local students were named to the Spring Semester Dean's List at Virginia Tech. The undergraduates were recognized for their GPA (all above a 3.4) and the amount credit hours earned (at least 12). Congratulations to Mustafa Amin, Karan Grewal, Komal Makhdoom, Merhawit Z. Tekle, Haley C. Dunn, Griffin D. Goodreau, Peter P. Iliev, Claire D. Jakabcin, Melissa A. Jan, Molly K. McCall, Jennifer P. Sanchez, Syed. M. Shamim, Jeffrey N. Twigg, Rebecca D. Buxton, Susan A. Cordovilla, Mark D. Ferek, Ian A. Hay, Courtney E. Heck, Anna K. Kuzmuk, Shivani Lamba, Natalie A. Lauby, James C. Scarano, Kendall R. Stone, Thomas W. Goodrich, Javed I. Khan, Jennifer H. Murphy, Chuong H. Tran, Ellen L. Vaughan, Gavin R. Argo, Nathan R. Ballou, Steven W. Cave, Amanda L. Davis, Stephen J. Donnelly, Catherine A. Dry, Brian M. Gallagher, David P. Gould, Malini Krishnan, Brian J. Laub, Rachel A. Leonard, Sandra L. Martin, Andrew J. Montgomery, Andrew E. Orban, Spencer D. Patton, Joanna M. Sadler, Geoffrey W. Schrager, Daniel P. Shook, Sharon W. Surette, and Christopher H. Yancey.
Lend a Listening Ear to Assault and Abuse Crisis
The Fairfax County Victim Assistance Network (VAN) is calling for volunteers willing to serve as counselors for a sexual assault and domestic abuse crisis hotline. The commitment includes mandatory training on Wednesday evenings and two Saturdays anytime from Saturday, September 30 to Wednesday, November 29. Male and female volunteers are encouraged; bilingual and bicultural volunteers are welcomed. This volunteer opportunity can be fulfilled from home. For more information or to arrange participation, call VAN at 703-360-7273 or contact Kim Hamlett, Volunteer Coordinator, at 703-704-6716.
Area Student Named to Scripps College Dean's List
Kelsey M. Sanford, a resident of Falls Church, was named to the Dean's List for the spring semester at Scripps College in Claremont, California. Sanford achieved an above-average GPA and is a sophomore at the college.
Hair Cuttery Donates Free Haircuts to Children in Need
Hair Cuttery, the largest franchised chain of full-service hair salons, is sponsoring their 8th Annual Share a Haircut campaign, a nationwide program which will donate a free haircut to a child in need for every young person under 18 that pays for a hair cut. Since 1999, Hair Cuttery has donated 310,000 free back-to-school haircuts – this year their goal is to donate 8,250 haircuts to children living in the Washington area (and 55,000 nationwide). The campaign lasts from Tuesday, August 1 until Tuesday, August 15.
Several Local Students Named to UMW Dean's List
The standards to make the Dean's List at Mary Washington University is on par with most other such criterion – it requires a minimum grade point average of 3.5 and can include anywhere from a marginal fraction to the majority of the student body. At this Fredericksburg school, Litza Amurrio, Sabrina Askari, Sara Bahraini, Vanessa Blaney, Hope Bowers, Carissa Culbreath, Andrew Koelz, Philip Newton, and Rebecca Parson were among the roughly thirteen percent of their student body to be recognized for this academic achievement.
Coaching Vacancies at Falls Church High School

Falls Church High School is now accepting resumes for the head coaching positions of the Varsity Boys Lacrosse and Varsity Boys Tennis teams. Interested individuals can send their resumes to Jeanne.kelly@fcps.edu or fax to 703-207-4012.
Applebee's Launches Campaign to Benefit Charity
Some 97 Applebee's Grill and Bar locations throughout Northern Virginia, Washington DC, Pennsylvania, New Jersey, Delaware and Maryland will dedicate the month of August to raising in excess of $200,000 for Alex's Lemonade Stand Foundation. The participating restaurants will be selling $5 paper lemons and glasses of lemonade to raise money for a cure for childhood cancer. Guests purchasing the $5 lemon will receive $5 off their next Carside To Go purchase, and customers will see 25 cents from each glass of lemonade contributed to the campaign. Pioneered in 2000 by 4-year-old cancer patient Alexandra Scott, the non-profit organization has partnered with Applebee's before, raising $166,000 in August of 2005. For more information, please visit www.alexslemonade.org
Washington University in St. Louis Honors Local Student
David Hall, a graduate of Saint Stephens & Saint Agnes School in Falls Church, was named to the Dean's List at Washington University in St. Louis for the spring 2006 semester. Hall is enrolled in the School of Engineering & Applied Science. To qualify for the Dean's List in the School of Engineering, students must earn a GPA of at least 3.60 and be enrolled in at least 12 graded credits.
Information Session with Adoption Agency
Parents considering international adoption who want to learn more about the process can attend an informational meeting on Tuesday, August 22 from 7 p.m. – 9 p.m. The meeting will be held at the Virginia office of Adoption Services Information Agency (ASIA) at 6800 Versar Drive, Suite 312 in Springfield. ASIA is a nonprofit, full-service adoption agency serving families in the Maryland, Virginia and Washington DC area. The meeting will cover steps of the international adoption process, program options available and related fees. Interested parties are encouraged to register for the meeting by calling 888-904-2229 or e-mailing info@asia-adopt.org
Rising Seniors Attend Leadership Action Program
Three rising senior at George Mason High School, Eddie Huber, Ryan Larcamp and Will Stewart, recently attended the week-long 64th session of American Legion Boys State of Virginia. Held in Lynchburg, the program is designed to develop a working knowledge and understanding of the structure of government, political parties and the political process.
The three youths were recommended by their school's administration for commendable qualities of leadership, character, and scholarship.
Environmental Film Showing On Major Marshland
Arlingtonians for a Clean Environment are sponsoring a film showing entitled "On the Edge – The Potomac River Dyke Marsh" on Monday, August 7. Dyke Marsh, the last major freshwater tidal marshland on the Potomac River is vanishing as a result of human activity. Running from 7:30 p.m. to 9:00 p.m. at the Arlington Central Library (1015 N. Quincy St., Arlington), the showing will be supplemented by a discussion with filmmaker David Eckert. Visit www.arlingtonenvironment.org for more information.
Reston Interfaith Holds Backpack Donation Drive
Reston Interfaith and Kids R First are joining forces for a third year to provide children in need with new backpacks and school supplies. The goal for this year's drive is to collect 4,000 backpacks, which will be filled with supplies purchased by Kids R First through grants and monetary contributions it receives. Backpacks are being collected from now until August 12 and can be donated at Reston Interfaith's main office at 11150 Sunset Hills Rd., Suite 210 in Reston or at the Reston YMCA, Office Depot, Appalachian Spring, the Herndon Staples or Millennium Bank in Lake Anne, Herndon, or Great Falls. Times for drop-off are July 24-August 4, Monday-Friday, 9 a.m. – 5 p.m.; August 7-11, 9 a.m. – 8 p.m.; and August 12, 10 a.m. – 1 p.m. In addition to donations, Reston Interfaith is also looking for volunteers to help stuff the backpacks with supplies. For more information, visit www.restoninterfaith.org/getinvolved.html.
Reston Interfaith Hosts Annual Volunteer Picnic
Reston Interfaith is hosting its annual Volunteer Picnic on Sunday, August 13, from 3:00 – 5:00 p.m. to recognize its volunteers and their over 10,000 hours of service in the past year. The picnic is to be held at North Hills Park, located at the intersection of Center Harbor Road and North Village Road in Reston. All current and interested volunteers are invited to celebrate the community spirit of the Reston Interfaith volunteers.
International Law Firm Holds Annual Backpack Drive
Top international law firm Reed Smith LLP is hosting its seventh annual backpack drive to benefit the children of Graham Road Elementary School in Falls Church. Through the commitment and generous support of clients and other businesses, the firm's Falls Church office will donate backpacks and school supplies to the students at the school's open house. After sponsoring mentoring and tutoring services, the firm developed the backpack drive to further assist those students who come from homes whose annual income is below the national poverty level. The event will take place on Friday, July 28 at 1:30 p.m. at Graham Road Elementary School (3036 Graham Rd., Falls Church).
Ash Lawn Opera Hosts a Series of Summer Saturdays
The Ash Lawn Opera Festival will present three consecutive Summer Saturdays, acclaimed performances geared towards the entertainment of the area's youngsters. On Saturday, July 29 the professional opera company will host Dinosaurs Forever, a prehistoric musical featuring a handful of original Grammy-nominated songs. On Saturday, August 5 there will be an international puppet show given by renowned puppeteer Bob Brown entitled World on a String. The following Saturday will showcase veteran puppeteer Christopher Hudert's version of The Velveteen Rabbit. All performances begin at 11 a.m. – tickets are $5 and are available at the door. The Ash Lawn Opera Festival is held at 2000 Holiday Drive, Suite 100 in Charlottesville, VA.