The talents of Creative Cauldron's founder Laura Connors Hull and legendary crew members Matt Conner and Stephen Gregory Smith present bold showmanship and originality in their newest Cauldron production, "The Adventures of Pinocchio" and as it's said in Spanish, "Las Aventuras de Pinocho."
With original music and lyrics by Conner and Smith, the young actors in the show (almost 40!) perform the oft told tale of Pinocchio whose "father" Gepetto (played by perennial Cauldron favorite, Gus Knapp) is a lonely old man who made a real boy out of a piece of wood.
Creative's version (with understandable Spanish spoken intermittently) begins with Pinocchio having a bad dream, chased by a shark with huge teeth! But his friends, the puppets on a nearby shelf, calm him down with stories of what he experienced to become "real."
Like (most) boys and girls, Pinocchio remembers he was not perfect and disobeyed his father from time to time, going astray to seek adventure which he easily found!
Along his meanderings, Pinocchio met all sorts of unsavory characters, like a sly fox (Zoe Folse- Sibert), a cat (Emerson Thiebert), "bad boys" (Alec Goldenberg, Henry Gill, Emre Silva, Emerson Kelleher, Miles Weiss), a snail (Diana Alison) and many others who try to trick him, the sorts of creatures we may run across in our own real lives as we grow up.
Hanging around Pinocchio is a blue fairy (Lenny Mendez who also co-directs) in a beautiful gown with a magic wand who comes to his rescue whenever he lands in dire straits (often) and when he doesn't tell the truth and his nose grows. Ouch! (Always tell the truth and mind your parents!)
'Pinocchio' ends happily, of course, when Gepetto and the wooden but real boy unite to live happily ever after.
In Creative's story, girls play both Pinocchio roles: June Tuss is the wooden Pinocchio and Marie Solander is the real boy.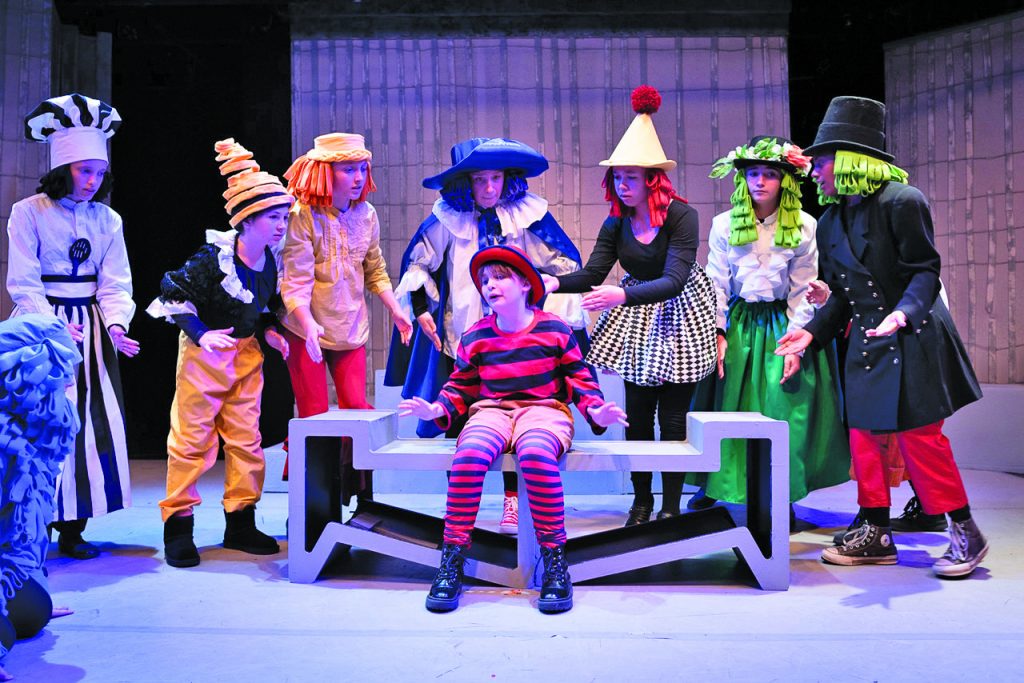 After the play ended and in a short Q and A session, Tuss said the nose was hot to wear, but she had no trouble enlarging it in the show, the audience not even aware of her actions growing it, perhaps due to 15 rehearsals and James Morrison's skilful lighting tricks.
Many of the cast members serve dual roles, sometimes up to three, dancing, singing, and moving about in unison somehow on the small stage, soon to change once Creative Cauldron moves to its new home next year. (Theatre lovers are invited to make donations.)
Other actors in "Pinocchio" are Andrea Valenzuela, Sophie Silva, Emma Howell, Bibi Barba, Hannah Courtney, Ava Bitici, Peyton Beauchemin, Don Juan, Syra Shah, Isla Bitici, Sasha Courtney, Sarah O'Halloran, Ella Harvey, Lillian Henderson, Allison Harman, Whit Jenkins, and Cora Brock.
The theater's Margie Jervis designed the sets and costumes, the apparel, worthy of an exhibition themselves and none alike! Adorable with wigs in all colors, sprouted hats (some with a springboard), brightly colored scarves, ruffles, yellow pants, a green skirt, flowers and more to suit weasels (Isabella Silverman, Kelso Hunt and Aida Gibson), a crow (Madeline Varho), and a donkey (Arthur Bitici), among many of the characters.
Nicholas J Goodman is stage manager. The Bitici Group at Keller Williams and Zoya's Atelier are major sponsors.
Creative's "Pinocchio" is sure to delight all ages, especially youngsters who can never see or hear enough favorite stories.
This is the last season for Creative Cauldron at Pearson Square since it's going to a new 5000 square-foot space, but it needs money to make the move. Like $150,000 this year! (Where is that blue fairy?) To contribute to the theatre's new venue, visit creativecauldron.org.
"Pinocchio" is staged Friday and Saturday at 7:30 p.m., Saturday and Sunday at 2 p.m., and Sunday at 4 p.m. through Nov.19. Students, $18; adults, $20; family 4-packs, $65 (use code 4PK). Discounts for groups of 10 and more. Duration is about 90 minutes without intermission. 410 South Maple Ave., Retail 116, 703-436-9948.