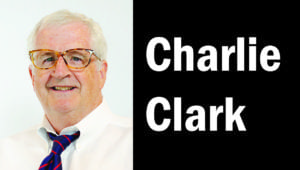 County board member Erik Gutshall heard the big news of Amazon's coming on a Monday night, via a call from County Manager Mark Schwartz, the night before the Nov. 13 announcement confirming the long-trickling rumors.
Schwartz had been told by Gov. Ralph Northam.
When word reached me via old-fashioned newsprint, I found it fun to witness our fair county in the worldwide spotlight. And I wondered about the corporatization of our landscape, pondering the company nameplates that decorate the high-rises on our horizons.
In Crystal City, if Amazon mounts a logo, it will join well-displayed monikers of Boeing and SAIC. In Rosslyn, the glass skyline brand names now include BAE Systems, Raytheon, Northrop Grumman, Grant Thornton, the University of Virginia's Darden Business School and the Corporate Executive Board. (I can see most from my office across the Potomac.)
In Ballston, daily passersby can look up and behold neon for Willis Towers Watson, CGI, CACI, Accenture, AES, the Virginia Tech Research Center and Jacobs (engineering).
The signs play no small role in the modern Arlington identity. They also cost their sponsors a pretty penny, not to mention detailed negotiations for rights and placement.
In my view, some signs are misleading, in that they create an impression that each company is headquartered in Arlington and owns the building. In fact, the brander might be a branch office and one of several tenants leasing a few floors of the high-rise.
"The rule of thumb has been that it is hard to obtain the main sign on a building if you aren't occupying at least half the available space," I was told by Dave DiNardo, a longtime commercial real estate broker and former managing director of the Washington Real Estate Investment Trust. If you award the best visibility signage rights to a tenant occupying 40 percent, another company with a greater share might get miffed.
Signs reflect prestige branding, and "are a big deal for a company in showing it has 'arrived,' " he said, though some security-conscious tenants don't want a sign.
Our county government regulators, of course, have a detailed say. Arlington in 2012 did a deep review of sign zoning standards to add flexibility for branders to "facilitate creativity and innovation," according to documents shown me by planner Nick Rogers, zoning amendment coordinator.
Responding to urging by developers, landlords and business improvement districts, authority for approval of comprehensive commercial plans was shifted from the county board to administrative staff, to streamline the process and promote consistency.
But rules still require math and precise measuring to police against, well, tackiness. Signs must comply down to their luminescence, the number of feet for lettering and their placement near the roofline and on frontage overlooking shared public space. No changeable text at heights above 40 feet. Companies that meet performance standards can earn flexibility in other areas, according to Rogers. Yes, there are First Amendment questions.
Out in Seattle, where Amazon's existing headquarters is spread over multiple sites, the main Amazon tower (called Doppler and fronted by giant streetside glass spheres) does not conspicuously sport the company's familiar logo. But if the online giant plans a branding nameplate for its Crystal City HQ (in the area it has nicknamed National Landing), it will have to humbly play by Arlington's rules. One hopes.
I will be looking (up), with interest.
***
Michael Stiefvater, the commercial specialist at Arlington Economic Development, heard the big Amazon news like Joe Citizen, on NPR.
Speaking Nov. 14 to the Committee of 100 on the state of retail in Arlington, he noted that Crystal City developer JBG Smith is bringing in a movie theater, grocery store and bowling alley to help humanize the rapidly evolving airport neighborhood.
Accompanying him was Sasan Rashidi and wife Nasrin, owners of the LA Moves clothing store who've logged 35 years in Arlington. His plea: Given all the county incentives bestowed on Amazon, how about some help for locally owned small businesses that give the area character?