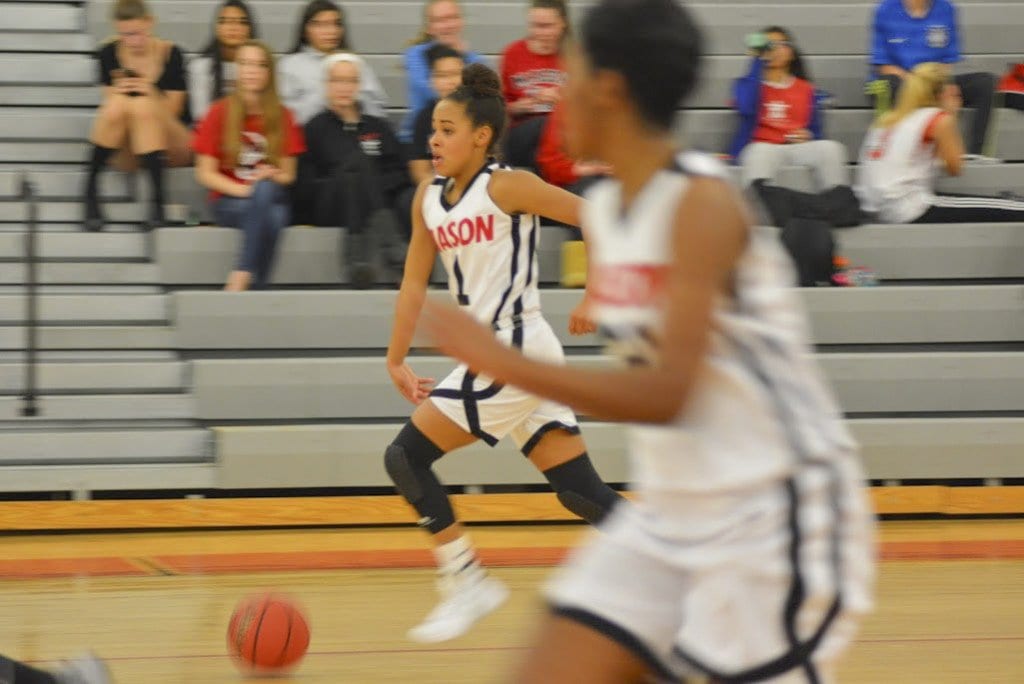 by Matt Delaney
As the season entered its fourth week, George Mason High School's varsity girls basketball team continued to play a step above the rest as they went on the road to beat Central High School, 52-44 on Wednesday, Dec. 16.
The win came against another Bull Run district rival and boosts their overall record to 4-1, but most telling is the Mustangs' ability to win a game against an opponent whose approach to the game is different, yet just as effective as Mason's.
"Great learning experience playing against a good team on the road," head coach Michael Gilroy said. "Central is a good team, with two very good post players. We got beat up on the boards, which was my fear going into the game, but we made plays in key moments and played great defense in 3rd quarter to give us the lead."
Central had started their season perfectly prior to last Wednesday's loss to Mason, which dropped them to 5-1.
Both teams demonstrated their parity throughout the night, scoring within three points of each other for three quarters during the game. The one outlier, as Gilroy mentioned, was the third quarter where Mason added 14 of their own to the scoreboard while limiting Central to eight.
"Second half we just talked about getting stops and really focusing on post defense with proper rotations off the ball," Gilroy said. "We still struggled a bit but did enough to get the win, which I will take any day."
Individual standouts included freshman guard Raquel Dod with 12 points and sophomores guard Nicole Bloomgarden and center Kaylee Hirsch who dropped 12 and 16, respectively. The trio were responsible for 40 of Mason's 52 points on the night.
Hirsch and Bloomgarden frequented the free throw line as the two converted a combined 15-25 from the strike and gave Mason the offensive edge in a bout that was otherwise even.
And, as intended, the transition game has served an increased role in the offense and helped the Mustangs get five of their first eight points.
Starters controlled the scoring, but reserves logged some big minutes as well; a testament to the Mustangs depth.
"We have a team of 15 athletes who can all run the floor," Gilroy said. "I think the best is yet to come for a lot of the girls who don't get their names mentioned much. [Sophomore forward] Jenna Short and [sophomore guard] Bella Ashton were able to provide some great post defense off the bench versus central frontline, gave us quality minutes."
Short and Ashton holding off a team centered around their front court is noteworthy, but add in the fact that Ashton is listed at 5'7 on the team roster and the reality becomes even more eye-opening.
This young Mason team has shown some moxie in the season's first month and continues to make their case for being serious contenders in the postseason.
And though they've been adamant about not looking ahead on their schedule, a winter break tournament next week boasting some out of conference teams like Loudoun County High School, Hylton High School and Robert E. Lee High School will be a good barometer for their postseason hopes.
"We get to play three teams that are gonna give us a lot of adversity," Gilroy said. "All three teams play different styles, so regardless of the outcomes…these games get us battle-tested for our league games and especially for postseason play."
Until then, the Mustangs zero in on another district rival when they visit Strasburg High School for their next game on Wednesday, Dec. 23.