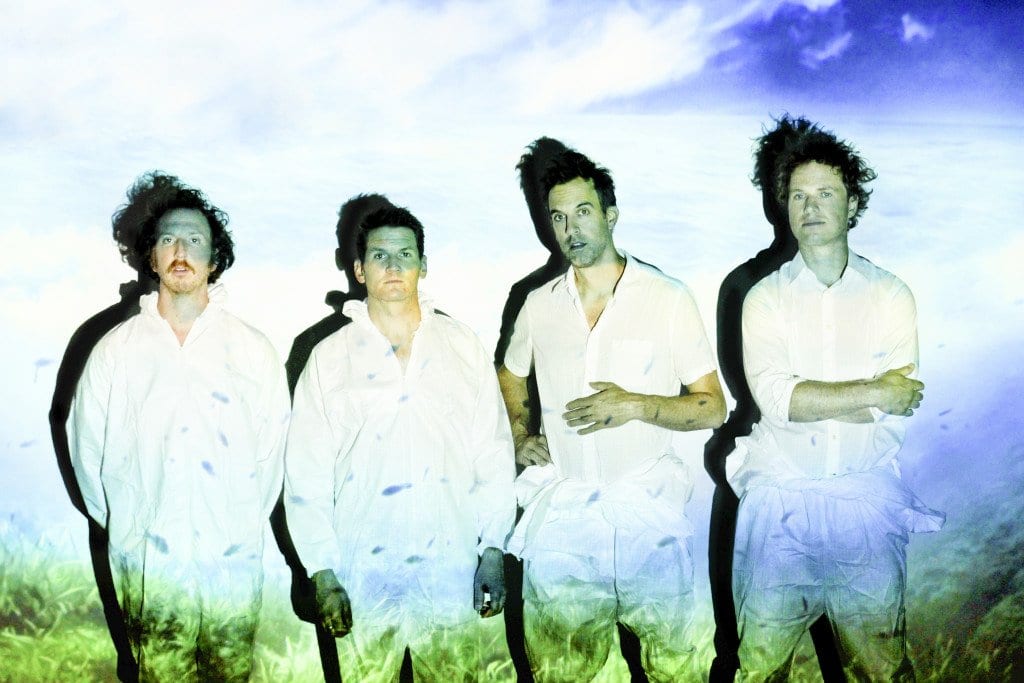 by Karim Doumar
Ryan Rosenworcel, drummer for Guster, remembers how the band came together at Tufts University in the early 1990s.
"We were friends and we were all lamenting that we had left our high school bands and we decided that we would jam sometime," he said.
Adam Gardner and Ryan Miller do lead vocals and play the guitar so between the three of them, "we were just two acoustic guitars and bongos for maybe the first ten years," recalled Rosenworcel.
As a group, they worked hard to master their unique sound – bongos are pretty uncommon in modern music. It took them about three albums throughout the late 1990s to reach point where they were satisfied with their sound.
"It wasn't until Lost and Gone Forever, which came out in 1999 and was recorded by Steve Lillywhite, that we felt we actually achieved [our sound] and once we pretty much captured that, we didn't want to get stuck in it," Rosenworcel said.
So, in order to avoid the comfort and complacency of a style they had mastered, the band members switched things up.
"We added the kitchen sink and everyone just started playing everything," Rosenworcel said. "I remember Ryan struggling to learn the base and me picking up a pair of sticks and finding it very difficult," he added about the learning process.
In 2003 they also added another band member, named Joe Pisapia. "We couldn't pull our music off as a trio anymore," Rosenworcel said. Joe spent seven years with the band but had to move on in 2010. They replaced him with Luke Reynolds.
"These guys are great musicians, multi-instrumentalists, so we can pretty much give them the hardest part of any song and they'll pull it off for us," Rosenworcel said of Pisapia and Reynolds.
Rosenworcel considers the band's openness to new styles and ideas and ability to change as its main achievement. However, there's more to them than just that.
Gardner co-founded a group called Reverb with his wife back in 2004. Reverb is a group that works with many bands to help them leave a smaller environmental impact when they're touring.
"They realized that when we were on the tour bus we were leaving a big stain on the environment out there so they found ways [to] green the touring music industry," Rosenworcel said of the group's founders. Reverb encourages and helps bands to reduce their impact through powering shows with renewable wind power, using bio diesel in busses and eliminating water bottle usage, among other things.
"We have Reverb set us up on the road whenever we tour," Rosenworcel said. This is true now as they tour to showcase their newest album, Evermotion, released earlier this year. Evermotion, some of which will be played at their Thursday night concert at Wolf Trap, exemplifies the band's goal to continue trying new things.
"When you listen to our first album, which we made while we were junior in college at Tufts, and you listen to our album we released earlier this year, it's hard to believe it's the same band; but if you listen to the seven albums in sequence, you can see how we evolved stylistically," Rosenworcel said.
One of the main changes between that first album and Evermotion is that Evermotion "has a lot of space in it. When we were writing in college, we were just eating up all the space with busy acoustic guitars and busy bongos," Rosenworcel recalled.
Understandably, their changing style has garnered mixed support from their fans. According to Rosenworcel, "some fans enjoy the change and roll with the change and other fans hear something and they say 'well that's not Guster; I'm out.'"
That said, Rosenworcel knows that the band will continue to explore new styles as they progress.
"We just kind of have to keep pushing ourselves to grow every time," he said. "That's what keeps us in it for the long haul."
• For more information about Guster, visit guster.com.