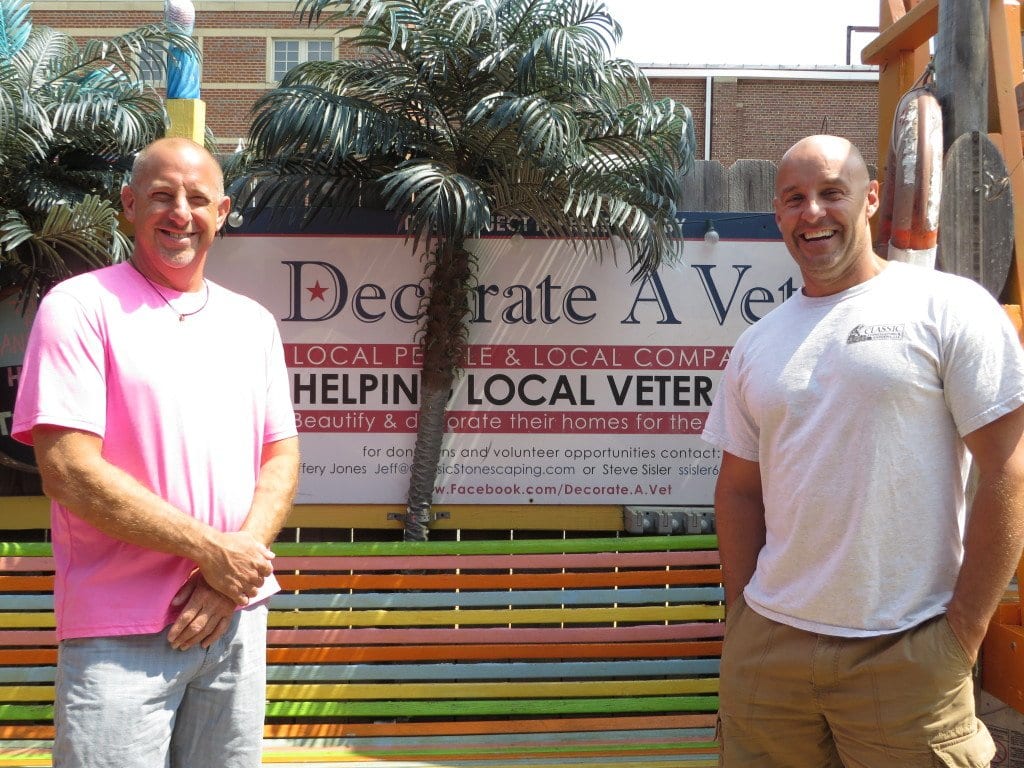 Jeff Jones was sitting in church one morning during Christmas when it all came together.
He'd been thinking for a while about doing something to honor veterans – his father, grandfather, and uncles were all servicemen – but the project had not formed. Until then.
"I'm a Navy brat who's moved around the country, and I came to a point in my life when I could do something," said Jones, the owner of Classic Stonescaping and Gardens in Falls Church.
In the pew that Sunday morning, the idea took shape, and "Decorate A Vet" was born.
Why not decorate the homes of veterans for the holidays?
Jones, 45, approached his pal, David Tax, 49, who exclaimed "I'm in, 100 percent!" and off they ran in 2010, starting with five or six homes to decorate.
Right from the get-go, it quickly became apparent that more was needed to be done for the veterans' homes than simply decorating for the holidays.
"The first year blossomed into a lot more," said Tax in an interview with Jones at Tax's restaurant, Clare and Don's Beach Shack.
They started painting and chopping and trimming and cutting and hauling away overgrown bushes and trees and debris from the homes, and installing new fences and gutters and shutters, ramps, and hand rails, and over the years, found hundreds of volunteers and partners to help out.
Like Home Depot at Seven Corners whose manager uses his discretionary fund to supply materials and send over five or six volunteers, or the FBI which sent 50 volunteers one year, or the five fire departments whose ladders volunteers climb to erect lights up high, or the American Legion.
Said Tax: "The kids of my generation have had some kind of disconnect. They've not been to combat or defended the U.S.," so involving children in the project was a top goal, and they do it, on "Decoration Day," the Saturday which follows the work week after Thanksgiving when adult volunteers, who have numbered in the hundreds over time, beautify the veterans' homes.
"It's the most fun seeing kids out there, sharing responsibilities," Tax said.
The group's biggest problem is identifying veterans who want to sign up for the project since many veterans believe their comrades have greater needs, but "this is not need based," Jones said.
Nominations for (mostly, outside) home improvements can be made on the DAV website, www.decorateavet.org, and veterans may submit themselves.
At each of the five to nine homes DAV decorates, volunteers hang a flag and plant a tree.
One year they branched out to the Wounded Warriors Care Center at Fort Belvoir to decorate a floor and serve food to the staff and patients from Tax's restaurants. (He also owns Mike's Deli at Lazy Sundae.)
For two years going on three, a grant from the Bob Woodruff Foundation has funded the administrative side of DAV which recently received a 501(c) (3) status from the IRS making donations to DAV tax deductible. (DAV's annual fundraiser will be in October at the Beach Shack.)
Dave and Ada Evans are one Falls Church couple who have benefitted from DAV's gifts.
In 2013 they were mostly confined to home. Dave Evans, an Army veteran who served during the Vietnam War days, was felled by a stroke in 2009 and got around on a scooter. Ada Evans was recovering from eye surgery.
"We were not looking forward to Christmas very much that year," Ada Evans said.
One Saturday morning they looked out their windows to find 100 "decorators" in their yard.
The volunteers "really lifted Dave's spirits a great deal," she said, and her husband came out on his scooter to welcome the guests.
The Evans have lived in their Falls Church home since 1972 and "had never had a driveway" until DAV built one for them.
Dave Evans likes to grill, and "Jeff built a very expensive, beautiful stone walkway" so Evans can get out to the grill on his scooter, and, also, his "man cave," made accessible by DAV.
"I was just stunned," said Ada Evans.
We really appreciate what they did," and she still calls Jones for referrals on home improvements.
"We're just trying to say 'thank you,'" said Tax. "It's more about what they've already done."
"If more people would do a little bit more, it would go a long way."
"Our goal is to help vets within the city," Jones. "Stay in your lane."
Neither Jones nor Tax is a veteran. They estimate they've worked on 35 to 40 homes since Jones's dream took root in a church pew at Christmas.