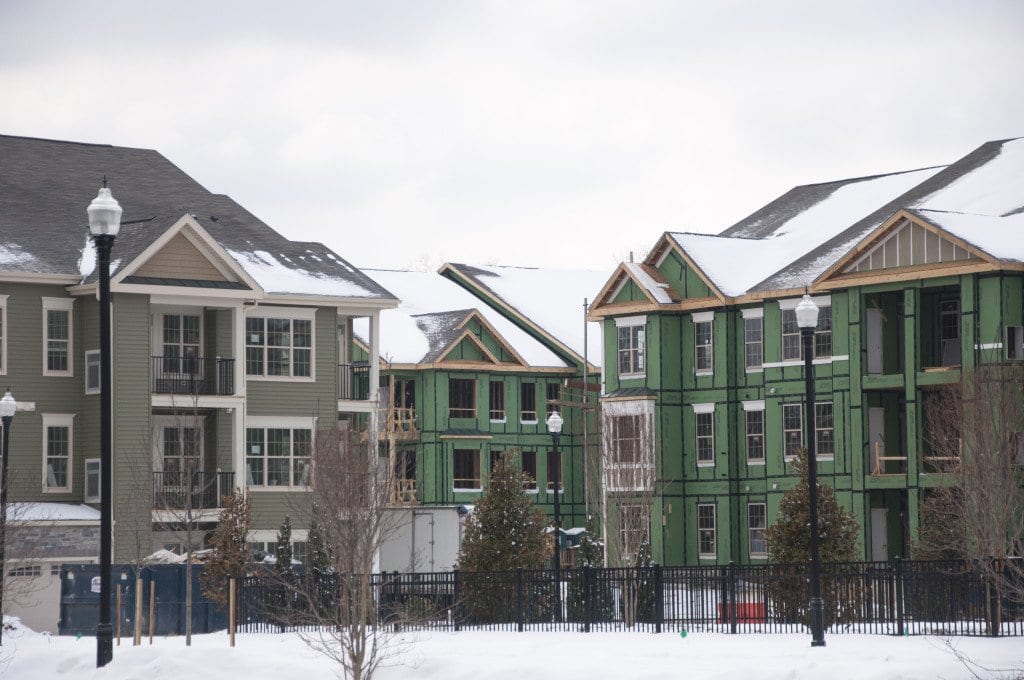 One of the trends in real estate construction over the last 30 years has been the use of engineered wood and other lightweight construction materials in the building of the structures that house residences, including apartments, and businesses. The advantages to using these materials – engineered wood trusses and I-joists used to build a house's roof and floors – are that they are environmentally-friendly and cheaper because less wood is needed to constitute these building supplies.
But while this form of construction is completely legal, a tradeoff – highlighted by a January fire in Edgewater, N.J. that, according to The New York Times, displaced more than a 1,000 residents of an apartment complex built using engineered wood and other buildings surrounding the complex – is that fires in structures built using engineered wood spread faster. And the structures themselves are more prone to structural collapse.
Out of the two major developments in Falls Church City – Rushmark's Harris Teeter building going up on West Broad Street and Lincoln Properties' The Reserve at Tinner Hill – only The Reserve at Tinner Hill is using engineered wood, according to the City's building inspector Doug Fraser. The Harris Teeter building is a concrete structure.
Another development on the edge of the City, Avalon Falls Church on S. Spring Street, also uses engineered wood, according to construction workers on the site. The property is owned and being developed by AvalonBay, the same company that owned the Avalon at Edgewater complex that was torched in the aforementioned January fire. That complex was also built with engineered wood, according to The Times' account of the fire.
Fraser noted in an interview with the News-Press that structures built with engineered wood can be more easily compromised in a fire. "If you take an I-joist and burn two inches off the I-joist you've lost most of the structural capacity of that I-joist," Fraser said.
"So that worries fire guys. If you get a real big house with I-joists and you have a fire in there it doesn't take as much fire to compromise some of the structure of a house's floor system or a roof system."
Falls Church City's fire marshal Tom Polera said that "most fire folks hate" the use of engineered wood, and it has changed how firefighters train and prepare for their job, in addition to changing how they fight actual fires.
"It's what's being used in most construction nowadays. It became very popular in the 1980s and 1990s," Polera said. "The problem with it is it reduces the time capability of the structure being able to withstand a fire when exposed to heat and fire and more of a potential for collapse."
He went on to explain more about the difference of fighting fires in structures made with engineered wood versus dimensional lumber, a material used in older homes.
"If you take a wooden I-beam, for instance, if it's a regular 2×12 piece of wood, there's some meat to that but when you replace it with the I-beam type plywood that's engineered for the original trusses, the meat of the wood is now gone away and it's been replaced with, in best case scenarios, 2x4s," Polera said.
"And that creates a problem when it's under heat and flame, where any component of that gives way you end up having structural collapse. So from a firefighter's perspective what it's done is pretty much change how firefighters respond to calls. Many years ago it was usual for fire crews to get on the roof of a house and cut a hole in the roof to ventilate it so the crews inside could put the fire out quicker. That's when we had houses that were built of normal, full 2x8s or 2x10s being used in construction."
According to Polera, fire crews have had to learn how to respond to fires in buildings built with engineered wood. "From a training and preparedness perspective, we realize it gives us less time, so now we have to figure out if we will actually go inside the house to extinguish a fire or do we try to put the fire out from the outside," Polera said.
"Hopefully everyone's out of the house and we may just extinguish it from the outside if we're hitting that time zone of a potential collapse. So if we're at new homes that were under construction and the actual fire was occurring in the attic space where we know those construction members are not protected, it would be very unlikely that whoever would be in charge of that fire scene that they would have their firefighters go into that house because of the danger of collapse."
Polera said that where older homes built with dimensional lumber may have given them a 20-minute time frame to extinguish a fire, newer homes might only a give them a four-minute time frame depending on the nature of the fire. According to Polera, the only real alternative to using engineered wood would be to go back to using dimensional lumber in building construction.
There are some measures that can and are taken by some developers and construction companies who use this material, one of which being the use of residential sprinkler systems.
According to Fraser, there were changes to the International Code Council's building codes in 2009 that would require developers to install sprinkler systems in structures built with engineered wood, but that code was not adopted into the Virginia Uniform Statewide Building Code. Polera told the News-Press that the use of sprinkler systems can help extend the time engineered wood structures are able to withstand fires.
Other measures that can be taken to shore up structures using engineered wood and lightweight construction materials include the use of firewalls to compartmentalize potential fires, protecting engineered trusses from fires using drywall.
Despite the challenge of fighting fires in structures built with engineered wood and other lightweight construction materials, Polera recognized the cost-saving benefits of using those materials.
"I guess from a perspective of saving money using engineered wood, where is that money going to? If it's going to adding decor or style to the home it doesn't do a whole lot of good," Polera said. "But if we're offsetting that and actually putting sprinklers in the home, saving money on one side to make the home safer, that would might be a benefit."
AvalonBay did not respond to requests for an interview for this story as of press time. A representative for Lincoln Property Company, who are developing The Reserve at Tinner Hill, declined to comment for the story.