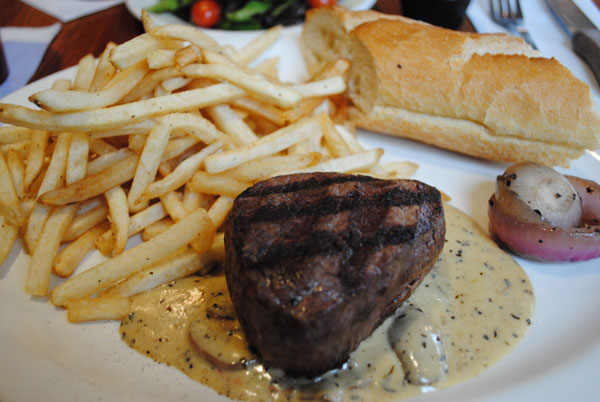 There are soft openings, and then there is Ray's³. Pronounced Ray's to the Third, the restaurant, the latest of the Michael Landrum-owned "Ray" restaurants (Ray's the Steaks, Ray's Hell Burger) might even go unnoticed to passersby who glance past the office-paper signs taped to windows displaying its name, or the dry-erase sandwich board on the sidewalk boasting this spot's 13 steak-frites platters.
Indeed, if customers weren't greeted by a hostess and ushered to an available table, they might even think the restaurant wasn't quite open for business given its lack of décor. Undressed wooden tables fill the neutral-walled space, with little in appearance to make an impression upon diners – save for the steak knife, a sharp device with its heavy wood handle placed simply upon a paper napkin, hinting at the delights to come.
The Ray's before it are known for their treatment of the almighty beef, and this restaurant is no exception. Even on the appetizers portion of the menu, diners can find a bit of steak. Take the so-called Devilishly Good Eggs, hard-boiled eggs whose yolk centers have been replaced with a helping of steak tartare. The restaurant's willingness to serve its beef raw atop the unassuming egg should serve as a good indication of the quality of the meat being used, exciting the tastebuds with what possibilities can come from gently cooking the meat and seasoning it in various treatments and sauces.
And there are many possibilities to have your steak at Ray's – 13, to be precise. Be it the filet mignon or the top sirloin, spicy or mild, this spot offers enough unique platter choices to please a wide audience without overwhelming diners with possibilities. What's more, the prices are reasonable for the sizeable pieces of meat and the hefty portions of fries they serve up, coming in at about $22 a plate.
The filet mignon with brandy mushroom cream, at $23, offers a piece of grass-fed, grain-finished meat, flavorful in its own right, with a delicious sauce that is not so heavy that it obscures the texture of the meat and its slightly charred exterior, but not so thin that it goes unnoticed or slips away from the meat. For the frites portion of the plate is a stack of thin, crispy French fries (which inevitably absorb some of the sauce and flavor from the meat).
Rounding out the platter is a house salad and a large chunk of crunchy baguette, making sure that even famished diners leave satisfied.
Those without such hearty appetites, and those without a craving for red meat, can still find their contentment on the menu, as it also provides a grilled portobello mushroom cap platter, several seafood options, and two takes on chicken.
The chicken comes either skillet-fried or, for those wishing to push the spice boundaries, in the "Hell" variety. At $13 and accompanied by macaroni and cheese and cole slaw, the fried chicken is elevated from its picnic-fare roots to an elegant dish worthy of being served alongside a filet mignon through the use of complex spices – not to mention a wonderfully crispy breading, not a bit soggy, that works as a counterpoint to the moist, white-meat chicken beneath.
While Ray's serves somewhat upscale fare, there is still some room for fun, and it comes via the milkshakes menu. For $5, diners can select from six different flavors, and eight different candy mix-ins (at 75 cents apiece) to create a sweet and creamy treat to go with their meal.
is located at 1650 Wilson Blvd., Arlington. For more information, call 703-974-7171. Restaurant hours are Monday – Sunday: 11 a.m. – 3 p.m. and 5 – 10 p.m.