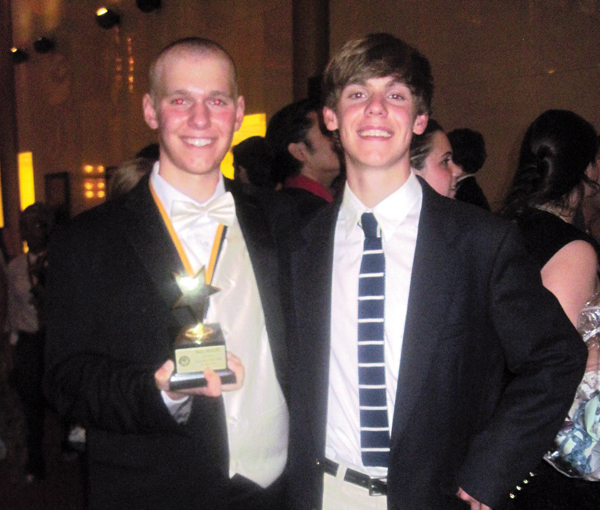 The august stage of the Concert Hall at Washington, D.C.'s magnificent John F. Kennedy Center for the Performing Arts, no less, was where winners of 31 categories honored at the 12th annual Cappies Gala came to receive their awards and recognitions last Sunday night.
The august stage of the Concert Hall at Washington, D.C.'s magnificent John F. Kennedy Center for the Performing Arts, no less, was where winners of 31 categories honored at the 12th annual Cappies Gala came to receive their awards and recognitions last Sunday night.
For students in the high school theater arts, that stage might as well be Carnegie Hall or Yankee Stadium. It's not so much a stage as a pinnacle of youthful achievement, especially with the dimly-lit Concert Hall filled to capacity with rightfully adoring and admiring family, friends, mentors, peers and friendly rivals.
When Falls Church's Sam Waters was named winner of the Best Vocalist award shortly into Sunday night's gala, his classmates from George Mason High School, present in big numbers because the school's production of Les Miserables last November was nominated for no less than seven Cappies, shrieked and cheered with joy, while everyone else in the hall applauded warmly.
Waters, a senior at Mason slated to graduate this week, grinned and made brief, polite acceptance speech and returned to his seat.
But it was a bit later, when it was announced that Sam had been invited, but could not accept the offer to perform his haunting rendition of "Bring Him Home" from Les Mis that truly captivated the audience.
Sam, the M.C. reported, could not perform because he'd been operated on for cancer just last month, and is currently undergoing aggressive chemotherapy treatments. It explained why his normally tousled-blond hair wasn't there when he mounted the stage for his award moments earlier. The audience hushed.
But in the place of his live performance, a large screen drew down from the ceiling on the stage, and a video performance of Sam's "Bring Him Home," performing as Jean Valjean from the November production at Mason was played. The crispness, passion and power in his voice was spellbinding as he knelt in his red jacket to sing a beautiful prayer for the survival a badly-wounded youth.
Upon its conclusion, the entire Concert Hall exploded in a violent, sustained applause, a heartfelt standing ovation for young Sam's magnificent tour de force.
Nothing else mattered so much the rest of the night, despite fantastic, colorful and energetic production numbers of Westfield High's Joseph and the Amazing Technicolor Dreamcoat (which ran away with most of the awards for the night), of Wakefield High's Once on This Island, and a terrific dialogue from Falls Church High School's The Diviners by Brennan Jones and Sam Johnson.
Mason's Les Mis was nominated for Best Musical, "Bring Him Home" for Best Song, Misha Terman for Best Supporting Actor in a Musical, Aleeya Ensign for Comic Actress in a Musical, Sarah Johnson and Yael Urbach for Best Make-Up, and Kal Stankov, Cecilia Wiley, Anastasia Tolstinkhin and Margarita Shevchenko for Best Lighting.
Other wider Falls Church area schools also fared very well, with Falls Church High's The Diviners among the nominees for Best Play, Jones for Best Actor and Johnson for Best Supporting Actor. George Marshall High's production of Oscar Wilde's The Importance of Being Earnest was among the nominees for Best Play, with Charlie Belt nominated for Best Lead Actor in a Play, Neil Wilcox-Cook for Best Supporting Actor in a Play, Lily Roth for Best Supporting Actress in a Play. McLean High School's production of The Terrible Tragedy of Peter Pan, with original music by student Damian Leverett, was among the nominees for the Best Ensemble in a Play (the Lost Boys) and Best Comic Actor in a Play (Max Johnson), with the winner of the award for Creativity going to Leverett.
For Sam Waters, whose most recent public performance was singing hymns at Falls Church's fifth annual Relay for Life benefit for the American Cancer Society on June 4, what had been months of excited planning to decide upon and to enter Rice University in the fall to study for a career in the opera has been put on hold while he undergoes his chemotherapy treatments.
Sam first graced the front page of the News-Press in September 2007, a 14-year-old belting out the National Anthem at a Nationals major league baseball game, having won an audition for the role. The extraordinary clarity and power of his voice was evident as it echoed around gigantic RFK Stadium, winning him a much larger applause from the crowd than usual for such things.
That fall, he, his also musically-talented younger brother Tyler Waters, and a friend went door-to-door through neighborhoods in Falls Church, singing in white dress shirts for their trick-or-treats as the "Three Tenors."
The Waters brothers appearances in countless choral and musical performances at Mason High the last few years revealed their musical versatility and enthusiasm for their art.
In this, his senior year, Sam spent a lot of time on the road exploring the finest musically-oriented programs in the nation for the pursuit of his dream as an operatic performer. He went to Julliard in New York, to the University of Indiana and numerous other places before deciding upon Rice.
But with the world unfolding before him, he went to the doctor last month to treat a wound that had developed on his left hand, which turned out to be cancerous.
The visit put a temporary pause in Sam's plans, but not enough to prevent him from stepping up on that stage at the Kennedy Center's vaunted Concert Hall Sunday night to receive his award as the best young vocalist in the entire Washington, D.C. Metropolitan Area, and to experience the kind of appreciation that he will call forth from music lovers for many, many years to come.