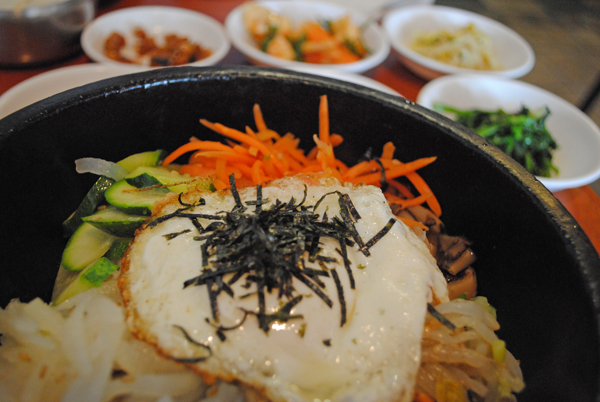 Diners looking for quick Korean food with few frills will be delighted to know that an option to fit the bill lies within greater Falls Church.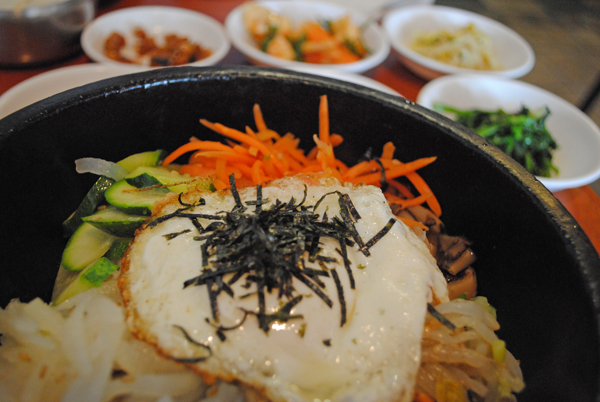 Diners looking for quick Korean food with few frills will be delighted to know that an option to fit the bill lies within greater Falls Church.
In a strip mall anchored by an Office Depot and H-Mart in Merrifield, Kyung Ju occupies a small restaurant whose windows are covered with images of dishes to come. While these jumbo-sized posters of various Korean meals, along with the sparse décor of a few potted plants inside the wood-paneled interior, cement its take-out spot atmosphere, diners can sit at a smattering of tables and enjoy their meal while watching Spanish subtitled Korean dramas on a TV perched atop a beer and soda cooler.
Despite the spartan interior, Kyung Ju doesn't skimp on the banchan, the complementary side dishes that accompany each meal. A greater selection of banchan usually suggests a more formal meal, but at Kyung Ju, you can have your pickled treats and eat them, too. From the spicy kimchi to the more mild bean sprouts, the restaurant serves six of these tiny, flavorful (though very salty) dishes for diners to nibble on while perusing the menu.
The menu doesn't divide its dishes into the standard appetizer, entrée and dessert categories. Instead, customers have their pick from a Korean menu and a Chinese menu (with dishes that closely resemble their Korean counterparts), as well as some broiled fish and side dish options, all ranging in price from $7 – $17. Groups can order from a selection of five hot pot entrees at about $38 each, which are served for sharing in a large cooking bowl.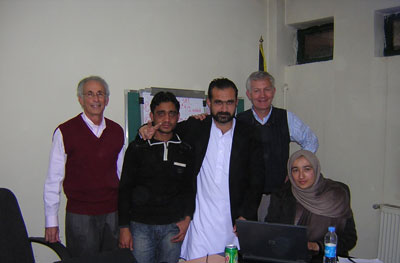 On the Chinese cuisine menu, deep fried dumplings come in a $7 order of six and a $10 order of eight, but look quite unlike the traditional pursed-pouch dumplings of take-out meals gone by. At Kyung Ju, they are flattened, and the filling is thickened with rice noodles to, along with fried pork and seasoning, fill out the fried dough pocket. Though the taste is delicious and savory, and the dough shell fries nicely, a hearty helping of meat that one might expect from an order of dumplings is lacking.
Meat is also sorely missed in the $13 dolsot bibim bop, which serves a fried egg atop rice, beef and vegetables, all inside a hot stone pot. The few, tiny pieces of meat in the dish might well be mistaken for the woodsy mushrooms in the pot, and the vegetables are sliced a bit too thick to take on a nice consistency while cooking in the warm pot, but when the egg yolk and spicy sauce coat every last ingredient, and the pot keeps the whole dish just as warm as when it first arrived at the table, the dish is hardly disappointing. A $10 bibim bop is offered without the stone pot, but the extra charge for the dolsot upgrade is worth the expense.
Most dishes on the menu feature either beef or seafood, and those hoping to try a bit of the latter can find the ojinguh bokkeum, or fried squid, curiously under the side dishes menu for $15. The ojinguh bokkeum serves fried pieces of squid and vegetables atop a skillet, with a bowl of rice on the side for mixing. The more generous amount of fish, and the vegetables, are all coated in a very spicy sauce, which benefits from the rice dissipating its intense heat and flavor.
While the prices are a bit steep for casual dining, and the restaurant lacks the elegance of other D.C.-area Korean restaurants, a peek around the small restaurant offers one final evaluation. The cooking skillets and utensils, visible behind the counter, are well worn, and the diners digging into their meals seem comfortable and happy, two sure signs that this spot is well-traveled by patrons looking for a flavorful, no-frills meal.
Kyung Joo is located at 2847 Gallows Road, Falls Church. For more information, call 703-645-8787. Restaurant hours are Monday – Saturday, 11 a.m. – 10 p.m.