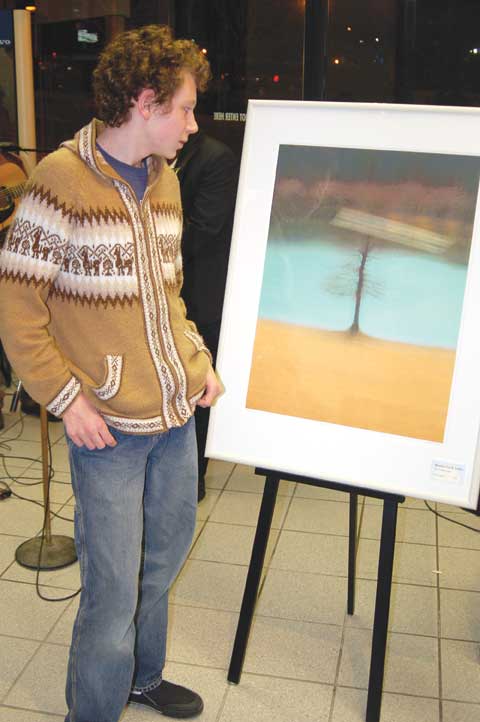 The week of April 11-15, the auditorium stage at George Mason High School will be transformed into a gallery space to display the mixed-media annual student art show. On two evenings – Wednesday and Thursday from 7-9 p.m. – guests are invited to stop by.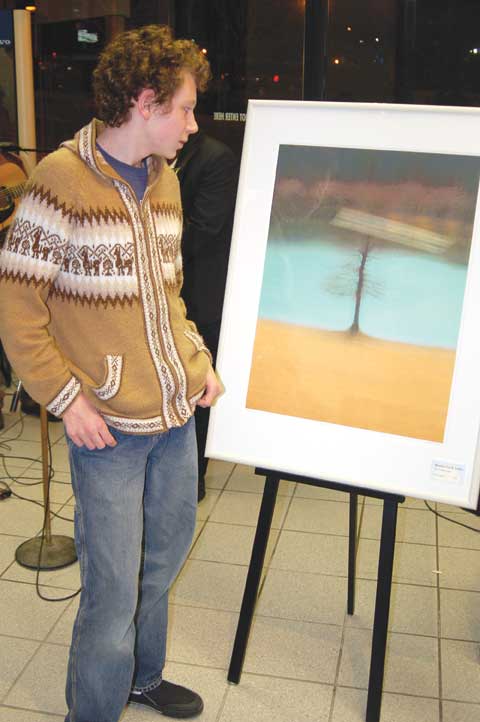 The week of April 11-15, the auditorium stage at George Mason High School will be transformed into a gallery space to display the mixed-media annual student art show. On two evenings – Wednesday and Thursday from 7-9 p.m. – guests are invited to stop by.
In a basement workspace in George Mason High School, art teacher Marc Robarge is surrounded by the achievements of five years' labor: student art. Pinned to corkboards, propped against walls, and resting atop filing cabinets are many impressive pieces – like the lifelike rendering of a horse from one student's first attempt at charcoal drawing, or the vivid, large-scale triptych another student made depicting eyes that stare out through the canvas.
These works are more than just decorations, because they represent the talents of students aspiring to successful careers in the art world.
When Robarge started teaching at Mason, only a handful of students – fewer than four, he said – were considering pursuing art in college. But in the Class of 2010, 13 students planned to do so, with one student planning to study art education. All were accepted to schools of some note, including the highly respected programs at Savannah and Minneapolis College of Art and Design. This year, eight students have been accepted to art schools, and four were accepted to the SCAD program.
For Robarge, the acceptance rates of his students at these schools prove what he has been able to see all year in their work: The kids have talent, and his program is working.
The former Thomas Jefferson Elementary School art teacher admits that during the first semester, his method of teaching was met with some resistance. But when his students started to see themselves grow as artists, and saw their work improve, Robarge said resistance gave way to success.
Robarge says that a major part of what he does to bring the best out of his students is to create an atmosphere of support and encouragement.
"I feel like we have a community of artists, a community of creating, here at this school," Robarge said.
In that community, Robarge plays the complicated role of both educator and fellow creator. The Indiana University-trained sculptor and Falls Church Arts member says that his familiarity with the artistic process helps him see the obstacles that stand in the young artists' way. And engaging with students as a fellow artist gives them no small source of pride.
"It's not really something they teach you in art school," Robarge said of his "fellow-artist" technique. "They start to say 'I'm an artist' instead of 'I'm an art student.'"
By following the International Baccalaureate curriculum that the school offers, Robarge is able to give his students a breadth of international art history knowledge that covers a wide range of time periods, and he encourages his young charges to take inspiration from artists they study.
One young artist who has benefited from being part of Robarge's community of art and learning is Daisy Wiley. The Mason senior, who has been accepted to the renowned art school at the Virginia Commonwealth University, completed a stencil work in Robarge's class this year that sits among the many works in the teacher's makeshift showcase.
In spray-painted shades of black, grey and blue against a tan board, Wiley used a carved stencil of a man in profile, planes and doves to build a narrative that moves across the canvas.
Wiley speaks softly about her work, rocking on her heels with her hands clasped behind her back. But at the gentle insistence of her teacher, and his praise for her ability to use shading to give her stencils depth, Wiley boldly steps into a discussion of her work, explaining that an in-depth study of street artists Banksy and Shepard Fairey inspired her to use stencils and spray paint to make a social statement.
"I combined both of their messages," Wiley said. The planes soaring out of the man's mouth, which transform into doves as they move across the image, portray for her a movement from war into peace, she said.
And creating art with a message, with purpose, is another lesson Robarge tries to teach his students.
"The art can be technically proficient, but kind of dry," Robarge said. "So I ask, what's the feeling, what's the mood, and what are you trying to say?"
Beyond experimenting with putting meaning onto a canvas, Robarge also encourages his students to change their canvas entirely by experimenting in new kinds of art. And while his arts education gives him a background in many different styles and media, the diverse interests of his students keeps him on his toes. With Wiley's growing interest in silk screening, Robarge has had to dip into his years-old knowledge of the art to help her make her first screens.
"I could remember enough to help her in the right direction," Robarge said. "But both of us, in a way, have ended up on this journey." Robarge added that often, because of the various talents of his students, he will pair the student artists in his community together to teach their skills to one another.
For Wiley, and many of her fellow classmates, the program works.
"I practice a lot of things, so I figure out what I'm good at, and I'm improving my skill overall with a lot of practice," Wiley said. "I like this system a lot. It just works."
And just because his students leave his classroom doesn't mean they've left the community. Often he calls upon the talents and know-how of Mason graduates in art programs to educate his students. Most recently, a student enrolled at SCAD talked to Robarge's students about studying art in college.
As for career artists coming out of his program, "we're years away," Robarge said, as it takes time for artist to finish their schooling and establish themselves. "But soon we'll start to see graphic designers, digital artists, jewelers and painters."