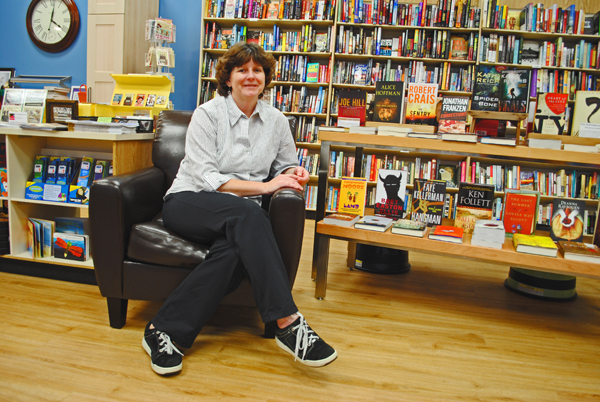 Eileen McGervey won't let those who think the end of the printed word is near stop her from living out her dream.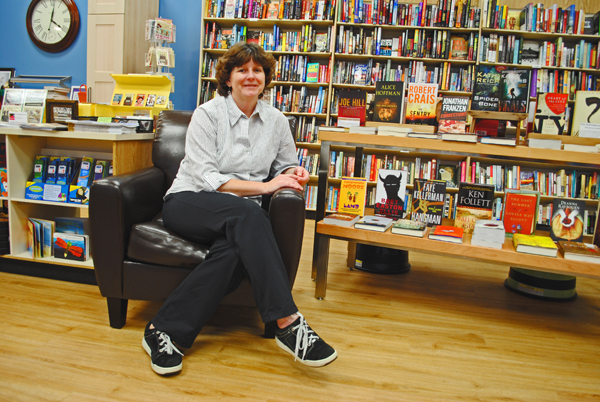 Eileen McGervey won't let those who think the end of the printed word is near stop her from living out her dream.
McGervey opened her bookstore, One More Page, on the border of Arlington and Falls Church on Jan. 19. The project came out of a love for books and a break from her career in marketing and consulting for high-tech companies.
"I was ready to do something different, and I always knew I wanted to do this," McGervey said, "so I said, why not now?"
The 49 year old, a 25-year Arlingtonian, admits, though, that she was hesitant to tell her family about the project, considering the difficulties associated with starting up a new business in the current economic climate.
"The press about physical books is not always good," she said.
She was surprised to find them very supportive of her new endeavor.
"My Mom said, 'If not now, then when?"
And from stocking shelves to helping plan grand opening events, her friends and family have been by her side.
"I have been amazed at people's response to it," McGervey said. "It's kind of humbling because it's my dream, but people have been so generous and so helpful."
She has had not only support from family and friends, but also from fellow bookstore owners, which is a welcome change from her career in the high-tech business world.
"It was sort of cutthroat," she said of her consulting career. "Here, everyone tries to help each other." Through online networks of independent bookstores, she has received support and suggestions. But she has also received help locally, through meeting with owners and operators at area bookstores such as the popular D.C. store Politics & Prose, as well as Arlington's Aladdin's Lamp Children's Bookstore. McGervey wanted to speak with that shop's owner, Alina Gawlik, before her retirement from Aladdin's last summer, and found much more than sound advice. Three of the four employees that work at the store with her are former Aladdin's employees.
Each of her new employees plays a role in shaping the store and what it sells, in particular through making book recommendations.
"We sell ones we know and we like, and we all like different things," McGervey said. "And people are interested in what we think about the books."
She even takes recommendations when buying books for her children's section, which come from the 13-year-old daughter of a friend, and the 9-year-old daughter of McGervey's cousin.
"Jess and Lily, they can make better recommendations than we can," McGervey said.
The store doesn't only stock books, though. McGervey's original idea for the store was to open a bookstore and wine bar which, because of Virginia ABC restrictions, has morphed into the store currently selling bottled wine and gourmet foods, in particular exotic flavors of fair trade chocolate. And just as she and her employees cracked open the books to decide what to sell in the store, they were sure to uncork the bottles and open the wrappers to make their picks.
"We tasted all of them, and picked the ones we thought were best and representative," McGervey said of the wines, which comes from a wholesaler in Arlington. And for booklovers who can't decide on the chardonnay and chocolate to accompany their Chaucer, McGervey regularly hosts tasting events to give customers samples of what she stocks. She added that often, despite the appeal of wine and chocolate, sometimes the books draw her customers away from those culinary attractions, in particular her collection of pre-released books. She gives away these books, called galleys, which are sent to the store by publishers who wish to create buzz for the book and allow bookstore managers to determine if the book will sell well at their store.
"We can't read all of them, so we like to share them," McGervey said, adding that often book lovers can find the next novel of their favorite author months before its release by checking out the galley offerings.
And she hopes that her bookstore and its selections will cater to those die-hard readers looking for something unique that may not find its way onto a best-seller list.
"There's nothing that makes me happier than when people say 'I can't believe you have this book,'" she said.
For example, the current top sellers at the store, "Major Pettigrew's Last Stand," by D.C.-area author Helen Simonson, made a brief appearance on the New York Times Bestseller list, but at One More Page, McGervey said the novel flies off the shelves.
Though she and her employees have their favorites, McGervey said it is important in running a successful bookstore to know when to set aside personal preferences and look at what the customers want. She said it is also important not to order too much overstock and hold onto books that won't sell.
"We have a small back room, because there shouldn't be books in the back room. They should be out in the store," she said.
While she admits owning the store is a far cry from her days as a tech consultant, she said her business background is invaluable for making the tough business decisions.
"It definitely prepared me from a practical standpoint, because you have to be smart about the business," McGervey said. She added that she received additional training from the American Booksellers Association, which offers classes for would-be independent bookstore owners.
"They try to help increase the success of these smaller bookstores that are opening, and try to start you up for success as much as they can," McGervey said.
The store has only been open for a few months now, McGervey said the success of the business has been beyond what she expected.
"It has been better than I had anticipated in my plan, and I'm encouraged by that," McGervey said, "though margins are tight on books, and you need to be aware of that. It's a challenge for a lot of booksellers."
As for the future of the shop, McGervey plans on hosting more wine and chocolate tastings, Friday and Saturday morning story times, book signings, and other events to help spread the word. But McGervey said those who frequent the store are already doing that for her.
"I think our customers have been better about putting the word out than we have," she said.
And while the challenges of this mentally, physically and financially demanding career move are great, McGervey is happy to begin this next chapter in her life.
"I do a lot more work, and I make a lot less money," McGervey said. "But I enjoy coming here every day."
One More Page is located at 2200 N. Westmoreland St., #101, Arlington. Store hours are Monday through Saturday, 10 a.m. – 8 p.m., and Sunday, noon – 5 p.m. For more information, call 703-300-9746 or visit onemorepagebooks.com.