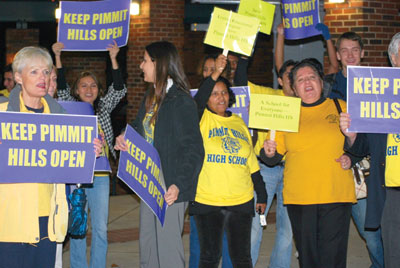 Facing the possibility of closing, Pimmit Hills Alternative High School's advocates are slogging through the coming weeks as the Fairfax County School Board considers the school's fate with budget work sessions and public forums.
Facing the possibility of closing, Pimmit Hills Alternative High School's advocates are slogging through the coming weeks as the Fairfax County School Board considers the school's fate with budget work sessions and public forums.
While adopting the advertised Fiscal Year 2011 budget proposed by Fairfax County Public Schools (FCPS) Superintendent Jack Dale, the school board voted 6-5 to use $250,000 to ease the transition of the school's nearly 300 students to the district's remaining two alternative high schools – Bryant in Alexandria and Mountain View in Centreville.
Pimmit Hills is located just west of the City of Falls Church, and serves both as an alternative school for students sent from other area high schools, and a fresh opportunity for immigrants over the age of 18 to achieve a high school education.
The superintendent's budget stated that closing Pimmit Hills would cut 20.5 positions and save the district $1.1 million for FY 2011. The recommendation made it through the first round of budget cuts when the board met on Feb. 4.
Pimmit Hills advocates and the school's administration have raised concerns that without Pimmit Hills, Fairfax County's large immigrant population will no longer have a central school facility.
The news of the superintendent's recommendation was "a hard thing to swallow," Pimmit Hills Principal Beverly Wilson told the News-Press during an interview that included fellow Pimmit Hills staff members Didi Crowder and Assistant Principal Bud Mayo. Wilson and Mayo have worked together for close to 10 years as the school's administration.
Dozens of school advocates, including Crowder, and current and graduated students, attended FCPS budget forums in December and January. The advocates staged rallies before each forum carrying signs such as "Keep Pimmit Hills Open!" Supporters also took to the Web with a site promoting the school, www.savepimmithillshs.com.
"We have a dedicated staff and students who really get the attention they wouldn't get elsewhere," Crowder told the News-Press. "We stay in close contact with students who've graduated and are grateful for the chance to get more than a high school diploma: they've got the support to adjust to life here in the U.S."
While the school serves a small number of students directed from other schools for disciplinary reasons, the majority of the student body are foreign-born and recent immigrants.
For Assistant Principal Mayo, the success of Pimmit Hills relies upon three factors. "Number one, it's a matter of geography," he told the News-Press. "Students living in Herndon or Reston already face a long commute to school, and they depend on public transportation while few have cars. How long will it take for them to reach Centreville or Alexandria?"
The problem is compounded, Mayo said, by the fact many Pimmit Hills students are working adults, often juggling early mornings at school with nighttime jobs. "The majority of our students work for survival, and many are sending money back to families living abroad."
Mayo added that Pimmit Hills was set apart from the county's other alternative high schools by the school's unique "cultural comfort zone."
"You'll find new students from Bolivia who can communicate in Spanish with Bolivians their own age," he said. "With close to 80 percent of students being Hispanic, these students couldn't find a safe zone like this anywhere else in the county, with such a great deal of support from staff and fellow students in a central location."
The school's administration also took the initiative to give students a chance to engage in extracurricular activities that otherwise do not exist for alternative school students. "We've established our own high school sports league for the alternative schools," said Mayo, who was instrumental in bringing lacrosse to FCPS schools back in the 1980s. "Sports encourage discipline and working with each other, and is valuable to rounding out an education."
The school sponsors a Homecoming game, with an opportunity for staff and students to mingle with graduates and the community, Mayo said.
"A high school education is guaranteed for anyone under 18," Crowder said. "Without a dedicated school like Pimmit Hills, with the staff and involvement, the majority of our students, who are over 18, won't be guaranteed a chance for an education."
At present, Fairfax County School Board members continued to meet with district residents in a series of community forums sponsored by Parent-Teacher Associations county-wide.
The rescheduled Feb. 20 budget forum hosted by the board will take place at Marshall High School in Greater Falls Church. The forum will include most of the school board. More information can be found online at www.fcps.edu/news/fy2011.htm.
School Board members will hold more community meetings and present a budget to Fairfax County's Board of Supervisors on April 6, with a final adoption of the FY 2011 approved budget on May 20.