For everyone who builds a place of contentment and peace amidst the bright lights and bustling streets of New York City, there is another struggling to find his path.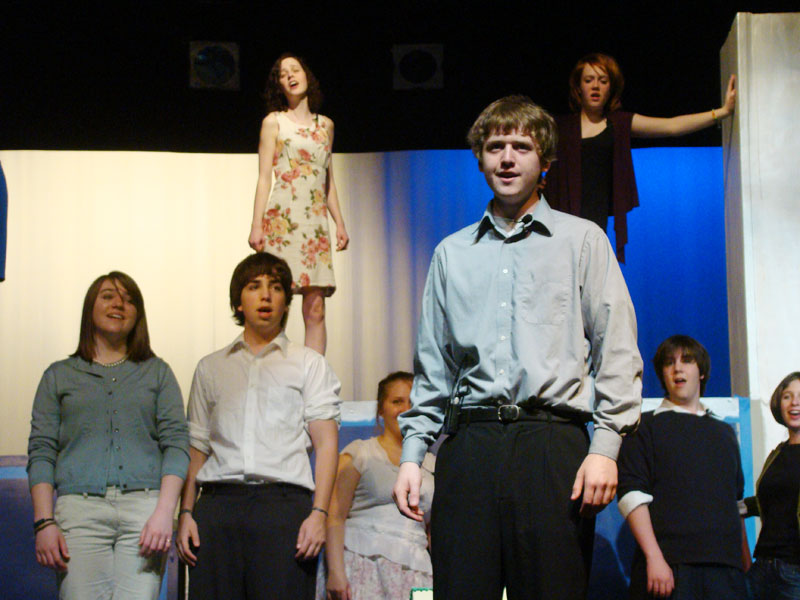 Bobby, "never a father, seven times a godfather," is one of those lost, wandering souls. His lovelorn, and often misguided, quest to find the joys and contents of romance provides the foundation of "Company," produced with wit, energy and Manhattan flair at George C. Marshall High School.
Penned in 1970 by George Furth and enhanced by the addition of lyrics and music by acclaimed composer Stephen Sondheim, the musical "Company" was recently reworked for 21st-century audiences. "Company" introduces Bobby (Michael Bradford) on the worry-fraught eve of his 35th birthday. As Bobby observes the many idiosyncrasies of his friends' marriages – all the while stringing along a trio of confused girlfriends – he must decide whether his fate truly lies before the altar.
By turns restrained and passionate, awkward and poetic, Bradford's performance was always realistic, and often heartrending. His consistent, convincing mannerisms shone throughout the evening, while his powerful vocals sparkled in numbers such as the climactic "Being Alive."
Yet, as the title suggests, though Bobby may be the anchor of "Company," much of its potential success depends on the show's ensemble of supporting players and the featured cast in Marshall's production proved up to the task. Ellen Chapin put in a bravura turn as the neurotic Amy, blending lovely vocals, sharp comic instincts, and astonishing diction; Ryan Campbell, who portrayed her husband Paul, balanced tenderness and barely constrained emotion. The chemistry and boisterousness of Harry and Sarah (Robin Crigler and Natalie Scavuzzo) was always a joy to behold, while Kiran Kestenbaum's acidic rendition of "The Ladies Who Lunch" both impressed and unsettled the listener. And Bobby's three girlfriends – April (Hannah Rak), Kathy (Meara O'Malley) and Marta (Orla Conway) – provided inspired characterizations and lovely vocals that lit up the trio "You Could Drive A Person Crazy?" Some actors had difficulty singing Sondheim's intricate score, while others sometimes fell into the realm of caricature, but the performances in "Company" were, as a rule, exceptional.
It is a challenge to create the vastness and busy sophistication of New York City on a high school stage, yet the tech crew of "Company" surmounted that obstacle with ease. The versatile, artfully minimalistic set conjured up a wide variety of locations; Cambridge Dorman's rich lighting highlighted the musical's various settings and emotional pitches, and the well-selected props were attractive and always appropriate. Though the sound system suffered a few glitches, "Company's" crew successfully brought the complexity and charm of Manhattan to the stage.
In an age of profound isolation, where text messages have supplanted love letters and family meals take a backseat to TV dinners, the portrayal of loneliness in "Company" hits very close to home. Still, though the play's worldview might seem overwhelmingly bleak, the company of "Company" lit up the stage with talent, polish and irrepressible energy.
"Company" will also be performed this Friday and Saturday, May 1 and 2, at 7:30 p.m. with a Sunday matinee at 4 p.m. Don't miss it.
• Sarah Marx attends the Homeschool Teens N Theatre and reviews for the Washington, D.C. area high school theater Critics and Awards Program, the Cappies.