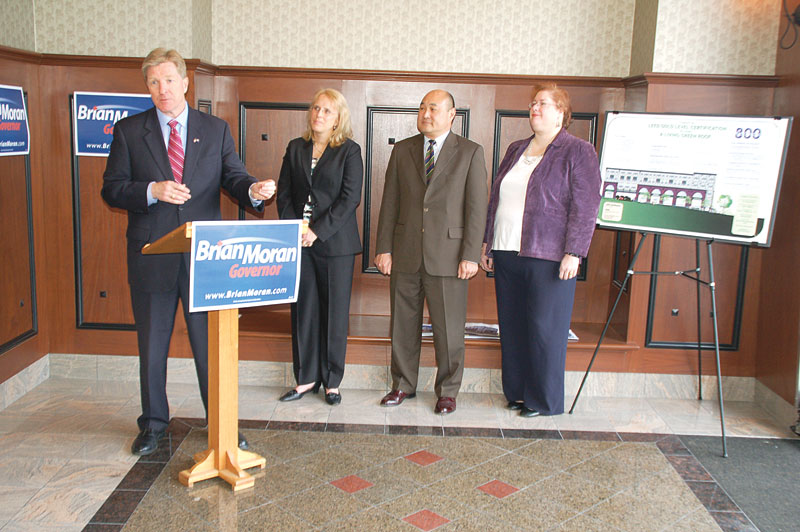 City of Falls Church Mayor Robin Gardner and other City elected officials this Tuesday announced their formal endorsement of Former State Del. Brian Moran in his race for the Democratic nomination for governor of Virginia.
Gardner and others hosted Moran in the lobby of the new commercial building in the City at 800 W. Broad, touted for its environmentally-friendly components.
Moran, who has stressed his environmental priorities in his campaign against Democratic rivals Terry McAuliffe and State Sen. Criegh Deeds in the race for the June 9 primary, said he was pleased the announcement was being made in a new building that is "Gold Certified" by the standards of the Leadership in Environmental and Energy Design (LEED).
Gardner said that Moran "has a proven record of fighting for families," adding, "He's worked hard to strengthen public education, improve transportation and provide health care for every child. Brian is grounded in our Commonwealth and connected to our people."
City Treasurer Cathy Kaye and Councilman Dan Sze were also on hand at the Tuesday morning event to endorse Moran. Other City leaders whose endorsements were announced included Sheriff Steve Bittle, Commissioner of the Revenue Tom Clinton, Councilman Lawrence Webb and former City Democratic Committee Chair Edna Frady.
Moran said that "Falls Church is an extremely well-rounded city. It is green and it is blue also," referring to its pro-environmental and pro-Democratic values. He noted the City had an 82 percent voter turnout in the last election, which, he said, "adds to its importance in the June 9 primary."
First elected to the state legislature from Alexandria 20 years ago, Moran served a decade as the chairman of the House Democratic Caucus. He said Tuesday that 15 years ago he was first encouraged to run for statewide office by Mark Warner, former governor and now U.S. Senator.
Warner told him that to succeed, he needed to find "a validator in every community," Moran said, and that has been the approach to his run for governor. Mayor Gardner and the other Falls Church elected officials endorsing him are his "validators" in Falls Church, he said.
Moran said he "grew up in a Franklin Roosevelt household" to believe that "government can have a role in solving problems," especially in the current economic environment where "people are hurting all over the state."
"I'll fight for them as I have done for 20 years," he said, accenting his call for a "federal stimulus watchdog" for Virginia to ensure that "the right use is made" of the federal stimulus dollars coming here.
Moran's grass roots approach exemplified by his endorsements in Falls Church, characteristic of similar endorsement events around Virginia, may be decisive in his bid for the Democratic gubernatorial nomination against McAuliffe and Deeds, a leading analyst of Virginia elections said last weekend.
Dr. Bob Holsworth, founder and president of Virginia Tomorrow, made that assessment of Moran's chances in a panel discussion organized by Equality Virginia prior to its annual banquet in Richmond last Saturday.
When McAuliffe, the charismatic former chair of the Democratic National Committee who headed up Sen. Hillary Clinton's presidential campaign last year, "parachuted" into the race last fall, Holsworth said, "Moran was forced to change his campaign approach radically."
Instead of running an "urban versus rural" race against Deeds, he retooled his campaign to cast himself as the most progressive candidate on environmental and other issues, and by focusing on the old Tip O'Neill adage that "all politics is local."
"Moran chose the route of doing all the endorsements of local officials to counter the effect of McAuliffe's deep financial pockets. These endorsements do matter," Holsworth said, "Because it is premised on the notion there will be a very low voter turnout on June 9." Concerning Deeds, Holsworth noted, "It is hard to pinpoint a strategy."
Holsworth said that while McAuliffe is trying to bring new voters to the polls, it is uncertain how effective that can be in a primary where only 250,000 voters are expected. By contrast, Moran is trying to hone in on those most likely to actually show up on primary election day.
Moran's progressive credentials were enhanced by his appearance at the Equality Virginia banquet Saturday night. Equality Virginia is a statewide, non-partisan organization supporting equal rights for gays and lesbians. Moran and his wife Karyn stayed through the entire evening, as he was the only one of the three gubernatorial candidates to appear. He congratulated Falls Church Councilman Lawrence Webb, who subsequently endorsed him Tuesday, for receiving an honor at the dinner.