(This is the first of three News-Press interviews with all three of the candidates running for the Democratic nomination for governor of Virginia in June.)
Why does a man running for governor of Virginia want to talk about the Panama Canal? Terry McAuliffe does.
McAuliffe, who brings quasi-rock star status to the heated three-way race for the Democratic nomination to run for governor this year, likes the big picture, likes to look over the top of the backyard fence and to see what's coming, and to focus his considerable energies on making plans. He's running against Former Del. Brian Moran and State Sen. Creigh Deeds in the June Democratic primary.
The Panama Canal is a familiar theme in his discussions with prospective supporters and voters as this tireless 52 year old criss-crosses the vastness that is Virginia in his first-ever run for public office.
You see, there are two new flights of locks now under construction at the Panama Canal, a $5.6 billion project launched in the summer of 2007 and slated for completion in 2015.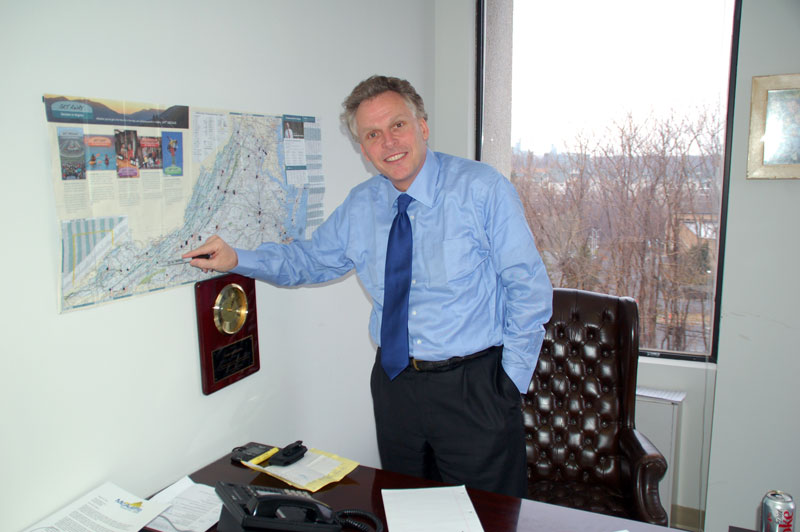 When completed, the giant tankers and ships coming to America from the emerging Asian economic powerhouses on the Pacific Rim will not have to port and offload on the West Coast.
They will be able to negotiate the new locks at the Panama Canal and come to the U.S. eastern seaboard, offloading nearer the destinations where more of their cargo will go. The question becomes where they will port.
"Jacksonville is launching a big new port project in response to the new Panama locks," McAuliffe said, flashing his eyes with his usual sense of urgency, talking to the News-Press at his campaign headquarters in Tysons Corner earlier this month.
"Savannah has just moved past Tidewater into second place behind New York as the busiest port on the east coast," he added.
"In Virginia, we need to move fast to improve our port capacity in Tidewater to compete for this new flood of commerce that will come when the Panama project is completed," he concluded.
But there's more. McAuliffe wants Virginia to gain the competitive edge by a massive upgrade of Route 58, the highway that goes west from Tidewater the length of the state just north of the North Carolina border.
Making Route 58 the efficient four-lane conveyor belt that can move the cargo from the port to the nation's north-south interstates and to the Ohio Valley interior heartland will make Tidewater a preferred destination for the supertankers coming through the new Panama. He wants a major distribution center built in Southwest Virginia.
That's McAuliffe's vision, one of them.
He also wants to build high-speed rails linking Northern Virginia and the Washington-Boston corridor to Richmond and Tidewater by, among other things, double-stacking the rails.
"I was told it can't be done except at an exorbitant cost," McAuliffe said. "But I called the head of the railroad and asked him. He had a different story. He said, of course we can do it." The rights-of-way are already there; it's just a matter of laying the track, he said. "I am tired of people saying 'no.'"
McAuliffe is a super-salesman, which served him well in growing his business fortune, a dynamo that burst out of high school in Syracuse, N.Y. to graduate from D.C.'s Catholic University, then Georgetown University's Law School, and become chairman of the Federal City Bank by age 30.
Mostly, though, he built his reputation as a super-fundraiser for the Democratic Party, including while serving as the chair of the Democratic National Committee from February 2001-2005, with a resume as long as your arm of party positions leading up to that high-profile role.
During his period as party chair, he raised $578 million, and the party came out of debt for the first time in its history.
Criticized by opponents Moran and Deeds for never being involved in Virginia politics the way they have, McAuliffe has resided in McLean for over 20 years, campaigned statewide for the Obama-Biden ticket last year, and earlier used his clout at the top of the Democratic Party to provide huge financial support for Gov. Tim Kaine's run for governor in 2005.
"I saw in the success of Governor (now U.S. Senator-ed.) Mark Warner the ability of Democrats to make big gains in the south and improve our national position," McAuliffe said. "In Tim Kaine, I saw the opportunity to move that agenda forward, so I allocated $5 million in DNC funds to Kaine's campaign," he said. It was the largest-ever disbursement of DNC funds for a non-presidential candidate.
Completing a stint as the manager of Sen. Hillary Clinton's presidential campaign, McAuliffe, a long-time close friend of the Clintons, started seriously considering a run for governor of Virginia last summer.
He spoke to a packed meeting of the Fairfax Democratic Committee in July, and made national headlines when the News-Press broke the story that he endorsed Kaine as his best choice for vice-president on the Obama ticket.
"People thought I was dissing Hillary, but I wasn't," he explained this week. "I was saying what I thought was most possible, as well as desirable." The News-Press was the only newspaper present to report on his remarks.
"Actually, if the Russians hadn't invaded Georgia about that time I think Kaine would have been picked," McAuliffe mused. But the foreign policy challenge caused the Obama campaign to pick Sen. Joe Biden, with his extensive foreign policy experience, instead.
McAuliffe conceded that when he showed up for that July 22 meeting at Oakton High School, he had the idea of running for governor already in his mind. He handed out dozens of free copies of his national best selling book, "What a Party! My Life Among Democrats," at that meeting. He vowed that the Obama campaign would avoid the mistakes of the fated Sen. John Kerry presidential campaign in 2004, when the decision was to avoid direct political combat with George W. Bush.
In November, he filed to form an exploratory committee to run for governor, and officially announced just after the first of the year.
Asked if he decided to run for governor of Virginia because he was "bored and needed something to do," McAuliffe laughed and said, "I am never bored! I am very excited about it, about the ability to grow jobs."
He said his goal is to bring Virginia's standing forward as an economic dynamo providing first-rate jobs and educational opportunity and services for its citizens. He said if elected he'll be pitching the state and its economic potential worldwide, and will be pitching hard in Richmond, if elected, for more resources to offer incentives for business to come to the state.
"For me, it's all about issues, not persons. In Virginia, especially rural Virginia, it's about jobs, jobs, jobs, education and health care," he said. "I need to deliver the tools that government needs to bring new investment to Virginia."
Right now, he said, he's "scared to death" about the economy, which he said is in "the worst shape since the Great Depression."
Asked about Obama's first weeks in office, he was full of praise. "In two weeks, he got through the biggest stimulus package ever. He also got millions of children covered with health insurance. I pray it all works."
He's also focused on alternative fuels, recycling and the environment, and likes to talk about a technology he witnessed in the Shenandoah Valley that can convert 500,000 tons of chicken waste into gas, but can't now get OK'd by the Department of Environmental Quality.
On education, he noted that half of Virginia's prison population are high school dropouts, and the long-term solution is to focus on early education, such that every third grader can read. Incentives must also be found to keep good educators, noting that now 50 percent of teachers leave the profession within their first five years.
"We need a transportation infrastructure and educated workforce to move the state forward," he stressed.
He has five children, ages 6 to 17, and his wife Dorothy is also civically active, among other things serving on the board of the Potomac School.