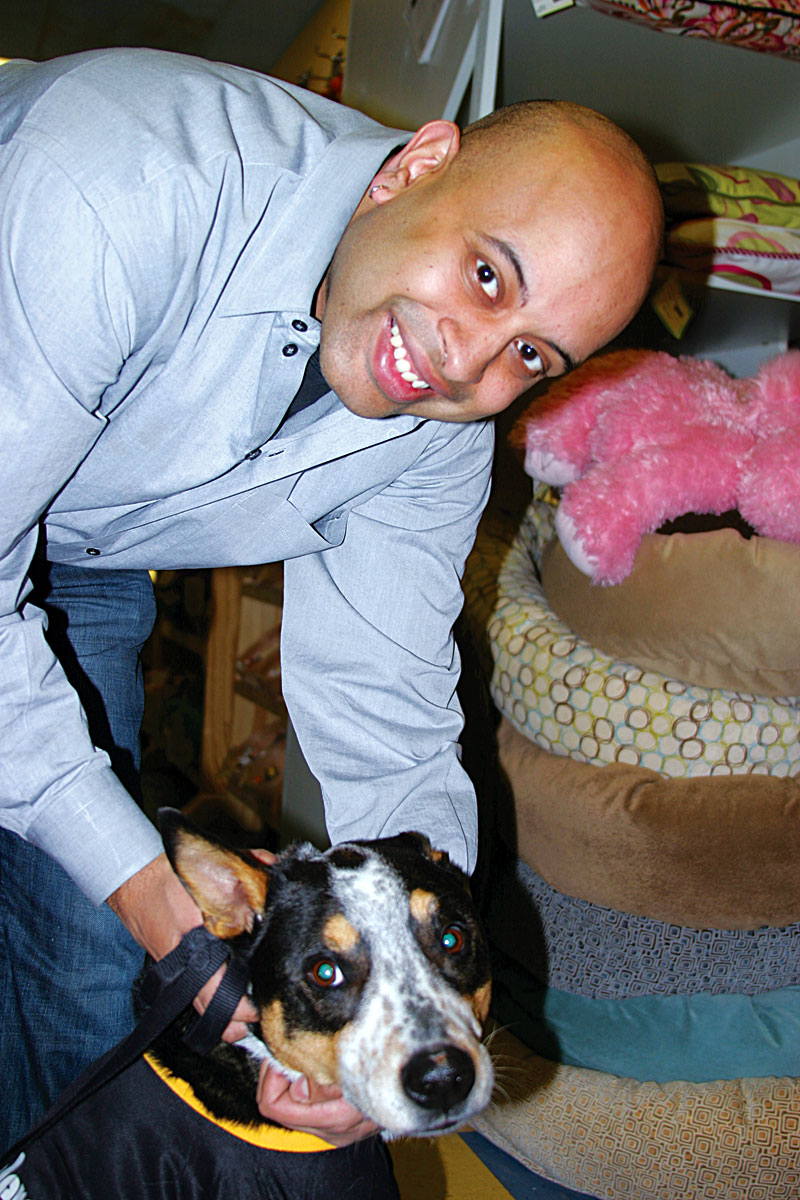 The dog days of winter are over for one notorious, now celebrity Arlington pooch and his owner, Ravi Pimplaskar. Rocky, a 7-year-old Australian cattle dog, had been lost for 36 days when Pimplaskar received a phone call informing him that his four-legged friend was sound asleep on an Annandale family's driveway.
The dog had been lingering there for almost a week while the family regularly fed the visibly-thin stray.
Pimplaskar's endless search efforts were made public through his regularly-updated "Help Find Rocky" blog, where he tracked sightings on a Google map, organized community search parties and even opened up emotionally about losing hope.
On Jan. 21, he wrote: "I still fill and clean his water bowl every couple days out of habit. I can't believe that I haven't seen my best friend in 18 days."
Pimplaskar told the News-Press his friends expressed concern about his well-being during the time Rocky was AWOL.
"I certainly wasn't taking care of myself," he said.
The pup's face was plastered on lost dog posters throughout Falls Church and Arlington since he went missing on Saturday, Jan. 3 after being spooked enough by a car horn to wriggle out of his leash near the East Falls Church metro station.
Becoming physically ill one evening after spending three hours in the pouring rain wandering the streets where his dog had last been seen at the time, Pimplaskar said he often struggled to eat or sleep during the month-long period of not knowing his furry companion's location.
His bedroom had been where Rocky found comfort, and where Pimplaskar had found peace of mind by peeking in on the little guy. He slept on his couch during Rocky's absence, not being able to bear glancing into an empty bedroom, though it's this minor habit which now means the most.
"It was crushing me to go past the bedroom [and not see Rocky]. It's such a small thing, but now just to look into my bedroom and see him in there really affects me," Pimplaskar said.
Perhaps it was knowing how clever and strong Rocky was that got him through the tough, pooch-less times. While living in San Jose, Calif., Pimplaskar said Rocky once managed to escape a dog crate, his bedroom and finally, the locked apartment he shared with his wife at the time. He's even had to padlock his fridge since Rocky's affinity for cheese and deli meat would often end in an explosion of scattered wrappers and half-eaten bologna on the kitchen floor to welcome his arrival back from work.
"Knowing how intelligent and perseverant he is, I knew if there were any dog that could survive out there it would be him. My friends teased 'Rocky's going to be fine. He's probably acquired a car, bought a suit and is out on interview. Rocky's just doing his own thing right now,'" Pimplaskar joked.
Apparently Rocky was done fulfilling his mid-life crisis, returned the red corvette, ditched the blond poodle half his age and is now safely at home — right where his master can see him fast asleep inside his usual bedroom campout, instead of on a stranger's driveway.
As far as man reuniting with man's best friend, Pimplaskar said, "It was probably the happiest moment of my life."
• Follow Rocky's homecoming from start to finish by visiting helpfindrocky.blogspot.com.