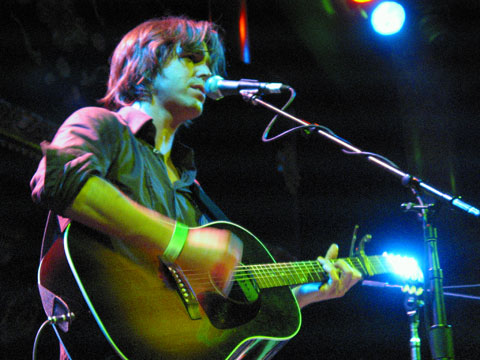 There used to be a relatively simple formula for success in the music world. Craft a memorable single that a record company executive's teenage son or daughter would enjoy, sign a record contract with said parent, tour to promote the record then sit back and collect pay checks and groupies while radio made the marketing easy. Ah, the good old days.
Digital distribution and a faltering economy have thrown that equation out the window, but some bands are still finding a measure of success on a local level with their own original formulas.
Take, for example, Fairfax rock outfit JunkFood. Back in the heyday of record deals, the band's approach of fueling their original albums by gigging off of cover tunes would have caught flack as a sellout approach. These days, while other groups struggle to finagle financing, JunkFood scoffs at such criticism, laughing it off all the way to the bank.
"A lot of people tell us we sell out because we play covers. Well, we're doing pretty well and it makes us money," drummer Jeff Essex says. "I don't have any trouble with it, and if you guys have trouble with it, you go be artists somewhere else and I'll make the money over here and we'll pay for our CDs with a fifth of the money we make. Nobody's in debt, nobody's coming out of pocket, none of that. We're in good shape."
For Essex and his band mates – Bart Harris, Paul Schauer and Joe Murray – the formula for their initial success goes like this: "If you can bring the women to the bars, the guys will buy the alcohol and the owners will go, 'Wow, my numbers are up. This band's great.' There you go. It's not hard to figure out," Essex explains.
The boys of JunkFood accomplish that first bit about reeling in the ladies through their no-frills, turn-back-the-clock power pop that skews far more towards Bon Jovi than Jonas Brothers. It appeals to those who worship at the altar of rock gods flaunting leopard-print pants and feathered hair, but it also brings them up to speed with a present day edge. Call their songs modern-day compositions with an old-school 'tude.
"We like to have fun. We grew up on the hair band stuff … that kind of dates us a little and probably in a bad way, but we like having a good time and drinking a beer," Essex says. "If we don't make the boobies bounce, we're not happy."
That let-your-hair-down sentiment is well captured on their latest album, Mighty. The group's third original record, it was released early this month and follows up 2006's Below the Charm and 2004's No Space (recorded prior to Schauer's arrival in the lineup). Mighty, is chock full of songs ("Masquerade") capable of inducing the kind of, uh, mammary momentum, Essex and his cohorts strive for. Mixed in are a handful of monster ballad-caliber tunes ("Enough") that will have you searching for your Zippo.
Compared to the somewhat weightier material on previous albums, Essex feels it truly mirrors the energy, passion and carefree attitude JunkFood puts into its live sets. Those live sets, played everywhere from Sweet Caroline's in Winchester, to D.C.'s 9:30 Club, earned the band the title of "Best Local Band" in the Washington City Paper's "Best Bets" poll.
"We want everyone to have a good time and if they're not, we're not doing our job," Essex says. "We play bars and they have alcohol there, let's have a few drinks and have a good time. Everyone's got something going on in their lives and if you can't forget about that stuff for a while, then what good are you doing?"
JunkFood will continue its quest to provide a temporary respite for the hard times of these holidays through live music when the band performs December 20 at Ned Devine's in Herndon. They'll also play at New Year's Eve set at Sweet Caroline's in Winchester.
For more information on JunkFood, visit www.junkfoodmusic.com or myspace.com/junkfood.