Local Arlingtonian Pens New Novel
Arlington author Suzy Beamer Bohnert has a new book available titled "Game-Day Goddess: Learning Basketball's Lingo," which is available on Amazon.com (www.amazon.com) and Barnes & Noble (www.bn.com). Published by B&B Publishing, "Game-Day Goddess: Learning Basketball's Lingo" documents the action seen on television or heard on the radio and the essentials of the game.
This handy reference book covers the most important phrases and words used in basketball games at the professional and college level. For more information about the book, visit the author's web site at mysite.verizon.net/vzeug7mn/, which also features reviews of all her books and the cover of her current basketball resource.
Free Popcorn Munching With 'Charlie Brown'
Elementary-age children are invited for free popcorn and a viewing of the movie "A Charlie Brown Thanksgiving," at 4 p.m. on Nov. 26 at the Arlington Central Library (1015 N. Quincy St., Arlington). For more information, call 703-228-5990.
Thanksgiving 'Trot' Invites Willing Runners
Area residents are invited to participate in the 5-mile 33rd Annual Alexandria Turkey Trot run at 10 a.m. on Nov. 27 at the Cora Kelly Recreation Center (3600 Commonwealth Ave., Alexandria). Participants are asked to bring at least two nonperishable food items to the race to support local charity group ALIVE!.
Top runners will win prizes, too. Registration is required and costs $10 for children ages 12 and under, $15 for teens and adults ages 13-21 and $20 for adults ages 22 and over. Participants can register from 8:30 – 9:30 a.m. before the beginning of the race.
Stifel and Capra Caters to Hungry Shoppers
Stifel and Capra (210 Little Falls St., Falls Church) invites Black Friday shoppers in for a break from the Black Friday craze with coffee and snacks during regular store hours, starting at 10 a.m. on Nov. 28. The event is free and open to the public. Stifel and Capra will be offering various sales throughout the day. For more information, call 703-533-3557.
Arlington Library to Host Interactive Story Time
"Stop in for Stories" is a fun, free and interactive program with stories, songs and crafts for all ages at the Arlington Central Library (1015 N. Quincy St., Arlington). There is no registration required for this ongoing program; Nov. 28 at 11 a.m. Free parking is available at the library. For more information, call 703-228-5946.
Civil War Vets Come to Life at Cherry Hill
The Cherry Hill Farmhouse (312 Park Ave., Falls Church) will be temporarily taken back in time from 11 a.m. – 3 p.m. on Nov. 29, when a troupe of actors will portray actual Falls Church residents from the Civil War era. The residents will be hosting a holiday meal and entertaining soldiers and friends with parlor games. The event is hosted by the Falls Church Victorian Society and is free and open to the public. For more information, call 703-248-5171.
Gift-a-Day Giveaway at 'Impulse'
Stop by Impulse (502 W. Broad St., Falls Church) everyday to enter in a drawing to win a free daily gift. One entry per person is allowed per day. Winning names will be drawn each morning at 10 a.m. and the winner will be called or e-mailed. No purchase is necessary to enter. The drawings will take place through Dec. 23. For more information, call 703-532-7899.
Online Site Offers Holiday Giving Alternative
A nationally-known web site, SupportOurTroops.Org, is asking locals to support the over 60 troop-related groups across America who send care packages to the troops. Those interested can visit to SupportOurTroops.org, and click on the Christmas 2008 Care Package Icon.
This resource allows access to the groups offering to send care packages, lists items the troops have principally requested and care box rules.
AHC's Annual Holiday Appeal Helps Needy
AHC, Inc.'s Annual Holiday Appeal is now underway. AHC (N. Fairfax Dr.,
Arlington) is a private, non-profit organization that aims to provide affordable housing to those in need. Donations are being accepted to the Annual Holiday Appeal program, which will support 1,800 families, children, teens and seniors.
Donations of winter clothing and supplies or gift cards are also being collected by AHC for families.
To donate money to the Holiday Appeal program, visit www.ahcinc.org. For more information on donating clothes or supplies, call Jennifer Cavaliere at 703-486-0626 ext., 154.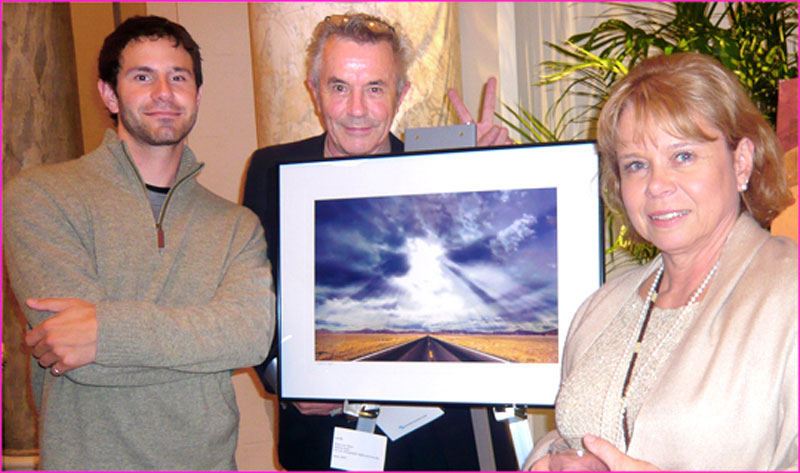 McLean Rotary Club Member Receives Award
Rotarian W. Glenn Yarborough, Jr., received a Rotary District 7610 Foundation Award for his work in supporting the Rotary International Foundation. Yarborough is the principal and CEO of WGY & Associates, LLC, a McLean-based government relations firm. The award was presented by Rotary District Governor Chuck Davidson and former District Governor Sandy Duckworth. For more information, visit mcleanrotary.org.
Drop-In Computer Practice Held for Seniors
This Senior Adult drop-in computer practice is an ongoing program at the Langston-Brown Community Center & Multipurpose Senior Center (2121 N. Culpeper St., Arlington). The next opportunity to take part in this program is at 10:30 a.m. on Dec. 3. Registration is required through the Senior Adult Office, along with a payment of an annual registration fee of $15 for Arlington residents and $35 for non-residents. Registrants will also receive a bi-monthly program guide and be eligible for the Senior Adult Travel program. Applications are available by calling 703-228-4744.
McLean Church Welcomes Speakers on Going Green
A free public Faith and Public Policy breakfast will take place at Lewinsville Presbyterian Church (1724 Chain Bridge Road, McLean) on "Environmental Stewardship in our Churches and Homes" at 8:30 a.m. on Dec. 6.
Joe Volk, Executive Director of Friends Committee on National Legislation, will speak about the faith-based principles in the committee's decision to renovate their offices into the first certified green office buildings on Capitol Hill.
Mark Turner, Founder and CEO of Green Spur, a Partner with West Group, will describe the technical features of the first carbon-neutral house being constructed in the mid-Atlantic Region in McLean. For more information on the program, call 703-356-7200.
Alden Theatre Presents 'A Christmas Carol'
The Alden Theatre at the McLean Community Center (1234 Ingleside Ave., McLean) will be performing "A Christmas Carol" in musical form, based on the story by Charles Dickens.
This version of "A Christmas Carol" originally opened in December 1994 at the theater at Madison Square Garden. The creative team behind the show's success included Lynn Ahrens and Alan Menken, with choreography created by Susan Stroman.
The show will be held Dec. 12, 13, 18, 19 and 20 at 8 p.m. Matinee shows will be Dec. 14 and 20 at 2 p.m. Tickets will cost $19 for adults, $13 for groups of 10 members and more and $17 for seniors, students and McLean residents. For more information, call the Alden Box Office at 703-790-9223.
Exhibition Opens at Black History Museum
A display of miniature dollhouses by Sharon J. Frazier and Linwood M. Smith is now open to the public at the Alexandria Black History Museum (902 Wythe St., Alexandria) from 10 a.m. – 4 p.m., Tuesday – Saturday.
The exhibit will feature more than a dozen buildings, including a log cabin, a one-room schoolhouse, a church, a barbershop, a stone home, a hair salon, a florist, a medical building and an attorney's office – all at a 1:12 scale.
Some of the buildings are directly inspired by Alexandria's Parker-Grey neighborhood.
The exhibit will be open through Jan. 24, and admission costs $2. For more information, call 703-838-4356.