Normal 0 false false false EN-US X-NONE X-NONE MicrosoftInternetExplorer4
Over 100 supporters of democratic presidential candidate Barack Obama gathered at Bailey's Elementary School in Falls Church for a voter registration rally last weekend, where their host, actor and comedian George Lopez, shed some humorous light on why he's endorsing the Illinois senator.
"When I say I'm supporting Obama, people say, 'But, he's black' and let me tell you, I'm darker than him," said Lopez as a crowd equipped with raised "Latinos for Obama" signs responded in collective giggles. "Race has nothing to do with it; the only colors that matter in this election are red, white and blue."
Afterwards, Lopez told the News-Press that the time to act is right now for the Latino community, who he said represent 43 million of America's population, but who have been largely absent from the polls in past elections. With buzz from political pundits that a swing vote from undecided voters will determine the 2008 presidential election, Lopez believes that is specifically where the Latino community falls.
He called the current economic situation the worst he's seen during his lifetime, noting he wasn't around during the Depression, and said that foreclosures and job loss are bound to force Hispanic citizens to let their voice be heard this Nov. 4.
"The role we played in past elections was to not show up, but the times have affected us too much with the loss of jobs and the immigration situation – these are people who really just want to work," said Lopez.
Lopez, 47 years old, had an absent father growing up and credits much of his upbringing to his mother and grandparents. Lopez registered to vote on the day he turned 18. Visiting the polls became standard bonding time with his grandmother, who accompanied him to vote during every election season thereafter. Lopez said she would remind him about deadlines and set aside voter-related information he'd receive in a special mail pile.
"We had an interesting relationship and sometimes she'd be hard on me, but if there's one thing she did, it was stressing the importance of voting," said Lopez.
Raised in California, Lopez was the first member of his family to graduate from high school and said his message to the youth of America is to make their own decisions. Noting many of his peers growing up were busy drinking and getting in trouble, Lopez said his goal to succeed in stand-up comedy influenced his choice to refrain from delinquent activity. However, Lopez never imagined that he'd become the face he looked for on TV as a kid.
"To think when I was 10, I was trying to watch someone that looked like me and now, at 47, I've become for 10-year-olds what I wanted to watch when I was their age," said Lopez.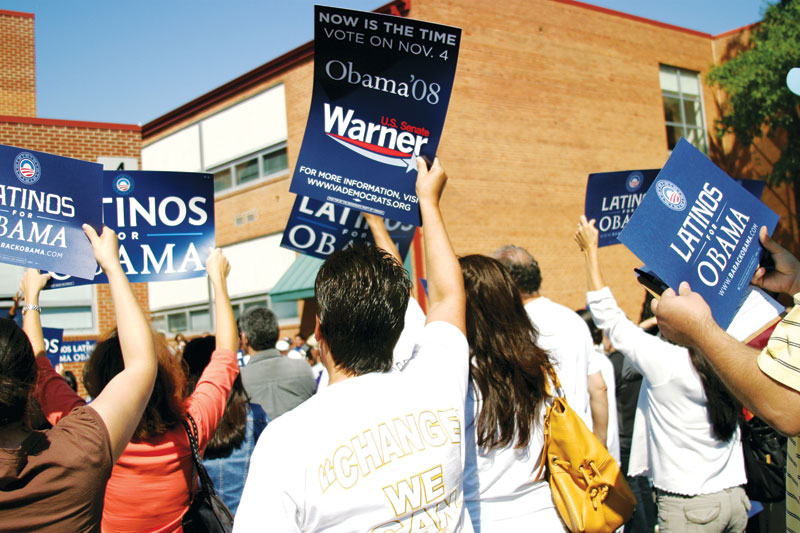 His California roots came up again when Lopez said that his home state's involvement in the recent bailout package passed by Congress is proof that now is the necessary time for the Latino community to pull together.
"California was a golden state, and now Governor Schwarzenegger is asking for $7 billion to bail out California which breaks my heart," said Lopez. "[Latinos] can't wait any longer; we have to act now. Finally, we are the solution."
That's when the on-looking crowd began to chant "Sí, se puede" for yes, we can.