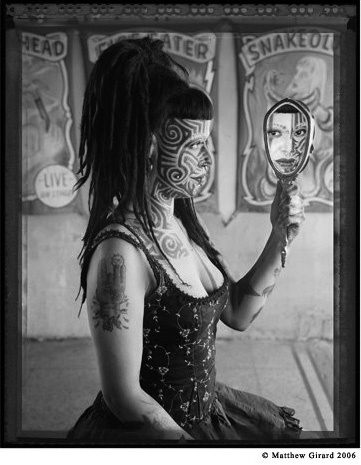 'Heart's Ease'
Saturday, April 19, 7:30 p.m. at the Center for Spiritual Enlightenment (222 North Washington St. Falls Church).
Creative Cauldron and Falls Church Arts presents an evening of rarely heard early period music, performed on shawms, cornetto, Renaissance tromboni, krummhorns, recorders and the like. Five of the Washington area's leading early music performers will play popular pieces from the time by Isaac, Francesco d'Ana, Giovanni Gastoldi, Thomas Morley and Anthony Holborne. Tickets are $15/$10 for children 12 and under. To reserve tickets, visit www.creativecauldron.org.
'Amy Lin: Interaction'
Through May 5, at the Art League Gallery in the Torpedo Factory (105 Union St, Alexandria). Gallery Hours: Monday through Saturday, 10 a.m. – 5 p.m.; Sunday, noon – 5 p.m. For more information, call 703-683-1780, or see www.torpedofactory.org/galleries/artleague.htm.
Alexandria resident Amy Lin has been on the radar screen of the D.C. area arts scene for a couple of years now and was last seen in December 2007 at her solo show in Heineman Myers Contemporary Art Gallery in Bethesda. She was also last reviewed here May 25, 2006 (search archives for "Amy Lin" at www.fcnp.com).
Lenny Campello, art dealer, blogger, curator, occasional art judge and all around D.C. area art hound coined the phrase "Buy Amy Lin Now" in July of 2006. Over the past two years it's a phrase that's been repeated by Lenny and an increasing number of art critics.
Lin was included in Washingtonian Magazine's 2007 list of "40 Under 40 to Watch." To be sure this is one rising star in our midst.
Still, I've had my reservations. Not so much on the eventual outcome, but rather the timing of it all. In Lin's last show, I saw too much centered and seemingly static work that didn't quite get up and dance for me. Shafts of brilliance are mixed with moments of weakness, as befits the process of artistic growth. At 29, Lin's best work is most assuredly ahead of her.
The current show in the Torpedo Factory's Art League Gallery is comprised of only six works, yet bears witness to a significant amount of artistic growth in a scant four months' time. While there are still occasional moments of weakness visible, the powerful work to come is clearly breaking out of its shell. Lin's vehicle of choice is a simple dot, rendered in a uniform fashion with centered highlight, if that's what it is. The dots float in a spatial void that make them seem like spheres, yet ignore the laws of reflected light, which implies that they are flat discs. Yet we persist in seeing them as spheres as if they are transparent roe, or some sort of microbes under a microscope. Singularly, the dots present no real information about the whole. The force and meaning of the work is derived simply from the use of scale and context, or placement of the dots in proximity to each other.
Much is made of Lin's perfect hand-drawn circles, but that alone will only get you so far in the art world. You need to marry technique with content to pull the career cart very far down the road.
The composition titled "Strength" depicts a snaking line of red dots superimposed over an elliptical circle of red dots, sharing the two dots where the two forms intersect. There is a strong inclination to see this as the cellular beginning of life. Like all of Lin's drawings, the piece is certainly well crafted, but loses its power in a too-central and too-easily-seen composition. In a sense this is the old Amy Lin.
While Lin has an almost painfully demure persona, there is a formidable strength and intelligence behind the facade. By day she's a chemical engineer, with a lifetime love and wonderment of the lab. Anybody taking note of her signature can see that movement is in this girl's soul. Doing the math, you could see that better things were on the way if she kept at it and let it all flow from within. Sometimes simply getting out of your own way, and letting go is the most difficult part of all.
Welcome the new Amy Lin. One of my favorite pieces here is "Gentle." A sole red dot acts as an off-center nucleus for four strings of tentacle like blue dots. Set near the corner of the paper, it flays about in a sea of white, alone, vulnerable and very much alive. You can't help but see it as a baby octopus, or "quatropus" perhaps. It's just this sort of mystery that allows us to return to the piece and be entertained by it over and over again. While "Strength" would be difficult to live with unless your tastes run towards minimalism, "Gentle" however has the legs to stand up to repeated viewing.
Lin commented at the opening that if it didn't sell she was going to take it home and give it a little hug. As comical as that comment sounds, that is exactly how the piece makes you feel. You want to protect that little struggling life form. It's just a wonderfully evocative and engaging piece.
Moving across the room you see the significantly larger piece, titled "Sacrifice." Here, we see a whole new twist to Lin's work. The dots themselves operate as rings that change in complexity from one to the other. A faint shadow now appears between adjoining dots. With this piece, we first see evidence of actual connection between the orbs. This faint shading flows out in teardrop fashion, fading out to nothing. There is no actual connection, but the force is shown, as if she has made the magnetic attraction between forms visible. It's a quizzical and entertaining piece that makes one hunger for her work to come. NOW buy Amy Lin.
Artist Opportunities
4th Annual Falls Church City Art Show & Sale
Friday and Saturday April 25-26 at the Falls Church Community Center (223 Little Falls St., Falls Church). Artists living or working in Falls Church City may drop off up to two pieces for exhibition. The drop off period begins Monday, April 25 and goes right up to noon on Friday, April 25, when the installation begins. On the back of each piece, list your name, phone number and selling price if the work is for sale.
Volunteers are sought to help with the actual hanging of the show between noon and 3 p.m.
Contact Jenny Elmore, City Art Show Coordinator 703-248-5199.
Art-omatic 2008
Friday, May 9 – Sunday, June 15, this show is still seeking performers — dance, music, poetry and people interested in presenting workshops. The visual artists spaces are now full up. Any visual artist still seeking to get into this Art-omatic are being put on a wait list. The Capital Plaza 1 building has leased out floors 2 through 4. The remaining vacant space in this brand new 12-story office building will be filled to capacity with art. I'm considering running a mini-guide to Falls Church artists in Art-omatic. If that sounds like you, send me the location of your exhibition space, and we'll see what the list looks like. At the very least I'll need to know the floor number, and quadrant location for your space.
Performing artists wishing to participate should contact the various booking agents listed at www.artomatic.org/event/booking.