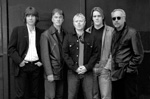 Shelby Lynne wants no part of comparisons regarding her new album, Just a Little Lovin', a collection of Dusty Springfield covers. In Lynne's mind, she bears no similarities to Springfield, the British soul singer who arguably enjoyed the most success of any female member of the British Invasion.
"She was vulnerable, honest, a great singer — I believed her when she sang," Lynne says. "I just don't like comparisons. I made this album out of respect for Dusty Springfield as a fan … and it was an opportunity to do cool songs."
Someone must have seen, or make that heard, something though. Otherwise Barry Manilow probably never would have suggested the project to her back in 2005. Manilow and Lynne met at an after party following Lynne's Grammy win for Best New Artist (though she had performed professionally since 1988). Lynne claimed the award for her work on I Am Shelby Lynne, an album full of confessional songs praised widely for its honesty and vulnerability. (Just sayin'.)
The high esteem in which Lynne holds Springfield is born out by the patient process used to insure the album's perfection in Lynne's estimation. A full year after contemplating the project, in July of 2006, she put the wheels in motion. She called producer Phil Ramone, the perfect fit because "he's calm, a great leader and an incredible musician," Lynne says. "I'm not so calm in the studio, so it works."
As her label, Capitol Records, clamored for an ASAP album release, Lynne didn't want to rush it. After bringing on sound engineer Al Schmidt (again because "this record had to sound perfect.") the stage was finally set. The result? The sultry steaminess is there, as is the honesty and the note-wavering vulnerability. The patience undeniably paid off.
However, the quest for perfection is peculiar coming from an artist like Lynne — which further speaks to her respect for Springfield. Lynne, who prefers to use a two-inch tape machine rather than digital equipment in the studio. She loathes computer-based recording programs, saying they take the humanity out of the process.
"Even when I'm home writing songs, I'm not inspired [when using digital recording software]," Lynne says. "That's because when I'm looking at a computer screen I'm f—ing depressed."
Rather than erasing the small flaws with an editing program, she embraces the small flaws.
"Those little flaws make it real, make it human," Lynne says. "It makes it a human rather than a computer experience.
"I like tape because it sounds good and it challenges me. When they press record on the tape machine I am going to sing the s— out of that song because I only get one chance. It's exciting when we are all in the studio. We're just waiting for that red recording light to go on. Then we go and play it down."
• Shelby Lynne plays The State Theatre Monday, April 7. Tickets are $25 and doors open at 7 p.m. For more on Shelby Lynne, visit www.shelbylynne.com.