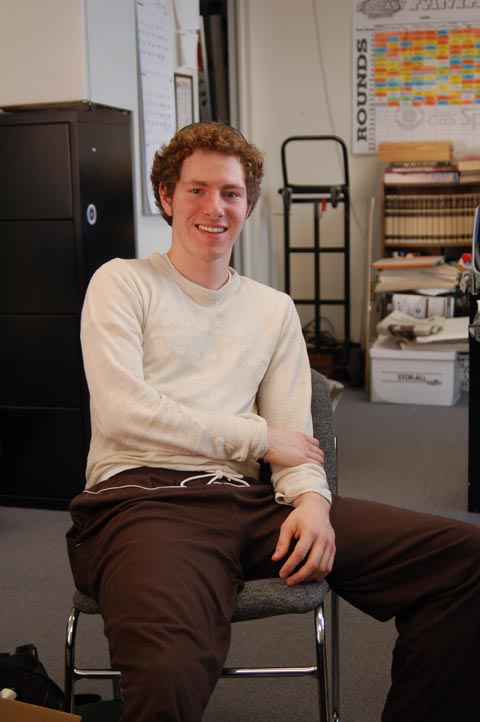 A resident of Northern Virginia for a year now, and becoming a familiar presence in Falls Church, U.S. Men's Figure Skating phenom Parker Pennington is intent on making his athletic talents work for a good cause.
Pennington, 23, a four-time national champion in various youth categories who finished as high as seventh in the senior men's competition at the U.S. Figure Skating Championships, harbors the dream of qualifying for the 2010 U.S. Olympics in Vancouver.
He moved to this area to train with renowned figure skating mentor Audrey Weisiger at the Fairfax Ice Arena, where the likes of Olympians Michael Weiss and Timmy Goebel, and upcoming stars like Tommy Steenberg, have honed their skills.
But for the next month, he's balancing his on-going training with organizing a major benefit for the Muscular Dystrophy Foundation at a rink near his childhood home in Connecticut.
He's lined up figure skating headliners like Dan Hollander and Emily Hughes to join him in the special benefit slated for Saturday, April 12, at the Newington Arena in Newington, Connecticut.
The special reason for this effort: Parker's dad Larry Pennington, a veterinarian, suffers from muscular dystrophy.
"My parents have been there for me every step of the way from the first time I stepped on the ice at age three and instantly realized this was something I really wanted to do," Pennington told the News-Press in an interview last week.
"My dad has sacrificed tremendously for my career, and he's a trooper. He still goes to work everyday and maintains his practice at the same level since he was diagnosed eight years ago," he said.
Pennington said that his dad was willing to stay at home and provide for the family while he, his mother, and brother Colin moved to Cleveland, Ohio, to dedicate all his time for two years to train and improve his skating skills there.
His parents have often traveled with him to competitions strewn far and wide around the globe over the past decade, from Japan and China to Finland, Bulgaria, Italy and Slovenia. His brother came along for moral support when he competed in the U.S. Championships in St. Paul, Minnesota in January.
Despite slipping from his seventh place finish in 2007 to 12th this year, Pennington has not abandoned his goal, which is to compete in the Olympics.
The April 12 benefit is billed, "Parker Pennington Presents: Skate for Life!"
The idea for it came about simply enough. Chatting with the mother of one of his skating students in Connecticut last summer, Parker learned she worked for the local chapter of the Muscular Dystrophy Association. She advised him on whom to contact in the organization to work on organizing a benefit, and the MDA has provided a helping hand as he's undertaken one of the most ambitious efforts of his life.
"I am on the phone and trading emails about this almost constantly now," Pennington told the News-Press. "I had no idea when I started how much would be involved. But I enjoy it, it keeps me really engaged."
He's had to cope with organizing the event at almost every level, from securing the facility, convincing his skating colleagues to participate, setting up the ticket sales and the silent auction and, generally, doing his best to keep everyone on the same page.
He interested Hollander in the idea while chatting with him at an event in Detroit last fall. Hollander is a two time national bronze medalist, the 2000 American Open professional champion, and has been a cast member of the Champions on Ice for a decade.
Emily Hughes signed on for the benefit, being the 2007 national silver medalist, the 2007 Four Continent Championships silver medalist, and the 2006 national bronze medalist.
Others who have signed on so far include Sean Rabbit, Tommy Steenberg, Ashley Brickman, Molly Jesperson, and naturally, Colin Pennington. Still more big names may be added.
Pennington said that while the bulk of the publicity for the event will be in the Newington area, he's hoping that his fans everywhere, and those of figure skating in general, will also pitch in with contributions for this great cause.
For advanced tickets ($15 for adults, $10 for children 6-12, 5 and under free), sponsorships, questions or to make a contribution in lieu of attending, the public is urged to contact the Muscular Dystrophy Association, 148 Eastern Blvd., Glastonbury, CT 06033, phone (860) 633-4466. Checks can be made payable to MDA, writing in "Skate for Life Show" on the notation line.
(Next week: Part II of the News-Press interview with Pennington. He waxes philosophical about the essence of figure skating and his new mental approach).