FLY LIKE AN EAGLE: All 11 members of the Viking Patrol gathered together on Saturday at the Troop 681 Scout House in Falls Church to honor two of the final Patrol members to attain the rank of Eagle Scout, Nicholas Choppa and Daniel Coleman. Only five-percent of all scouts attain that status. To the left the 11 members of the Viking Patrol pose together. From left to right: Nicholas Choppa, Will Douthit, Patrick Donnelly, Seann Archibald, Evan Martin, John Goodwin, Tim McCabe, Sam Dowell, Joseph Donahoe, Daniel Coleman and Andrew Kotyk. (Photo: Karen Kasmauski)


Dulin Preschool 2008 Spring Auction
The annual Dulin Preschool Spring Auction will be taking place on Saturday, March 8 from 6 – 9 p.m. at Dulin United Methodist Church, Fellowship Hall (513 E. Broad St., Falls Church). This is an adult-only event, with all proceeds going directly to improve the value of the Dulin education. Attendees can participate in both a live and silent auction, with getaways for couples and families, event tickets and gift certificates to local restaurants and businesses up for grabs. For more information, contact Beth Ann Hellert hellertba@aol.com or Laura Martin at lkmartin68@verizon.net.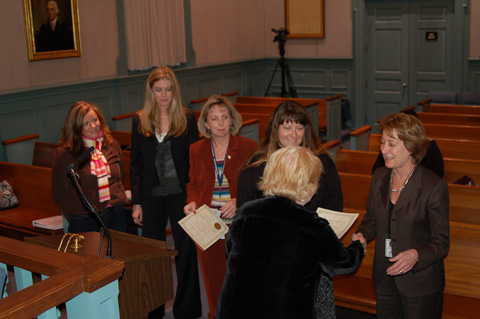 Internet Safety Presentation
The Falls Church Schools Health Advisory Board and Family Life Education Advisory Committee will be holding a special presentation on Internet Safety on Thursday, March 13 at 7:30 p.m. in the Mary Ellen Henderson Cafetorium (7130 Leesburg Pike., Falls Church). Barbara Gill, Internet Safety and Professional Training Coordinator for Childhelp, USA, will present the program. The two groups hope to educate parents on the uses and dangers of the Internet for their children. For more information, contact Melanie Elliott at elliottm@fccps.org.
U-11 Boys Soccer Tryouts
Want the chance to join a brand new soccer team? If born between the dates of Aug. 1, 1996 and July 31, 1997, players are eligible to join a new U-11 Suburban Friendship League team in Falls Church this spring. Three to four players are still needed. Prospective players must have some soccer experience and will need to be available for Tuesday evening practices and weekend games. All games are local and the cost is the same as recreational soccer. If interested, contact Scott Sevart at ssevart@cox.net or call 703-725-7285.
Naomi Project Volunteer Training
The Naomi Project needs volunteers who will be trained to serve as mentors to disadvantaged pregnant women and new mothers in the Northern Virginia area. The mission of the Naomi Project is to promote healthy pregnancies, babies and mothers. A training session is being held on Saturday, March 8 from 8:30 a.m. – 3 p.m. at the Falls Church Presbyterian Church (225 E. Broad St., Falls Church). $20 registration fee covers a background check, study materials and lunch. Spanish-speaking volunteers are especially needed. For more information, contact Pilar Jones at 703-860-2633 or naomiproject@hotmail.com.

Repressed III Opening Reception
This Friday, March 7, Repressed III, an exhibition dedicated to socially conscious works, will be having its opening reception hosted at Gallery5 (200 W. Marshall St., Richmond) at from 7 – 11 p.m. Featuring works by artists nationwide, the opening reception for Repressed III will also offer an interactive multimedia installation designed by the Gallery5 Crew called "Your City," live music and live theatrical and puppet performances. For more information, visit Gallery5's website at www.gallery5arts.org or contact gallery5@gallery5arts.org.
Hands On and Slide With Chrysanthemum Society
On Sunday, March 9, the Old Dominion Chrysanthemum Society will present a one hour Hands On and Slide program with a Q&A period with award winning grower and Master Mum Judge, Carmen Keister, on "Tips and Techniques used to grow Blue Ribon quality Big Beautiful Mums in Hanging Baskets." The meeting will take place at the Falls Church Community Center (223 Little Falls St., Falls Church) at 1:30 p.m. Open to the public, with free admission and refreshments. For more information, contact Jim Dunne at 703-560-8776 or visit www.odscmums.org.
Local Resident Recognized for Achievement with Market America
Falls Church resident Vickie Theodoropoulos recently advanced within the ranks of Market America to become Coordinator as an Independent Distributor. Market America is a product brokerage and Internet marketing company with more than three million customers and 160,000 Distributors worldwide. James Ridinger, president and CEO of Market America, attributes Theodoropoulos' advancement to her application of Market America's business strategies and outstanding sales success. For more information, visit www.marketamerica.com.
Free Arlington Philharmonic Concert
The Arlington Philharmonic is performing a free concert open to the public on Sunday, March 9 at 3 p.m. in the Kenmore Middle School auditorium (200 S. Carlin Springs Rd., Arlington). The Philharmonic, now in its third full season, will present the music of Tchaikovsky, Bizet and Mozart. Victor Danchenko, a graduate of the Moscow Conservatory and current faculty member of the Curtis Institute and the Peabody Conservatory of Music, will be the featured soloist during the Tchaikovsky concerto. Since its creation, the Arlington Philharmonic has adopted a free concert policy to make its music available to the largest audience possible. More information is available at www.arlingtonphilharmonic.org.
Maryland Professor to Receive NCAS Award
On Saturday, March 8, Robert L. Park, Ph.D., a University of Maryland professor and former Physics Department chair, will give a presentation on "The Lingering Death of Superstition" before receiving the 2008 NCAS Philip J. Klass Award for his contributions to the fields of critical thinking and scientific understanding. The ceremony will begin at 2 p.m. at the National Science Foundation (4201 Wilson Blvd., Arlington) and is free and open to the public. The event is presented by the National Capital Area Skeptics. For more information, visit www.ncas.org or call 301-587-3827.
John Bolton Launches Perspective Series
The Fairfax County Public Library and the McLean Community Center are launching their Perspective Series on Tuesday, March 11 at 7:30 p.m. at the Alden Theater in the McLean Community Center (1234 Ingleside Ave., McLean) with a talk from John Bolton, former Ambassador to the U.N. from 2005 – 2006. He will present "America, International Security and the Future," a survey of world trouble spots and a discussion of U.S. economic and security interests in these regions. Free tickets will be available at the Alden Theater beginning at 7 p.m. on the evening of the event, with a limit of four tickets per person, first come, first served. For more information, call 703-324-8428.