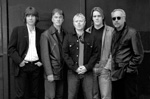 When it comes to music, Nashville's Will Kimbrough has literally done it all. He's sat in on studio sessions and toured with other artists as a guitarist. He's worked as a producer, counting artists like Todd Snider and Kate Campbell among his credits. He hit the big time with his own band, Will and the Bushmen. And recently, he's pursued his own solo career, which has gained momentum with the release of 2006's Americanitis and the eight-song (EP) in 2007. So what motivates Kimbrough's quite complete submersion in the music world?
"It's just the response of a person who has spent his whole life in music and also wants to have a family," Kimbrough says of his hard-working ways. "Sometimes you need money for diapers."
There's more to it than money of course. If there wasn't, Kimbrough wouldn't keep having his "Godfather III" moments of stepping away from music only to be pulled back in.
"I applied to go back to school, but then I got the opportunity to do some [music] work I always wanted to do. I took a job driving a truck for a bread company in 1988 and that kept me in Nashville. Then I started doing session work, which got me producing," Kimbrough recalls.
There have been many beneficiaries, beyond his family, for Kimbrough's continued involvement in the music world. A virtuoso on guitar, he's toured as a sideman for Jimmy Buffett — even writing "Piece of Work" for Buffett's License to Chill album — Rodney Crowell and Josh Rouse. In addition to Snider and Campbell, he's produced for Todd Snider, Matthew Ryan and worked up a Grammy-nominated album for Adrienne Young. It's as a producer where Kimbrough draws the line on simply trying to make a buck.
"I don't really [produce] for the money," says Kimbrough, who is currently working with Austin's Bonnie Bishop. "I started Todd Snider's stuff because I wanted to do it. I did that one for grocery money. It's a lot harder work when you're in charge of someone else's project. If you're an indie artist like myself, every penny and every minute counts and that might be more pressure than you want. It's kind of like I'm their attorney … except they don't go to jail if their record sucks."
While Kimbrough has enjoyed working with artists as a producer, and while those sessions have paid for multiple diaper purchases, his own recording career is still his main musical interest, and he has been putting more emphasis on it in recent years. In 2007, Kimbrough played about 100 shows of his own, a number he reckons represents a 90-percent increase from past years.
When it comes to his own music, Kimbrough is likely best known as a master of his instrument. He first picked up the guitar at age 12 and played his first show — a gig at a local skating rink — six months later. In addition to the earning him numerous gigs as a sideman, his skill on the guitar also inspired the creation of a fan-made tee shirt that reads: "Will Kimbrough is an alien." However his skill as a songsmith is equally applauded. Entertainment Weekly said his "penetrating portraits of compromise and vulnerability inspire heavy soul searching."
His most recent full-length album, "Americanitis," is a compilation of songs examining the current state of the nation. On the spoken-word track "Pride," Kimbrough questions why we appear to have forsaken virtues and pursued a path of hubris.
"I'm not bashing Jesus," Kimbrough says in the song. "But how about we read what Jesus said for once. I say for balance we take in a little Buddha. And Johnny Cash."
"Jesus and Buddha have a lot of the same things to offer, treating people with kindness, tolerance and compassion," Kimbrough says. "I think in heart, Johnny Cash stood for the underdogs and I think as a society we're kind of moving beyond that."
Both the superior songwriting and the glorious guitar riffs will be on display Monday, Jan. 24 at IOTA Club and Cafe in Arlington at 8:30 p.m. when Kimbrough takes the stage for a solo show. Tickets are $12. Amy Loftus opens.
• For more on Will Kimbrough, visit www.willkimbrough.com.