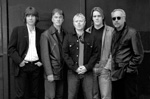 If you had to describe Austin singer-songwriter Bob Schneider with just one word, it would not be "subtle."
Take for example how he describes his selection process for including songs on his albums: "They pretty much all go into a pile and then the strong rise to the top. Sometimes it's really like having a baby. You love all your babies, but then adolescence comes and one of the little buggers can't play football for s–t. Then there are the runts and you're like, hey, I don't know if wheezy there is going to make it. But then another one ends up as student body president and another lands a part on [Fox's] "The O.C." and pretty soon you and the family are on your way to Hollywood with a trailer full of … "
The explanation goes on, but it includes so many expletives and fairly profane items that in order to fit it into a newspaper like this one it would look like Morse code, what with the abundance of dashes and all. But the point remains — subtle, not so much.
Fortunately, in music — and music writing — there are no such arbitrary restrictions necessitating one-word descriptions. Thus, a few better fitting words to describe Schneider: outlandish, vulgar (but more in a George Carlin sense than Andrew Dice Clay), savvy, weathered, casual, experimental, colorful, humorous and, perhaps above all else, creative.
Schneider's father harnessed some of that musical creativity at a young age, asking the then three-year old Schneider to perform on guitar at his parents' cocktail parties. When Schneider hit 10, the songwriter says his father bought him a drum set so the two could play together at his father's own country club concert gigs.
"He paid me $10, which back then was a lot of money," Schneider says. "Come to think of it, for some guys I know in Austin, that's still a lot of money."
As he grew older, Schneider applied his creativity to his song writing, scribing a wide array of often-humorous tunes spanning his life experiences, or just fanciful gun lobby-friendly daydreams like his "gangsta rock" parody, "Blauu," off of LP The Californian.
Schneider even applies his creative flair to his tour names. For example, the name of his current jaunt, the one that brings him to Jammin' Java December 13, has aptly been named the "Songs Sung and Played on Guitar with Other People in the Room" tour, promoting a recently-released live album by the same name. Okay, so that title might be a little obvious, but it's also a little cleaner than the previous "Better Than a Greasy Fish C— Tour."
The tour prefaces the upcoming release of Schneider's next album, a double-disc rock opera, titled — here comes that lack of subtlety again — F— All You Motherf——.
"I wrote a song a while ago ["Someday"] about a gambler junkie and I really liked the narrator," Schneider says. "Usually a song is a snapshot, like five minutes of a movie. I thought it would be cool to know more, both before and after the song. So I looked back to see if I had some more songs that felt like extensions of this gambler junkie guy."
The final product?
"It's kind of like 'Annie' with songs like 'Tomorrow,' except the little orphan is a gambler junkie."
With an arsenal of songs that spans from Sublime soundalikes to post-grunge hard rock ragers, and all tied together with Schneider's gravely voice, there's sure to be a wide array of emotional material accompanying the gambler junkie through his double-disc journey.
• Tickets to the Dec. 13 show at Jammin' Java are $20. The show starts at 8 p.m. For more on Bob Schneider, visit www.bobschneidermusic.com .