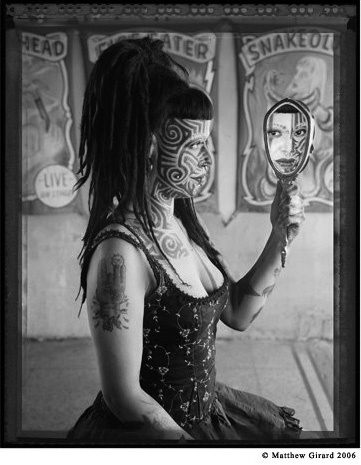 'Caunotaucarius' (the Indian name for George Washington, meaning 'Town Taker') oil on canvas by Clark Fox at MOD Arts in Falls Church City.
Clark Fox at MOD ARTS
Clark Fox (aka "Michael Vinson Clark," "M.V. Clark" and, most typically, just "Clark") at MOD Arts, 201 Pennsylvania Ave, Falls Church. Opening reception Saturday November 10, from 6 – 10 p.m. For further information, call Mary O'Donnell at 703-795-1307, or see www.modarts.org.
Clark's showing here in Falls Church City is a local treat. The National Gallery of Art currently lists five of his works in their collection, one of which came via the world famous Vogel Collection. Clark's work is also said to be in the collections of the Corcoran Museum of Art, Phillips Collection, Metropolitan Museum of Art and others. His work was most recently shown in the Power Pathos show at the Station Museum in Houston (www.stationmuseum.com/power/pathos.htm click on "Clark Fox").
Early in his career Clark did a series of works featuring vibrantly colored architectural details. Fascinated by the work of Seurat, Clark switched from his flat color field style and adopted pointillism as his true calling. Now having worked in the pointillist mode for decades he is most often associated with that style.
Clark is most widely known for his portraits of George Washington, patterned after Gilbert Stuart's famous portraits of the late 18th century. Supposedly every room in the Washington Hotel now features one of Clark's portraits of the first president. Far from rote copies of Stuart's work, Clark's versions retain the basic pose and visage, but all similarity drops off there. Stuart's pre-camera job was to record the likeness of Washington as accurately as possible for posterity. Clark's work has no such constraints placed upon it. Employing a relatively arbitrary color palette Clark's work has a rather pop-ish modern look to it. Far from stuffy and staid, the work comes alive in a way that Stuart's never could.
With such a pop icon as Washington, the message and meaning gets a tad fuzzy. Certainly not disrespectful, it's difficult to tell just how reverential the works are. Washington's portrait having long been a staple of U.S. coinage and dollar bills, the image now carries a distinctly capitalistic connotation as well. However you see its deeper meanings, the paintings have a pleasing visual presence, working on the purely decorative level if you don't want to dig any deeper than that.
Hardly limited to Washington's visage, Clark also has a large body of work featuring Planters' "Mr. Peanut" corporate logo character, and, of all things, oranges, to name but a few. The orange series features a single orange painted in endlessly varied color combinations. Mr. Peanut however, appears in a wide variety of contexts, often ironic, and for Clark subversively represents capitalism in general.
The former proprietor of MOCA DC gallery in Georgetown for 14 years, as well as some 40 years or so of Washington and New York art scene experience, has turned Clark into a virtual walking encyclopedia of art knowledge. Queries about specific artists are likely to yield responses such as "Well, I don't know him really well, but I was at his summer home and …" followed by some wild tale you will never ever read about in any book. It quickly becomes apparent that Clark not only knows the art in question, but has had some sort of personal interaction with just about anybody worth naming in the contemporary art world.
He's a former studio mate of film maker David Lynch and has been responsible for the production of 50 Gene Davis reproductions (under Gene Davis' oversight). He's also often featured on panel discussions dealing with the history of the Washington art scene.
No question, with Clark's appearance here in Falls Church, he is far and away the biggest artistic fish to ever swim in our pond. Catch this one if you can.
F.C. Film Fest Is at Hand
The Second Annual Falls Church Film Fest, Tuesday, Nov. 13, kicks off at 7 p.m. at the State Theatre ((220 N. Washington St., Falls Church). See www.fallschurchfilmfest.com for complete details.
Admission is $6 per person.
It's finally here. The judging is done, the also-rans and runners up were screened to packed audiences at Art and Frame and F A. McGonegal's last Friday night. Now it's on to the State Theatre and the screening of the winners from the 50 entries received.
Live music and the art of local artists Shaun Van Steyn, Bill Abel and yours truly, Kevin Mellema, will be on display. Film Festival T-shirts will be available at the cost of manufacturing.
Del Ray Dozen Invitational Photography Show
This show runs Friday, Nov. 9 – 23 at the Del Ray Artisans (2704 Mount Vernon Ave., Alexandria). Gallery Hours are Saturdays and Friday, Nov. 23, 10 a.m. – 4 p.m., and Sundays, Noon – 4 p.m.
For more information, call 703-838-4827, or see www.TheDelRayArtisans.org.
Falls Church Resident Dee Ellison is one of the 15 photographers showing in the Del Ray Dozen … ah, but who's counting … The opening reception is this Friday from 7 – 10 p.m. and will feature the added bonus of a silent auction of works by the dozen-ish artists in the show.