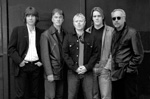 For frontman Ben Bridwell and his skyrocketing indie rock group Band of Horses, it has been a wild year and a half. The group rolled out its debut LP, Everything All the Time in March of 2006 to widespread acclaim and has ridden that reception to nation-wide tours, a pair of performances on "The Late Show with David Letterman," placement on CBS hit show "Criminal Minds," video game soundtracks and even a Wal-Mart ad.
"The first word that comes to mind is 'busy,'" Bridwell says of the timespan that also saw the departure of group guitarist and co-founder Mat Brooke, a relocation from Seattle to his home state of South Carolina and the release of latest album Cease to Begin.
The demands on Bridwell's time have been many, but keeping up with the mounting momentum has been the easy part. The tough part of Bridwell's journey came roughly a decade ago when he literally had to pull himself off of the pavement in Seattle.
When Bridwell arrived in the Emerald City, he was jobless and homeless. He slept in the back of Ryder trucks, or when that wasn't an option, he made a church step his pillow and the sidewalk his mattress.
"I had kind of gotten used to it," says Bridwell, who struggled through some less-than-idyllic days before departing South Carolina. "I had done the whole food stamps thing. I had done the seedy street culture. I was pretty savvy."
The stint on the streets lasted about a week and a half before Bridwell found work at the Crocodile Cafe and Brooke moved down "to support the cause," as Bridwell puts it.
Bridwell and Brooke didn't start penning songs under the Band of Horses moniker until 2004, but their rise thereafter was swift. Sam Beam, a family friend of Bridwell's, asked Band of Horses to open a series of Seattle area shows for his Iron & Wine act. There they were spied and subsequently signed by Sub Pop Records reps. Now, less than two years later, Rolling Stone has tabbed the group as its "Hot Band" for its October 2007 "Hot Issue," calling Band of Horses "the most promising young guitar group going."
Melding Explosions-in-the-Sky-style melodies with a southern rock strut and rounding it out with Bridwell's Perry Farrell-like vocals has proven to be a highly successful alchemical formula that has turned Band of Horses' music into solid gold and set them on their triumphant track. Even Brooke's departure from the group in July of 2006 to focus on his other band, fellow Sub Pop signee Grand Archives, didn't slow their momentum. Of course, his departure was certainly felt, particularly by Bridwell.
"He really helped me with my terrible guitar playing," Bridwell says. "After he left, I realized that people were actually going to hear me play guitar. So my first step was damage control."
Rob Hampton and Robin Peringer added to Bridwell's guitar tracks on the album, and now Tyler Ramsey is taking Peringer's place on the tour.
With Bridwell penning every tune on Cease to Begin — he wrote the majority of Everything All the Time tracks as well — Band of Horses again sent the critics swooning. This time, they wrote about how the follow up album showed off a sunnier side than Horses's initial offering.
"That's funny because I thought this was going to be a sad record when I started writing it in Seattle," Bridwell says. "But any song where you hear some happy stuff, there's some sad stuff lurking somewhere."
Such is quite true on "No One's Gonna Love You," where lines like "And anything to make you smile / It is my better side of you to admire" are curbed by the crushing cry of "Things start splitting at the seams and now / It's tumbling down / Hard."
Though he says his struggles away from his music have never materialized in lyrical form, Bridwell survived some trying times even before he arrived in Seattle. Conventional wisdom would dictate that Bridwell's pivotal moment came from Beam's opening-act invite. But looking back at Bridwell's state in the late 90s, that lucky break may have actually been escaping from Columbia, S.C. with his life.
Living on a rather unsavory street in what Bridwell labels the "crack dealing district of Columbia," he was thrown in the clink for brawling while intoxicated, accidentally burned down the building he was living in and got hit by a car while delivering burritos on his bike — all in the span of seven days. The not-so-subtle series of signs convinced Bridwell to clean himself up and eventually sent him on his way to Seattle.
"It was a bad week," Bridwell now says dryly. "I figured it was time to get out of Dodge."
The episode encouraged Bridwell to pack his bags for Olympia, Washington and eventually Seattle. Having moved back to his home state last November, Bridwell now occupies a much different South Carolina than the one he fled a decade ago.
These days Bridwell enjoys what little down time he has by spending long stretches of it outdoors, playing frisbee or surfing for hours on end. He has also relished being close to his family, particularly during holidays.
"Any activities in Seattle usually involved going to a bar," Bridwell says. "It all feels a little more wholesome here."
All of the rough patches, the scrapes and time spent on the streets has given Bridwell a good deal of perspective and, most of all, a steadfast determination to do whatever it takes to keep Band of Horses moving in the right direction.
"That period of my life really manifested itself in a fight to survive," Bridwell says. "The last thing I want to do is become a homeless dirt bag again."
• Band of Horses plays 9:30 Club Friday, Nov. 2. The late show kicks off at 11:30 p.m. For more information, visit bandofhorses.com.