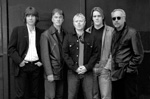 Josh Ritter has been dubbed "eloquent," "imaginative" and "philosophical." On his latest album, The Historical Conquests of Josh Ritter, the superlative singer-songwriter just wanted to be a badass.
A year ago, Ritter won critical acclaim for his insightful compositions on Animal Years, taking the temperature of the times with the nine-and-a-half minute epic "Thin Blue Flame," as well as tracks "Wolves" and "Girl in the War." But from under the heaping praise Ritter became aware of the gravity of the mounting gravitas. He wanted to turn temporarily from the part of celebrated social commentator and cast himself in a new role.
To borrow the wild-western imagery that illustrates much of his work, on Conquests, Ritter is the brash and brawny outlaw who strides up to the bar, strikes a match off his beard for a hand-rolled cig and after spending five days in the desert orders a whiskey.
The resulting record is a more spur-of-the-moment, shoot-from-the-hip effort than the carefully crafted Animal Years. Whereas it took Ritter a year and a half to write landmark song/saga "Thin Blue Flame," the tracks of Conquests went almost straight to the studio.
"I wanted to achieve a different result than Animal Years," Ritter says. "The most obvious way to do that was not going as deep inside my head on this one."
Ritter saw Conquests as an opportunity to sow some wild notes, approaching his new album with a sense of frivolity found in the work's bombastic title.
"I wanted a title so big it couldn't possibly be taken seriously," says Ritter, who has earned a reputation for humility and appreciativeness with a tradition of post-show hugs for lingering fans.
Ritter wears the ostentatious badge well, dropping the hammer on tracks like the cocky, strutting "Mind's Eye" — a number Ritter refers to as his "big gold chain song" — or the raucous "Rumors," two new tracks typical of his new tack. Other tunes like "Wait for Love" feature saloon-style singalong choruses, while the outro to "Real Long Distance" unleashes about every instrument Ritter and Co. had at their disposal.
However, Ritter hasn't abandoned his intellectual angle. He opens the album with an examination of a trio of historical heroines — Joan of Arc, Florence Nightengale and Calamity Jane — and the role of fate amid a romping bar-room chorus in "To the Dogs or Whoever."
He again shows his savvy on "The Temptation of Adam," the love story of a male and female soldier stationed inside of a nuclear missile silo. Interestingly, the fictional apocalyptic anecdote mirrors Ritter's own approach to Conquests. While the song's protagonist knows he has something beautiful and lasting in his relationship with his silo-mate Marie, in the end, he just wants to press the big red button and blow the crap out of something. All good things must come to an end, Ritter reasons.
"It's easier to work in the past, but the only reason something is ever really perfect is because it's contained and has to end," he says about his decision to move on from the Animal Years framework.
The album is Ritter's first on Sony BMG — who snapped him up after Ritter's original V2 label folded up shop last year — though Sony played no role in the recording process that took place in a farmhouse in Maine in mid-winter. And given the propensity for Ritter and Co. to ward off the night chill with beer and BB guns, supervision of any kind was likely sparse at best.
"I don't think I'm playing into the hands of the NRA when I say that I have a lot of fun when BB guns and beer are involved," Ritter says. "We set up a bunch of Olympic-style events with BB guns. Now, BB guns are not currently featured in the Olympics, but they totally should be."
In one small way the BB guns are featured on the album. A yelp by just-shot producer Sam Kassirer is captured on the record (in between "Real Long Distance" and "Next to the Last Romantic").
The boyish BB gun enthusiasm contrasts starkly with his more-often invoked intellectual demeanor that scored him an invitation from high-brow magazine The Atlantic to discuss "the power of words" at a Nantucket symposium. But that's what makes this such an interesting time in Ritter's career and what makes Conquests such an intriguing album.
"It's not really any progression," Ritter says when asked if the new album is the first step in an evolution of his songwriting style. "I just have to do and write what I find interesting in the moment."
And for this moment at least, that means flaunting that five-o'clock-shadowed outlaw image, shot glasses overturned on the bar and ready to ransack the town.
• Armed with his new material, if not a pair of Colt .45s … or pellet guns … Ritter and his band storm D.C.'s 9:30 Club Tuesday, Oct. 9. Tickets are $25. For more on Josh Ritter, visit www.joshritter.com.
***
Mike Hume's interview spilled beyond the boundaries of one article, but we decided not to deprive you of a few more musings from the cerebral bard. Hume picks up the questioning below:
Mike Hume: What can the audience expect at 9:30 Club?
Josh Ritter: Lots of bashy music with a few slow songs mixed in. I like shows with lots of dynamic range in them. Unless it's the Pixies, I can't listen to a show of just straight bludgeoning.
MH: What do you consider to be your real "historical conquests?"
JR: I'm proud of all of my records. I'm proud of the friends I've made through my music, and the good relationships that have started because of the band. Those are real things that have come out of it. I'm incredibly lucky that I can keep making music for a living and that I'm continuing to find pleasure in it.
MH: Now that you've tried on the badass image, is this something you enjoyed? Will we see something like this again?
JR: I'm sure there's another fly on the face record in my head, or that another Animal Years is back there too.
MH: How was the event in Nantucket with The Atlantic?
JR: It was amazing. I got to hang out and grab a beer with Robert Pinsky, have a drink with Christopher Hitchens and a slow dance with Debby Applegate. I read a lot so it was great to meet some of the people who I have read and who I am starting to read. Plus, I really like The Atlantic.