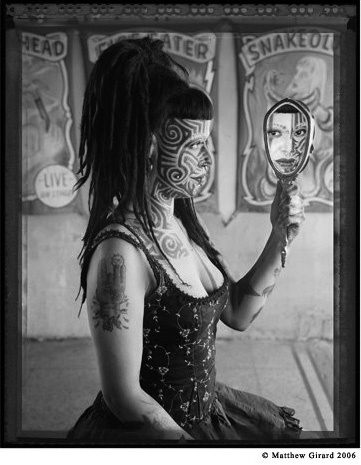 'Postcards From The Real'
Paintings by Josephine Haden. Through November 3, at McLean Project for the Arts (MPA). McLean Community Center (1234 Ingleside Ave., McLean, Second floor). Gallery Hours: Tuesday through Friday 10 a.m. – 4 p.m., Saturdays 1 – 5 p.m. For more information, call 703-790-1953, or see www.mpaart.org.
"Postcards From the Real" is a collection of paintings executed by Haden over the past four years. Thematically, the works are focused on waterfront landscapes that seem realistic at first, but upon closer inspection reveal oddities and impossibilities.
Haden combines people, places, animals and modes of transportation in an almost-photo-collage fashion. Perspectives don't quite mesh. Objects cast shadows as often as they don't. Then there is that quirky and fairly unique device of painting some objects in black and white within a predominately color work, the summation of which lends it all something of a riddle that defies answers. While tending towards surrealism, these images aren't going quite that far. Instead they come off as dream-state tableaus.
At times the canvases seem too self aware, as if posing for a photo opportunity. People interact with the viewer more than the other characters within the image. It can have the off-putting air of a movie that "beaks the fourth wall" a few too many times. Then again, dreams are generally about us more than about the characters in them, so all this may be appropriately odd as is. Like a dream half remembered upon waking, the images do leave you wondering what they're all about.
For surrealistic power, I'd have to go with "Green Cadillac." Here we find what looks like Ben Affleck driving the green Caddy, looking over his shoulder out the window at what lies behind him. The left door mirror repeats the scene ahead of him, while the right shows a cityscape. In front of the green Caddy lays a barren landscape with a nude woman, baby seal pups and an iceberg, windmill and cottage off in the distance. There's a cohesion here that allows us to surmise this one is about global warming on some level, but retains enough quirky oddness to keep it entertaining.
"High Rider" is an image of a man holding a rope affixed to a Yamaha motorcycle suspended from a tree populated with possums. He reminds one of a boy with a balloon stuck in a tree, still possessing it, not yet fully cognizant that he's lost it to the tree. Of all the images here it seems somehow the most bizarrely dreamlike of all.
"Into The Blue" — with video — is probably the most interesting ploy of all. Here we find a black and white woman laying on a diving board before an intensely blue coastal inlet. Superimposed on top, runs a video of another woman doing what I can only describe as floor-ballet amidst pounding surf, with a wind surfer occasionally riding through in the background.
While the concept of still and moving imagery interacting is entertaining, a few too many wardrobe adjustments, and chatting with people off camera, not to mention the dry clothes she wears in this clearly wet environment give the video portion a first-effort air. Future forays in this direction will no doubt be tighter and more resolved.
On the other hand, the raw simplicity of "Into the Blue," sans video, is refreshingly straightforward. Left on its own, it has rather clear Freudian interpretations of a sexualized dream by her, or by us of her. Either way, it has an edge that many other images here lose in their complexity and similarly gets lost once the video runs over it.
'Genomes and Daily Observations: An Installation by Suzanne Stryk'
On display in the Atrium Gallery at MPA, this portion of MPA's current offering strikes me as some of its best. Stryk makes wonderfully intricate and layered observational renderings of insects and small wildlife she finds around her in southern Virginia. Paper stained with natural dyes give the work an appropriately natural texture from which to start. The final images are often life cycles in nature, with areas rendered as skeletal, and others as we would find them in the prime of life. I liked the bluebird wing with skull, foot and nest the best off all — either that or the dismembered bug that still stares back at us. All of the images are infused with a knowledge of gene sequencing, DNA and the like that was not known when images of this sort were being made by biologist explorers a couple of hundred years ago. Very nice work.
'Fairy Tales : Paintings by Loy Every'
Not entirely dissimilar from Haden's work in the main gallery, this exhibit in the Ramp Gallery at MPA presents a series of fantastic landscapes that have abstract patterns and shapes in areas. Reminding one of children's storybook illustrations, these images are more relaxed, playful and fun.
Hale Allen's Industrial Landscapes
Septeber 28 through October 12. Principle Gallery (208 King St., Alexandria). 703-739-9326 or www.principlegallery.com (click on "artists," then "Hale Allen" to see examples). Opening reception with the artist Friday September 28, from 6:30 – 9 p.m.
If you're tired of flowers and fluffy pretty pictures, Hale Allen does some great industrial landscape paintings that often double as abstracts. It's cool work, the likes of which we rarely see in a non-industrial town like D.C. Call it a refreshingly gritty breath of fresh air.
Artist Opportunities
Fall Open Studio figure drawing sessions at McLean Project for the Arts are now running through the week of December 13. Tuesday evenings 7 to 9:30 p.m. They are $8 each, or $70 for the series. Alternate sessions run Thursday afternoons 1 – 4 p.m. These are $9 each, or $80 for the series. For more information, call 703-790-1953 or see www.mpaart.org.