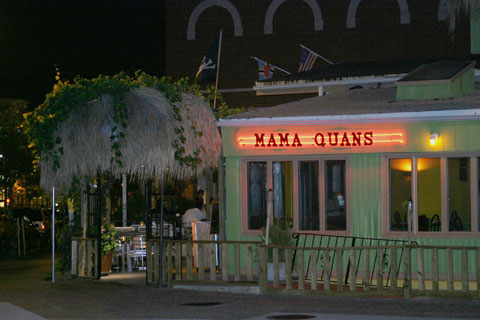 With a name like Super Pollo, I had high expectations. This rather large Peruvian eatery surprised me with its spacious and festive décor. The walls are decked with brightly colored paintings that celebrate South American culture and cuisine. The limited interaction that I had with the staff working behind the counter of what is pretty much a fast-food eatery was pleasant. They were helpful and warm-natured.

If the restaurant's name didn't give it away clearly enough, Super Pollo is known for its chicken, specifically Pollo a la Brasa. The Peruvian style of this particular fare (of fowl), is a South American take on an American standard fast food restaurant. It might not necessarily be a "healthy" alternative to KFC or Popeye's, but it is a tasty one. The flavors and spices used to season the bird do permeate the skin however, so if you want to shed the skin, it won't make it far less tasty.
The menu is centered around the signature dish, with a variety of portions and sides similar to Boston Market. For example, the Super Pollo Platter ($6.99) — half a chicken, along with two side orders is a regular favorite. For that price, the quality of the meal is a steal. Can you get anything comparable for $7 these days? Most places will give you a sandwich on some sort of flavored bread and throw in an apple or chips or baby carrots. Here you get a full-on meal and its one that can be shared with the entire family if you so choose …. or, just one really, really hungry person.
The Family Special 2 is probably out of the one-eater range, unless you spend your Fourth of July on a stage at Coney Island. That combo comes with two whole chickens.
Chicken isn't all Super Pollo has to offer — it even has Super Burgers and subs — but the chicken is what you're after. Several side offerings round out your meal. These include tortillas and even Peruvian corn. The chickpea side has drawn raves from customers as well.

The dessert options are unlike many others I've seen. Perhaps because I cannot even pronounce them, though a lacking master of the Spanish language probably explains that one. Alfajor is a traditional South American cookie, featuring two small biscuits joined together by a cream or jam and covered with powdered sugar. Mil Hojas are a flaky cake-like pastry with a fruit sauce and chocolate — kind of like a crepe. Finally, Flan con Gelatina is one most may recognize. It's a kind of cream-based gelatin. All of these desserts are under $2. That is definitely a reason to visit Super Pollo, if you hadn't had a reason already.
My favorite part of Super Pollo was that they had yucca. Anyone adventurous enough to try even just a nibble of any kinds of ethnic foods should be familiar with yucca. To be completely candid, its presence on the menu was precisely why I was so excited to visit Super Pollo in the first place.
Super Pollo offers traditional Peruvian drinks as well. The Inca Kola is a popular Peruvian soft drink that I recommend.
Ask for Peruvian specials, as they differ daily. Enjoy this South American eatery and what it has to offer with its filling dishes that make no dent whatsoever in your wallets.
Super Pollo
607 N. Randolph St., Arlington
703-807-4088
Open daily 11a.m. – 10 p.m.