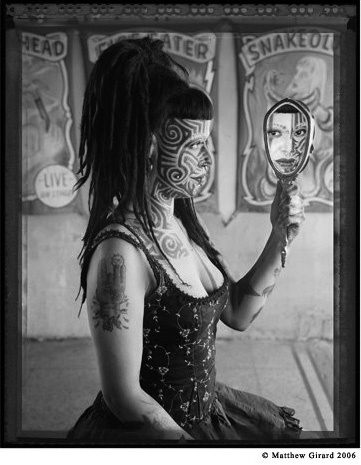 August Potpourri
Through Sept. 1 at MOCA DC (1054 31st St. NW, Washington, DC. — Located across from Sea Catch Restaurant, in Canal Square, Georgetown). Gallery Hours: Wednesday through Saturday 1 – 6 p.m. See www.mocadc.org or call (202) 342-6230.

Life is short, art is long … sometimes. The average case has an artist's work getting tossed in the trash after his death. It's a sad fact of life, but art is only 'long' if people want it enough to take care of it. Artworks that don't sell, and are left to the artist's estate are subject to the artistic tastes of those left to dispose of it. Needless to say, not everyone appreciates all art.
Richard Takeuchi, an Arlington portrait and figure painter recently passed away, leaving behind a large body of work. A slight, Japanese man, Takeuchi worked as a patent agent, and painted seriously in his spare time for the past 20 years. Takeuchi contracted tuberculosis as a child, which stunted the growth of his spine, and no doubt affected many aspects of his life. Growing up, girls would play with him until they hit puberty at which point he was seen as something quite different, and unacceptable. It's fairly easy to see why he came to focus on female figure painting as his artistic passion.
The problem with figure work is it doesn't sell well. Nearly everyone has landscapes in their home. Only a small fraction of those would be willing to hang nudes on their walls. I recall Takeuchi lamenting the fact that people didn't buy his work.
To complicate matters further, Takeuchi's sisters still living in Japan had no desire to ship his 400-plus canvases back to Japan. Fortunately they donated all the figurative works to the MOCA DC gallery where Richard painted every Wednesday night in MOCA's figure drawing sessions. It's been a nice ending to what could have easily gone the other way.
A considerable number of fellow artists that worked alongside Takeuchi have stepped forward and bought works, all wanting to remember the man, as well as having a respect for his work. This month MOCA DC is hosting a retrospective of Richard Takeuci's work with some 40 images on display. It will likely be the biggest and best showing of Takeuchi's work, it's a shame he's not here to see it.
Also at MOCA DC this month is the second annual 'Students and Friends' show by Falls Church art teacher Jennifer Schoechle and her students.
The closing party for all will be Friday, Aug. 31 from 6 to 9 p.m.
9×10 : WPA/Corcoran Member Shows @ WWP Gallery
Through September 14, at the William P. Parker (WWP) Gallery, in Mickelson's Fine Art Framing (629 New York Ave. NW, Washington, D.C.) Gallery Hours: Monday through Friday 9:30 a.m. – 5 p.m., Saturday Noon to 4 p.m.
Show number six in the nine show series featuring 10 WPA/Corcoran member artists per show — Ruth Schilling Harwood, Jackie Hoysted, Judy Jashinsky, Brent Lilly, Paul Longanbach, Mame N'Diaye, Sara Pomerance, Carol Oman Urban, Rayonde Van Santen, Paul Walters. Show six is a diverse grouping, as all these shows seem to be, with plenty of highlights worth talking about.
Paul Walters has a series of eight photographs of monuments, we assume from D.C. It's interesting work that many of us inured to such subject matter are libel at first blush to disregard as simply more of the same ol' same ol'. A second glance reveals a deft hand at work. Walters' work goes well beyond the normal fair. Here we find closely cropped snippets of sculpture that almost operate on the abstract level. He hasn't pushed it quite that far, but he's knocking on the door.
Jackie Hoysted has some rather intriguing abstracts using encaustic, paper and tobacco juice stains from cigarette butts she's smoked. The depth of art isn't always readily apparent and this is a fine example there of. Having quit smoking six weeks ago, Hoysted took her former vice and made art out of it. The brown-toned tobacco stains are placed on paper burned at the edges. The encaustic adding a warmed toned wash to it all. The burned paper edges representing the damage she has done to her body through her years of smoking. It's nice to see her working through her tobacco addiction and leaving something positive behind. Here's to her conquering it.
The real stand out in this crowd is Sara Pomerance's photographs. Here we find three images of people in their backyards. As dull and predictable as that sounds, they are, in actuality, captivatingly inscrutable images. One might best describe them as cinematic depictions of psychological surrealism. While visually straightforward, the intentions, thoughts and actions of those depicted is anything but.
Pomerance tells her subjects to do what they find comfortable and waits for a genuine moment to capture. The results look like out takes from a David Lynch film.
"Aiming to Please" shows an old woman interacting with a dog, while a pair of teenagers do yard work behind her. None of the people relate to each other, only tangentially occupying the same space. "In His Back Yard" depicts a man reclined on the ground with his feet propped up against a wall next to some trash cans. Shot with a slight twist to the camera, the image has a slightly off balance feel that leads the viewer to think he's a drunk lolling the day away in an alleyway.
She runs into trouble with her third image titled "Black Socks." Here, Pomerance is attempting to make comments about sexuality and pornography by crafting an image as sexless as she could. Shooting her model in socks and hiding her face behind a tree. It's a forgivable error. She's thinking like a woman, and not like a man. She's underestimated the male mind's capacity to eroticize imagery. The male brain on the hunt isn't much swayed by bad fashion statements and a hidden face. The model is far too curvy to make this one the complete turn-off she's aiming for. It looks like another cinematic out take. This time from a low quality stag film from the '50s or early '60s.
Predictably, Pomerance has now moved away from photography to video. Judging from these images it's where she belongs. On the other hand, these images are so cinematically engaging, her move to video is not without some regret to this viewer. Pomerance will have a video piece in the upcoming Alumni show at the Corcoran.